Apple is competing head on with Google with the iO9's proactive intelligence and improved search throughout the iPhone and iPad user interface. Apple hopes to differentiate by protecting users' privacy, while improving contextual information, but it must ensure that such protection does not cause the intelligent services it delivers to be anything but the best. The improved intelligence in iOS9 will help Apple Watch be smarter too, as well as make the iPhone experience stronger, because Apple Watch leverages the capabilities of the iPhone.
Apple Music (from a mobile perspective)
Apple Music has a vision which is at odds with iOS9's proactive intelligent assistant. While iOS9 aims to deliver intelligent experiences automatically,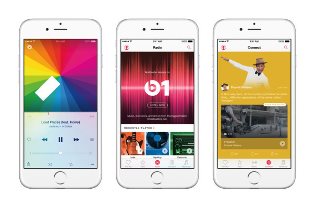 Apple Music seeks to differentiate with human curation e.g. Beats1 radio, DJs, human playlist curation etc.Image source: appleinsider.com
From a mobile market perspective, the apparent lack of bundling for free with Apple devices indicates Apple is just trying to build a great big digital music business, rather than attempting to differentiate its devices through music. Strikingly, Apple announced the service will be available on Android devices during autumn. This will be the first Apple-branded app or service to reach Android and is a strategic shift for Apple in its approach to the main rival smartphone platform.
Apple Watch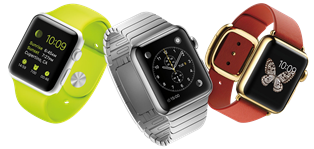 Apple watch. Image source: wikipedia.The additions to watchOS too are extremely significant. Native support will improve the speed of Apple Watch apps, increasing adoption. Plus access to hardware sensors, the ability to play video, will enable much richer experiences. Apple has been extremely quick to offer developers major new Apple Watch feature support with a major new watchOS release—just six weeks after the Apple Watch went on sale—but consumers will have to wait much longer until autumn. However, even this pace is very fast compared with the annual update cycle of the iPhone or the Mac. Apple is also managing to keep to its annual update cycle for iOS and OS X, while also developing a new third platform. This in itself is an impressive achievement.
The decision to open source the Swift programming language is a major move. But the devil will be in the detail. Google has shown with its management of Android, that it's possible to claim to be open source, while still maintaining a proprietary advantage in Google's case through the Google Market Services and Google Play proprietary apps. Which license Apple chooses for Swift will also be important.
Questions or comments on this story? Contact dylan.mcgrath@ihs.com
Related links:
News articles:
Smartwatch Displays to Reach Record Shipments in 2015
After Apple Win, NXP Gets NFC Deal with Qualcomm
Apple Watch Expected to Drive Smartwatch Market
Does the Apple Watch Have a Qi Charger?