With the looming Apple Watch release, current Android watches and the proliferation of devices like Fitbit, the wearables market seemed primed for its time in the consumer electronics (CE) limelight. Yet before the dream of wrist computers has even begun to fully take shape, there appears to be an alternative on the horizon: smart clothing, which seamlessly integrates technology into the clothing itself.
The smart clothing market is already encroaching upon other sensor-driven devices. Especially for athletes and possibly caregivers, smart clothing can offer a more aesthetically appealing way to monitor health and fitness levels.
Certainly there can be debate over the physical aspect of wearables. Some don't mind the look of smart watches and fitness trackers. Others prefer the sleeker nature of compression clothing with built-in and less visible sensors. Regardless of that preference, the smart clothing industry is gaining steam thanks at least in part to its ability to piggyback on surging component – sensors, health and fitness monitors – markets, and the traction wearables have already gained as an industry.
According to Shane Walker, Associate Director of medical devices and healthcare IT at IHS Technology, the wearables market will grow at a rate of 19 percent compound annual growth rate (CAGR) through 2019. Wearable technology makes up just a small fraction of the CE industry, Walker says, but shows "much more rapid growth than traditional [CE] product types." Walker estimates the global market for smart clothing is around $100 million annually, with a rapid 40 percent CAGR growth rate between 2012 and 2019.
Walker notes that IHS research does not have an estimate for clothing that "only has the electrodes woven into the textile," and that a "broader definition of 'smart clothing' may capture a larger revenue figure" than the suggested $100 million. Regardless, no matter how you categorize the market, clear growth exists.
Smart vests
A number of companies, from relative unknowns to CE giants, are developing and/or selling smart clothing products. Hexoskin, for example, is considered to be one of the most advanced smart fitness clothing options. The shirt vest (and new Arctic smart shirt for more extreme weather conditions) tracks everything from basic heart rate and steps to acceleration, breathing and activity patterns – around 42,000 data points per minute, according to their Web site.
Hexoskin's sensors – silver fibers – are woven directly into the shirts. They transmit data through a small device that connects to the shirt during use, and are compatible with iOS and Android smartphones. The company has also created the Hexoskin Team app that allows professional athletes to fine-tune their training routines in groups of up to 24. A Hexoskin shirt retails for $169, while a shirt combined with a Bluetooth recording device, app and USB cable comes in at $399.
"Under garments such as Hexoskin," Walker says, "capture a great deal of data, much more than just having a sensor on the wrist or waist. This is definitely a benefit for the fitness fanatic, and potentially a benefit for those managing chronic conditions." He adds that integration with devices that have a display via wireless connectivity (primarily Bluetooth) enables immediate analysis of the data, allowing for real-time modification of an activity if necessary.
Fashion tech
Large fashion brands are also getting into the market. Ralph Lauren's Polo Tech shirt, for example, uses similar silver fibers to monitor heart rate and breathing. Like Hexoskin, Polo Tech sends information to wearers' mobile phones. The line is essentially a rebranding of OM Signal's existing line. OM Signal's cheapest option – just a sleeveless shirt – retails for $100. A starter kit – shirt, USB cable and "data module" – sells for $249 on their Web site. Adidas is another well-known brand to offer sensor-enabled athletic shirts.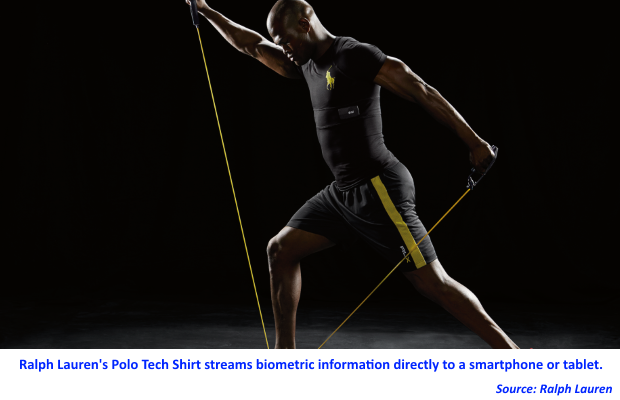 Shirts are not the only type of clothing to receive interest in this space. Myontec, a Finnish company, offers a pair of shorts for their Mbody line. MShorts are equipped with sensors that collect data and display it on mobile devices. Users can examine real-time information about left/right and back/front muscle balance for each leg, along with GPS-enabled distance and speed tracking. Myontec believes their products might also be useful in fields such as healthcare, medicine, rehabilitation, gaming, and military.
Another example comes from Indian company Lechal, which has developed a smart shoe. Users sync the shoes to smartphones running Google Maps. The shoes alert, via vibration, runners about when to turn or which way to go on their upcoming route. Lechal wearers may also set workout goals ahead of their runs. Boogio is another company with smart shoes, and Sensoria offers smart socks.
The surging sports and fitness monitors market will help propel these companies, and others like them, to increased visibility. IHS predicts the global sports, fitness and activity monitors market will reach $2.8 billion in 2019, up from $1.9 billion in 2013. This represents an install base of 120 million units in 2019, up from 84 million in 2013.
Limitations for healthcare
A potential market for smart clothing also exists in healthcare, but stringent guidelines and requisites for technology limit the ability for the type of growth seen in the health and fitness market.
Roeen Roashan, medical technology analyst at IHS, said he "can definitely see the application of smart clothing in a clinical context [such as] bedside monitoring; however, current technology cannot support this." Sensor technology in smart clothing, Roashan continues, isn't quite capable of providing vital sign measurements as accurately as conventional methods used by clinicians. He doesn't doubt that this will change at some point, he adds, but that "we're not there yet."
Success will also be a function of how the healthcare market operates. "In terms of health and remote monitoring the use of wearable technology is driven by the adoption of either healthcare providers or payers," Roashan said. "In that case, most providers are interested in short-term savings… and avoiding penalties." This results in wearable tech use in medical settings reduced to the role of patches or typical devices such as blood pressure and blood glucose meters. But, Roashan believes, smart, wearable technology will eventually converge with the medical field.
Broadcom, Chunghwa Telecom and AiQ smart clothing, for instance, are developing a Sensor Shirt with a healthcare aspect. The shirt comes laden with a number of conductive fibers that can measure heart rate, breathing rate and skin temperature while sending the information to a device on the shirt's sleeve. Wearers can then read via Bluetooth the results on their mobile devices. The mobile device sends out updates to caregivers, and can also alert someone right away if any vital signs are amiss.
Even if smart clothing isn't quite ready for the healthcare field, the market's growth should help spur interest. According to IHS, the global home health market is predicted to rise to $12.6 billion in 2018, up from $5.7 billion in 2013. That market includes consumer medical devices and wearable technologies.
Revenue for devices in the home healthcare market, including wearables, will reach $12.6 billion by 2018, IHS forecasts.
Smart clothing designed for athletes and general health and fitness should continue to prosper, especially given retail costs similar to smart watches and other sensor-driven devices. The healthcare market will require additional work in accuracy and dealing with bureaucracy. Still, in either case, the environment exists for success and growth. While smart clothing may not entirely supplant the market for smart watches and the like, it certainly presents itself as a viable alternative.
Questions or comments on this story? Contact dylan.mcgrath@ihs.com
Related links:
IHS Industrial, Security & Medical Technology
News articles:
Globalfoundries Teams with Linear for IoT, Wearables
MediaTek Rolls SoCs for Android Wearables, TVs
Spansion, Sensoplex Team on Wearables Dev Kit
How Google Is Challenging Apple in Wearables, Home Automation and TV Tech