Google appears ready to reign supreme in the tech world's long-term battle for consumers' living rooms. At the very least, Google--developer of Android Wear and Android TV platforms, and purchaser of home automation provider Nest--seems primed to become a major competitor to Apple in the fields of wearables, connected TV and home automation in the long run.
According to IHS, the value of the global wearables, connected TV and home automation markets will rise in the coming years. IHS forecasts the global flexible display panel market (crucial to wearables that must appear fashion-forward) to reach $22.7 billion in 2023, up from $300 million, where the market sits currently. IHS predicts the connected TV market will reach 213 million installed units in the U.S. by 2017. Additionally, IHS predicts the market for cloud-based home management services (which help allow users to remotely control household functions like lighting and temperature) will grow by a factor of eight between 2013 and 2018. That represents an install base of 44.6 million units in 2018, up from 5.6 million in 2013.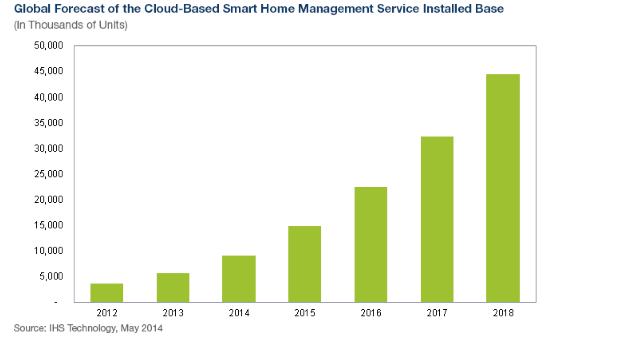 IHS predicts cloud-based home management services will grow by a factor of eight in the next five years.
Forecasts show steady progress for the wearables market. The display panel market and wearable sensor market project high growth rates in the next six years. These two markets are arguably the most important component markets for wearables as a whole. Along with the projected $22.7 billion number for display panels, the wearable sensor market is expected to grow as well. IHS predicts wearable sensor companies will ship nearly 466 million units in 2019, up from 67 million units in 2013. IHS analysts also expect the wearable devices market to grow to 135 million units in 2019, just under three times more than the 50 million units shipped in 2013.


MEMS and sensors for wearables will grow to 466 million units by 2019, up from 67 million in 2013.
Though the wearables market features myriad health and fitness monitors, the smart watch is poised to take over the market's top position according to IHS. Analysts believe Apple Watch--a device that utilize gyroscopes, accelerometers, pulse sensors, and microphones--shipments will lead the way in 2015. It is expected that Apple will sell up to 30 million $349 Apple Watches in the product's first year on the market. With the miniaturization of processors and consumer electronics, some even believe the Apple Watch might some day replace iPhones. For now, it's a 30 million-unit proposition that will complement the iPhone and the rest of Apple's devices.
A key competitor to Apple in the smart watch, and ostensibly, wearables market, is Google. Google's Android Wear platform is compatible with a number of CE OEM devices--namely from Samsung and LG--and currently has six models available for sale. The Android Wear platform is based on two major components: Google Now, Google's answer to Siri, and data from consumers' Google accounts. Like Apple Watch, Android Wear's offerings are currently intended to complement smartphones, not replace them. Android Wear's offerings range from $199.99 to $299, a discount compared to Apple. IHS predicts the wearable display market will ship 54 million units in 2014, driven by Android Wear proprietary devices. According to VentureBeat, 700,000 smart watches were shipped in Q1 2014, and Computerworld states 1.9 million were shipped in 2013. Given Apple's Apple Watch has yet to reach shelves, these current numbers are driven mostly by Google-powered devices. Though forecasters expect Apple to see positive results in the Apple Watch's first year, it seems Google's ubiquity is poised to win out in the long run.
While the personal CE devices market seems ready to turn itself over to Apple and Google's offerings, the smart living room market (connected TVs and home automation) appears more fragmented. The relative power of pay TV giants such as Comcast and Dish Network will help keep the connected TV ecosystem somewhat of a closed loop, but consumers' growing willingness to cut cords and turn to over-the-top (OTT) solutions will help enable new market entrants. As tech companies from startups to giants work to cultivate automated home ecosystems that work with connected TVs, many expect competition for smart living rooms to open up.
Paul Erickson, senior analyst for consumer electronics at IHS, believes Apple's current offerings will meet strong competition from Google, eventually. "Apple's mobile-to-living room ecosystem play with iOS devices and Apple TV will face challenges from Google in the long run in the form of both the high level of Android mobile device penetration and the rollout of Android TV," he said. Erickson believes the ability to control the largest display in the home should provide long-term returns in the form of scalability.
Apple TV is the Cupertino, Calif.-based company's current connected TV offering. However, as Erickson points out, "Apple has yet to launch either a TV themselves or to license a third party to produce a TV running an operating system that has built in integration with their ecosystem and mobile devices." Google, on the other hand, has a clearer path to connected TV dominance. Erickson continues, saying, "Android TV's main avenues of penetration will be via their smart TV partners that have already committed (Sony, Sharp, TP Vision/Philips, and others), and via second-tier CE manufacturers such as Asus" that will provide consumers standalone products at a cheaper price point than Apple or Roku. But that's just the long-run picture.
For now, Daniel Simmons, IHS's director for connected home research, said Apple's model for living room control remains the consumer's best bet. Simmons says Google has struggled to achieve a significant market share, a failure that leaves Apple as the current frontrunner in the connected TV market. "Focusing on a cheap--relative to TV--box enables a much larger section of [Apple's] computer and mobile device customers to make the TV set part of their ecosystem, rather than them buy a TV," Simmons said. This allows Apple to support its other devices without delving into the low-margin TV set business. To date, Google's Android TV attempts have been less successful than Roku or Western Digital's WD TV Live boxes. It remains to be seen what Google's Nexus Player will achieve.
The second part of the connected living room market competition is automated home services. Of the three markets in question (wearables, connected TVs and home automation), the home automation market is open to the widest competition. On one hand, existing service providers such as telecommunications providers and utility companies seek to increase subscriber rates or reduce customer churn by making automated home plays via already-existing gateways in consumers' homes. On the other hand are CE device makers who can decide which OS or system to run on their devices. Apple and Google both have product offerings, though neither is currently particularly strong.
Whereas Apple and Google compete using separate offerings in the wearables and connected TV markets, the home automation market leaves questions regarding a possible convergence. Apple, says Ed Border, principal analyst for IHS's consumer electronics and video technology service, "would use its consumer electronics devices… to control [smart home] applications and technologies." Google's approach, according to Border, is to invest "more in a selection of specific end-user smart home products that it can deploy." Border suggests there might be room for conflict of interest, especially if consumers are able to control Google products within the Apple ecosystem.
Apple offers HomeKit which, according to their website, "is a framework in iOS 8 for communicating with and controlling connected accessories in a user's home." Google recently purchased Nest, a sensor-driven, WiFi-enabled product line that includes a thermostat, and CO2 and smoke detector. Simmons points to a major drawback of both companies' systems, which should allow for other competitors to entertain the idea of automated home solutions.
"None of the smart home devices," Simmons said, "require advanced operating systems like Android or iOS. Instead they must simply be able to communicate and control [or] be controlled by the more advanced devices." Developing Android and iOS to automate the home is, according to Simmons, "probably fairly equally challenging to both Apple and Google." Indeed, Simmons believes Android's fragmentation could make device interoperability difficult. Because while consumers might be somewhat lenient with which devices can control their home media systems, they are less likely to tolerate home automation systems that do not function properly on all devices.
Border agrees with Simmons' assessment. He doesn't believe the current competition for home automation systems is strong, as neither Apple nor Google has many devices or technology deployments in the market. However, as CNET reports, Google's Nest is adding partners at a steady pace, which could help solidify its position as a smart home platform in the long run.
Depending on which individual market one examines, the current competitive landscapes differ. Yet Google's approach bodes well for their future. If current predictions and trends continue, Google could reign supreme over Apple in wearables, connected TVs and home automation in the long run.
Related links:
News articles:
UDI Targets Wearables with Ultra-thin Touch Sensors
Intel In Cool Google Glass Will Deserve Kudos
NXP Buys Wearable, Bluetooth Business
Sensor Revenue in Smartphones and Tablets to Nearly Triple by 2018