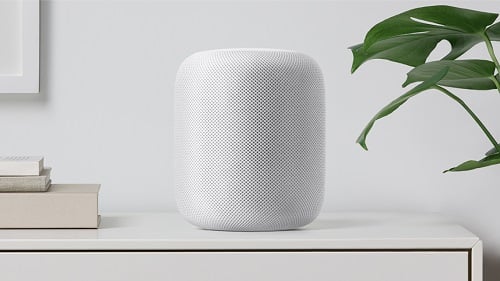 The HomePod connects to Apple Music subscription and can operate other smart home devices. (Source: Apple)Long rumored to be joining the fray in the smart home assistant market, Apple unveiled its HomePod voice-activated, wireless speaker that works with Apple Music subscription for access to more than 40 million songs.
Apple joins the ranks of Amazon with its Alexa-enabled Echo devices as well as the Google Home speaker to compete for home automation dominance. Apple has been playing in the smart home market for a while now through its Apple HomeKit that is ported to many home automation devices and it has been rumored that it would be rolling out its own home hub as a natural extension of Apple's other smart devices.
Priced at $349, the HomePod has a six microphone array so users can interact with it from across the room, even when music is being played. The speaker is operated by Apple's artificial intelligence assistant, Siri. The assistant learns your preferences from hundreds of genres and moods across tens of thousands of playlists and music tastes across devices, Apple says.
According to IHS Markit, Apple joins an increasingly crowded mix of the two ecosystem smart speakers and a world of less expensive devices that provide wireless music playback over Bluetooth and WiFi.
"In this environment, its $349 price is problematic," says Paul Erikson, senior analyst for the connected home at IHS Markit. "To a certain degree, Apple can count on many already within the iOS ecosystem to buy the HomePod by default, but to grow beyond that base will require a notable reduction in price given the state of competition in the market."
IHS Markit says the HomePod will be between two to eight times as expensive as the Amazon Echo ($179), Amazon Dot ($49) and Google Home ($129). Thus, it may be hard for Apple to gain much traction in the market for connected audio market outside of primarily early adopters, brand-faithful and the higher income end of the iOS user base.
The HomePod is under 7 inches tall, features an upward-facing woofer, paired with the Apple A8 chip, enables bass management through real-time software, custom seven beam-forming tweeters (each with its own amplifier), automatic room-sensing technology, Siri waveform and touch controls, automatic detection and balance of two speakers using both direct and reflected audio and compatibility with Apple's AirPods.
The speaker also answers questions so that users can ask "Hey Siri, who's the drummer in this?" or create a shared queue with everyone in the home. Furthermore, HomePod can send messages, get updates on news, sports and weather, control smart home devices such as lights, shades or to activate a scene.
The big deal here is that there is now another legitimate contender to Amazon, joining Google, in the ecosystem where less than a year ago it was the only major player. While HomePod is late to the game in terms of entry into the market, the smart speaker market is still considered to be in its infancy, IHS Market says.
Over the long term, Google and Apple have advantages over Amazon because of their broader and larger established mobile device base. Current Apple users will be faced with the prospect of learning a new virtual assistant or sticking with Siri they are familiar with. Most likely, users will side with Siri if the ability to execute fundamental tasks is equal or better, IHS Markit says.
"For Amazon, it is also a sign that Alexa's competitive oxygen is going to be increasingly reduced over time – but only once the HomePod proposition drops in price," Erikson says.
The HomePod will be available in white and space gray starting in December in Australia, the U.K. and the U.S.