Google is working on an operating system for the Internet of Things (IoT) called Brillo, as well as an associated communications protocol called Weave.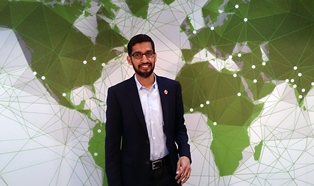 Sundar Pichai, Googles senior vice president of products.Sundar Pichai, Google's senior vice president of products, announced the developments at the Google I/O software developers' conference in San Francisco in late May.
Pichai says that Brillo is an underlying operating system for the IoT—essentially a stripped down version of Android built on the kernel and hardware abstraction layer of Android. Pichai claimed in his Google I/O talk that this facilitates broad hardware support and the possibility of building in security.
The idea is that Brillo is lean enough that it will be able to reside on IoT devices such as thermostats and white goods and communicate with Android-powered devices such as smartphones and tablet computers.
Pichai says that Google pulled in engineers from the Nest Labs, Android and Chrome OS teams to work on Brillo and create an end-to-end ecosystem. Nest Labs is the smart thermostat startup acquired by Google in 2014 for about $3.2 billion, now run as a wholly-owned subsidiary (see Google to Pay $3.2 Billion for Thermostat Startup).
Because Brillo is derived from Android, it inherently supports the mainstream local communications protocols of Wi-Fi and Bluetooth Low Energy. But Pichai says the development team is working with Nest Labs to add support for alternative communications such as Thread. Thread is an IPv6-based protocol for smart household devices launched by Nest, ARM, Freescale, Samsung and others in July 2014 (see Google Launches Thread IoT Protocol).
As part of Brillo, Google is introducing a lightweight communications protocol called Weave—developed in partnership with Nest Labs—a set of developer APIs and a set of exemplar schemas for communications between common objects.
In his Google I/O talk, Pichai says Weave is intended to allow objects to talk to each other, to the cloud and to the phone. Developers can submit custom schemas, but these will need to go through a system of Weave certification.
Pichai made the point that Weave is a cross-platform protocol and will run on Brillo and Android.
Pichai concluded by saying Brillo will be released to developers in the third quarter of 2015 while Weave documentation will be released gradually through the year. The full Brillo/Weave stack should be ready in the fourth quarter of 2015.
Questions or comments on this story? Contact: peter.clarke@ihs.com
Related links and articles:
IHS Connectivity & IoT Research
The Internet of Things needs a 'fabric'
News articles: