Don't expect a slowdown in sensor growth in smartphones and tablets in the next five years as revenue will expand to $6.5 billion by 2018, according to an IHS Technology report.
Driven by the expansion of Samsung and Apple to provide new devices with top-of-the-line sensor technology, revenues for sensors will rise nearly three-fold to $6.5 billion in 2018, up from $2.3 billion in 2012, as shown in Figure 1. Of this, IHS forecasts the fastest expanding space for sensors will be in emerging devices. Emerging device revenues will surge to $2.3 billion by 2018, up from just $24 million in 2012.
Figure 1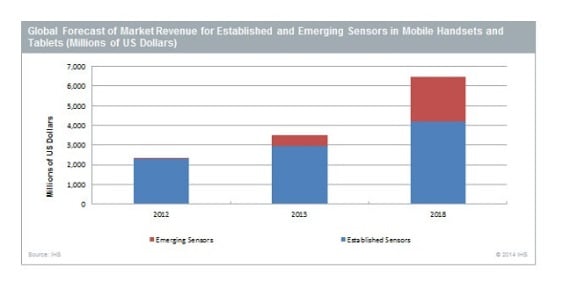 Sensors in mobile devices run the gamut of motion sensors, light sensors and microelectromechanical systems (MEMS) microphones. In the emerging space for phones and tablets, sensors include fingerprint, optical pulse, humidity, gas, ultraviolet and thermal imaging.
"The next wave of sensor technology in smartphones and tablets has arrived," said Marwan Boustany, IHS senior analyst for microelectromechanical systems (MEMS) and sensors, in a statement. "Led by Apple and Samsung, the mobile market is moving beyond simply integrating established devices like motion sensors and now is including next-generation features like fingerprint and environment/health sensors. Adoption of these newer devices will drive the expansion of the mobile sensor device market in the coming years."
One of the largest markets forecasted to make an impact in the next few years is fingerprint sensors, IHS said. Shipments of fingerprint-enabled devices is expected to rise to 1.4 billion by 2020, more than four times the 317 million units shipped this year. The rise of these sensors is the result of their inclusion in new Apple devices but Samsung has also got into the act with its Galaxy S5 and Huawei's Ascend Mate 7.
Samsung, for its part, has been at the forefront of including emerging sensors in its devices such as a humidity sensor in the Galaxy S4, a pulse sensor in the Galaxy S5 and a UV sensor in the Note 4, IHS said.
"This fingerprint market has all its requirements for success converging at the right time," Boustany said.
The reason for this is that fingerprint sensors play a role in mobile payment services for services such as Apple Pay as well as support for Visa, MasterCard and PayPal that are working on mobile payments and biometric authentication.
Related links:
News articles: