SK Telecom is coming to CES 2020 with a host of 5G projects designed to showcase how the next-generation cellular technology can be used for applications beyond wireless devices, consumer electronics and autonomous driving.
SK said it plans to use CES 2020 to globally launch itself as a worldwide information and communications technology (ICT) provider in the field of mobility and entertainment.
At CES, the Korean telecom giant will unveil what it claims is the world's first 5G 8K television that the company has been developing since September 2019. The television would receive 8K video over SK's 5G network and could be used to upgrade existing full HD and 4K video to 8K video through upscaling and codec technologies applied to network-based media processing (NBMP) technology. Users would then be able to use 8K multi-view broadcasting for augmented reality (AR) and virtual reality (VR) content over the 5G network.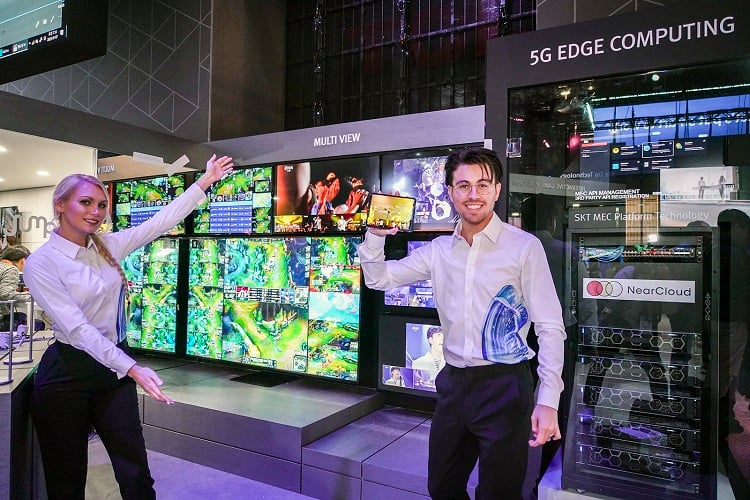 Demonstrations of SK's mutli-view 5G technology inside its booth at CES 2020. Source: SK Telecom
Speaking of multi-view entertainment, SK Telecom will be showcasing its 5GX multi-view features that create a personalized entertainment experience with multiple camera angles alongside the main broadcast. SK said these camera angles could be following a certain player during a sporting event or focusing on a band member during a concert. SK will also demonstrate its ATSC 3.0 multi-view broadcasting service, which it began working on in June 2019. This service will allow users to watch live streaming of two different broadcasting channels on a single screen while inside a vehicle.
SK will also offer an update on its 5G high-definition mapping solution called Road Learner that collects and analyzes road traffic information in real-time through sensors installed in cars and artificial intelligence (AI) technology. SK started working with the Seoul Metropolitan City Government in May 2019 to build 5G autonomous infrastructure in the city. SK said these HD maps will play a critical role as the brain of a self-driving car and last April began investigating how HD maps could be used over its 5G network to help with advanced driver assistance systems in public transportation vehicles that may one day be automated.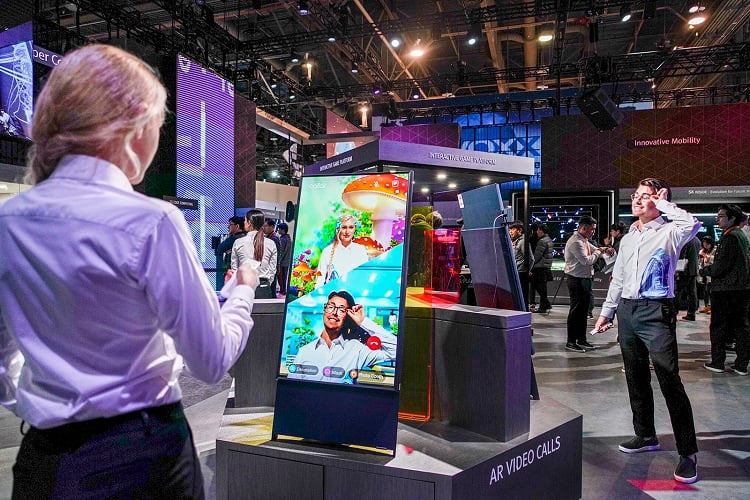 Video augemented reality calls will be demonstrated inside the SK Telecom booth at CES 2020. Source: SK Telecom
Finally, SK will demonstrate its 5G mobile edge computing, which uses the technology's low latency for data transmissions through small-scale data center installations at 5G base stations or routers. This is considered essential for AR and VR services. One of the applications this could be used for is Sero TV, which is an AR video call service being developed with Samsung Electronics. The technology uses facial recognition-based AR technology, real-time background and portrait segmentation that links to a smartphone and displays freely on televisions for video calls.
CES 2020 takes place Jan. 7-10 in Las Vegas.