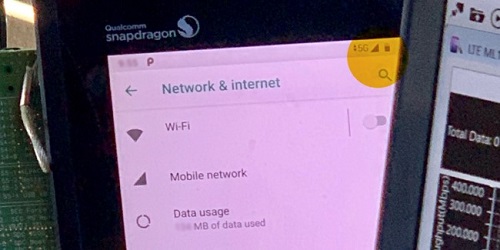 Sprint's test of its 5G data connection that was unveiled at CES 2019. Source: SprintThe future of electronics was on display at CES 2019, which wrapped up last week in Las Vegas. However, one of the year's biggest technology trends — the forthcoming introduction of 5G wireless smartphones and devices — was surprisingly quiet.
While there were some announcements of new equipment and even a smartphone introduced by Samsung, CES 2019 was more about the new prototype vehicles, next-generation gadgets, new 8K TVs and everything else.
Given the impact 5G is expected to make this year as well as well into the future, one might expect more of a showing from companies regarding the first 5G smartphones and connected devices that will be affected by the next-generation wireless technology.
In fact, the biggest 5G news coming from CES 2019 was the criticism of AT&T's mishandling of its 5G promotion. The company released a new round of commercials and other materials that labels its current smartphones and network as "5G E," with the E standing for evolution. Verizon and T-Mobile immediately called this a marketing ploy, stating that 5G E is simply a different iteration of AT&T's 4G LTE network.
Most 5G deployments are expected to begin about the same time the smartphones become available, which is seemingly in the middle of the year.
The lack of 5G devices at CES 2019 is likely due to the fact that the technology is just not ready for prime time. It is also likely part of the reason why telecoms criticized AT&T for saying it was already available. While 5G smartphones will debut this year, most believe the kind of performance, latency and services won't be ready to take full advantage of the limited networks that actually can support the technology.
Mark Hung, vice president of market research firm Gartner Inc. told Electronics360 that a number of 5G phones from multiple vendors will be available in 2019 with 5G. However, missing from the list of suppliers is Apple, who is working with Intel on its 5G modems. Hung said Apple will likely debut its 5G smartphone in 2020 after the technology has been further developed.
"I don't think 5G coverage will be that broadly based in 2019 but telecoms are finding ways to monetize 5G," Hung said. "Anything that can spur growth as consumers are keeping their phones longer. So 5G is a good selling point."
But don't expect the promised 10 times speed to be available as the initial rollout won't be anywhere near this, at least from these early phones.
"LTE technology also promised a 10 times increase in speed but when it was first deployed it was not even close to this," Hung said. "In fact, even today not many people get that kind of speed. You can get it in some areas but most people don't. I expect to see a similar deployment with 5G as speeds ramp up over time."
The 5G announcements
Samsung has already announced that it will have a few 5G smartphones on the market in 2019 including two with AT&T, one for Sprint and one with Verizon. But up until CES 2019, they hadn't given a glimpse of what the phone would look like. That changed with a prototype 5G smartphone inside Samsung's booth. While the phone didn't look like anything special — more than likely just a basic phone and not a final version — it shows that the company is on track to deliver a 5G phone in the first half of the year.
Sprint confirmed at CES 2019 that a Samsung 5G smartphone would be launched in the summer of this year. Last year, Sprint announced it would be launching a 5G smartphone with LG Electronics in the first half of 2019, with its network available in a handful of cities. The company will therefore be supporting at least two phones with 5G in the near future.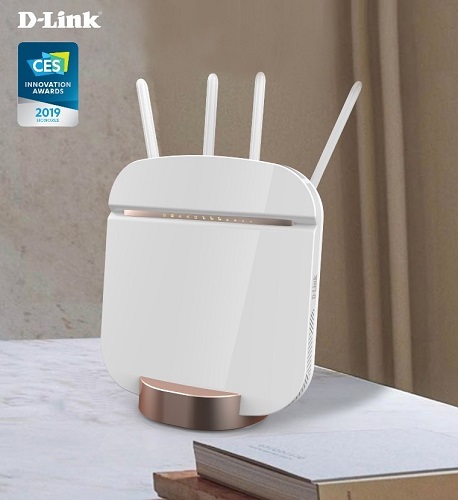 D-Link's DWR-2010 5G wireless gateway. Source: D-LinkThe Samsung phone will offer dual-mode connectivity to Sprint's LTE and 5G networks and support the telecom's 2.5 GHz spectrum. Additionally, the smartphone will support Sprint's 1.9 GHz spectrum, 800 MHz spectrum and other LTE spectrum bands for roaming. Sprint's mobile 5G network will launch initially in nine cities in the U.S. including Atlanta, Chicago, Dallas, Houston, Kansas City, Los Angeles, New York City, Phoenix and Washington D.C.
Along with Nokia and Qualcomm, Sprint shared what the company claims is the first over-the-air 5G data transmission using 2.5 GHz and massive MIMO on its commercial network. The test was conducted on its San Diego network using global 5G standards on a commercial 3GPP 5G New Radio (NR) network with Sprint's 2.5 GHz spectrum, Nokia's dual-mode AirScale Massive MIMO radio and a smartphone powered by Qualcomm's Snapdragon X50 5G modem and antenna modules with integrated RF transceiver, RF front-end and antenna elements.
The test demonstrated a transition of connectivity between Sprint's 4G LTE Advanced and 5G network to stream YouTube videos, conduct Skype audio and video calls and send and receive instant messages.
Meanwhile, D-Link Corp. introduced a 5G gateway called the DWR-2010. The gateway provides 5G internet connectivity through an 802.11ac/n wireless network and provides users with internet access with speeds 10 times faster than current LTE networks. When the gateway is connected, users can transfer data and stream media at high speeds and a multi-gigabit Ethernet port allows for high-speed connections to wired devices.
The gateway supports Wi-Fi mesh technology to create a mesh network covering large areas and options for Zigbee, Z-Wave and Bluetooth Low Energy to connect a range of smart home and internet of things devices.
Other 5G announcements include a 5G signal booster from Sure Call called Force 8 and Skyworks Solutions' Ultra 3.0 next-generation hotspot that works in combination with Qualcomm's LTE X20 modem.