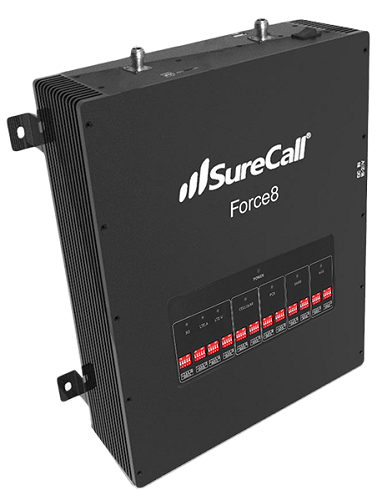 The Force8 5G signal boosterSureCall has started commercial availability of what it claims is the world's first 5G signal booster designed to boost 5G connectivity in commercial buildings in urban, suburban and rural areas of North America.
The Force8 signal booster, which will be announced at CES 2020, amplifies cellular signals for T-Mobile's 600 MHz band and AT&T's 2.3 GHz band for enhanced 4G and 5G adopters and will also boost 3G and 4G LTE signals for all North American carriers, the company said.
While 5G exploded in 2019 with deployments across multiple countries in multiple cities, coverage remains limited due to the natural signal range and penetration of 5G technology. While the sub-6 GHz bands of 5G have greater ability to penetrate objects, the higher bands, known as millimeter wave (mmWave), have trouble passing through buildings, trees and other objects in its path.
The signal booster from SureCall helps building interiors to receive reliable cellular connectivity for users and helps overall 5G to boost its signal.
SureCall said the booster features a built-in compatibility with the SureCall Cloud Remote Management Platform, which enables the monitoring, management and optimization of commercial signal booster deployments from any location.
The booster can provide signal coverage inside a building of up to 80,000 square feet and accommodates any floor plan with a variety of antenna options, the company said.
CES 2020 takes place Jan. 7-10 in Las Vegas.