A topic of much discussion at CES 2021 was 5G, the next generation wireless technology. Most companies are planning to incorporate the technology into future designs for many consumer electronics, and businesses are rapidly developing the technology to be included in future cities and infrastructure.
Notably absent from much of the 5G releases was the long-awaited devices beyond the ubiquitous smartphone. While the smartphone will undoubtedly be the largest market for 5G, the promise of other applications and uses for the technology have consumers and businesses waiting to see what is introduced.
But that is not saying there were not plenty of announcements during the show. Here are most of them.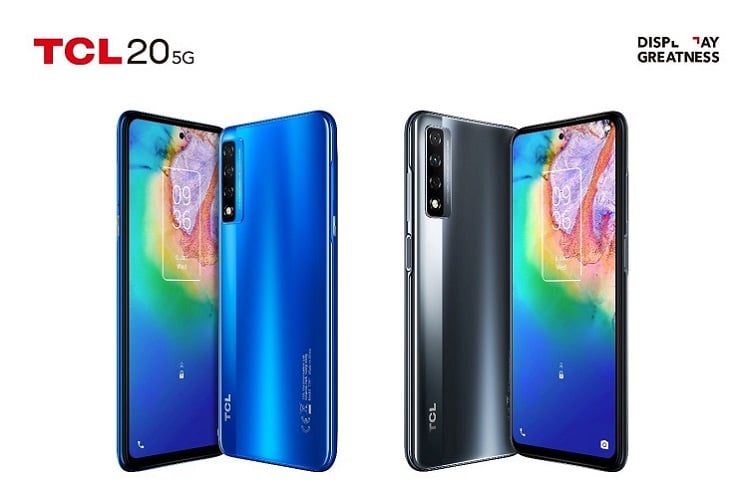 TCL's 20 Series smartphone will be priced below $400, which some believe is the launching point for 5G smartphone mass adoption. Source: TCL
Smartphones
Typically, smartphone debuts are rare at CES because they get lost in the shuffle of so many other product introductions. Or companies wait until the Mobile World Congress, which takes place a few months from now. But this year, during the all-digital CES, two smartphones were launched from Motorola and TCL.
Both phones are priced below the magical price point of $400, which many experts believe is the tipping point for when 5G smartphone sales will really take off. In fact, ABI Research forecasts that by 2022, more than 60% of the 549.3 million 5G smartphones shipped will be priced below $600 as a result of more affordable 5G chipsets and other cheaper components.
The Motorola One 5G Ace features the Qualcomm Snapdragon 750G processor with 6 GB of random access memory (RAM) and up to 128 GB of storage. The Android smartphone includes a ubiquitous 5,000 mAh battery and fast charging support along with dual-band Wi-Fi, Bluetooth 5.1, NFC, GPS, headphone jack and Type-C USB port. The Ace includes a 6.7 in FHD+ display and a 48 megapixel triple camera system. The cost of the phone, which will be available later this week, is $399.99.
Chinese consumer electronics vendor TCL introduced its latest 5G smartphone, called the 20 Series, during the world's largest tradeshow with availability slated to begin next month. The phone, priced at about $365, will be targeted at the European and Asian markets. The phone includes an 8 nm octa-core Qualcomm Snapdragon 690 5G chipset, a 6.67 in display and a 48 megapixel main rear camera.
Appear Inc. said it would launch a 5G smartphone equipped with what it claims is the first graphene battery that is water-resistant. Targeted for release in March 2021, the smartphone using Qualcomm processors would allow for a full recharge in about 20 minutes. Appear, a San Francisco-based startup, gave few details about the upcoming smartphone but boasted about using similar technology to its Buoyant speakers that have water-resistant properties.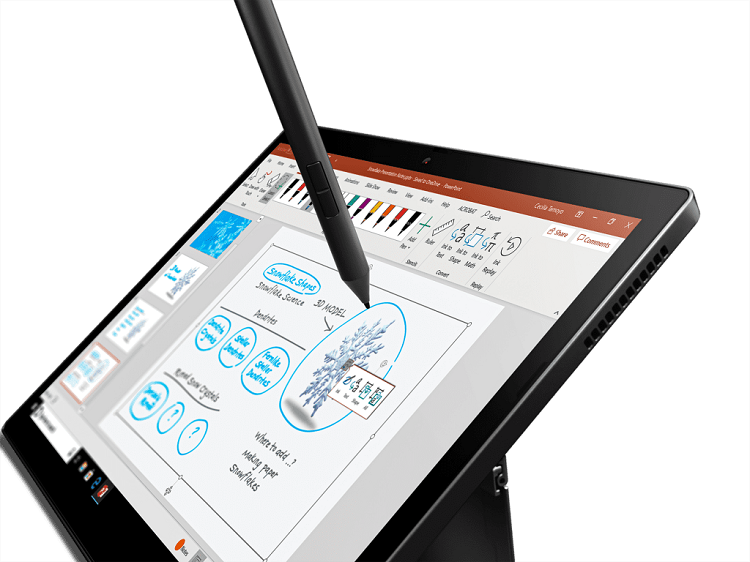 Lenovo's 5G-enabled Thinkpad X1 Titanium Yoga uses Qualcomm's Snapdragon X55 5G modem for connectivity. Source: Lenovo
Laptops
Not surprisingly, the other main thrust of 5G applications so far on the market outside of the smartphone has been the introduction of 5G-enabled laptops. The technology allows workers and consumers to connect to a faster connection than Wi-Fi and on par with Ethernet speeds. That is, if a connection can be found, which is still challenging with coverage limited in most cities.
Dell introduced its Latitude 9420 and 9520 with built-in Wi-Fi and 5G capability powered by the 11th generation Intel Core vPro processors that were also launched during this year's CES. The Dell laptops come with the option for 5G modems that includes both sub-6 GHz and millimeter wave (mmWave) 5G.
HP released its Elite Dragonfly G2 laptop, which is also based on Intel's vPro processors and new Intel graphics along with 5G or gigabit-class 4G LTE connectivity. Lenovo introduced a pair of new 5G-enabled laptops in the ThinkPad X1 Titanium Yoga and IdeaPad 5G, both supporting 5G through Qualcomm's Snapdragon X55 5G modem.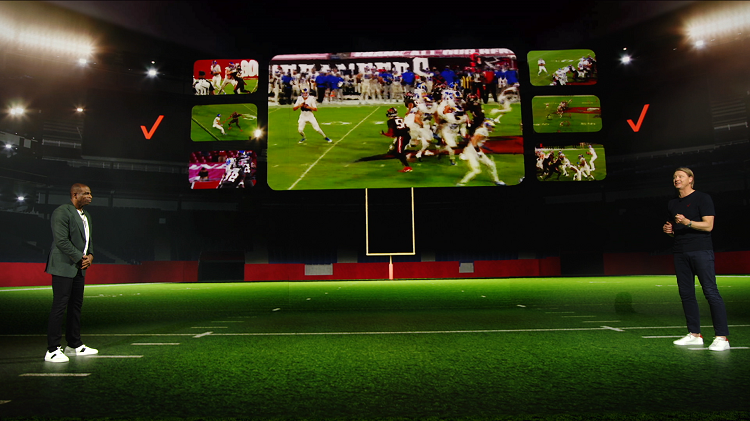 Verizon CEO Hans Vestberg and former NFL player Deion Sanders discuss the expansion of NFL stadiums getting 5G coverage during the Verizon keynote address. Source: Verizon
5G deals
Verizon chairman and CEO Hans Vestberg delivered the kickoff keynote address virtually at CES 2021. The show was different this year from previous years because it was possible to show some of the technology in short demonstrations.
"Our world has experienced significant change since we last took the keynote stage at CES in 2019," Vestberg said during the keynote. "There's been an extreme acceleration in the digital revolution, and at the heart of that transformation is 5G technology. The future of work, learning, telehealth, retail and streaming are very much our current realities. And we are just getting started. 5G isn't just another tech innovation, it's the platform that makes other innovations possible."
During the keynote, Vestberg announced new deals with the National Football League (NFL) to expand 5G coverage to 28 NFL stadiums by the end of 2021 with expanded coverage expected to come in some stadiums. NFL Commissioner Roger Goodell joined the keynote to talk about 5G technology and how it will allow fans to get a new look at the game using the NFL app and 5G-enabled devices to engage with select games with up to seven different camera angles and augmented reality (AR) to get stats and other information about the game and players.
Verizon is also expanding its partnership with the Smithsonian to bring more 3D artifacts into AR including the Apollo 11 Columbia Command module. In the next five years, Verizon will provide high fidelity scanning of collections and artifacts as well as the creation of new digital experiences for the museum powered by 5G technology.
Verizon also launched a new interactive art experience with the Metropolitan Museum of Art in New York. The Met Unframed is a virtual art and gaming experience using 5G networks to digitally render a dozen art galleries and nearly 50 works of art from The Met's collection.
Finally, Verizon is partnering with 15 Live Nation clubs and theaters to deploy its 5G network at venues in the U.S. including The Wiltern in Los Angeles, The Fillmore in Miami, The Masonic Theater in San Francisco and Irving Plaza in New York. The network will allow concert goers to experience music both in person and virtually as well as provide multiple camera angles for fans to enjoy during live streams of the shows or during the actual event once these venues reopen.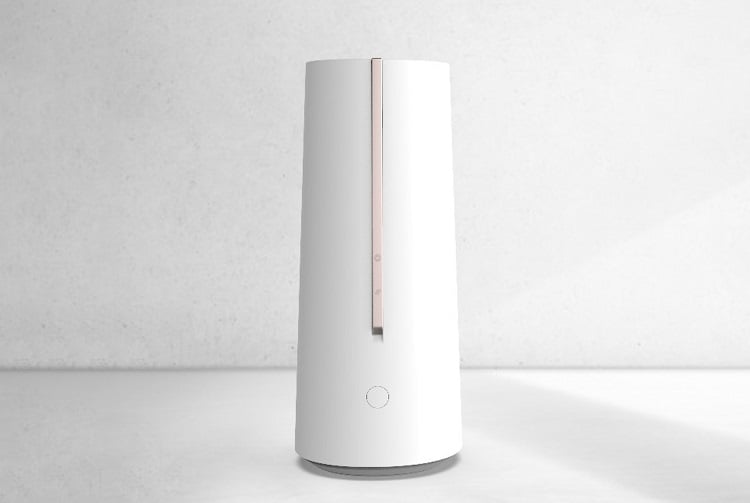 D-Link's new 5G Wi-Fi 6 CPE device is designed for businesses to bring 5G connections to the workplace. Source: D-Link
5G components
While 5G devices were absent and only a handful of phones made it to CES, the companies developing 5G tech came out in force with several companies introducing new 5G components to expand the market and for the development of new products.
D-Link Corp. introduced a new 5G Wi-Fi 6 customer premise equipment (CPE) device and 5G Wi-Fi 6 Mobile Hotspot designed for both the home and businesses looking to introduce 5G technology to the workspace or their home networks.
Qorvo announced a family of low noise amplifiers targeted for base station infrastructure deployments such as 5G massive MIMO. The company said the combination of low noise and high dynamic range of the devices help to maximize the coverage of 5G networks and is expecting these devices to be in high demand as massive MIMO begins to ramp up worldwide.
Chinese module maker Quectel Wireless Solutions launched three 5G New Radio (NR) sub-6 GHz modules during CES targeted for the mass deployment of 5G connections happening worldwide. The modules, based on the Qualcomm's Snapdragon X55 5G modem, support lower latency, high speed and enhance carrier aggregation technology for fixed wireless access broadband and internet of things (IoT) applications.
Thundercomm launched a new artificial intelligence (AI) video decode device for use in construction, healthcare, retail, manufacturing, transportation and smart cities that supports a 5G connection. SureCall introduced the Fusion Professional signal booster designed to improve signals in large homes and medium-sized buildings up to 8,000 sq ft both for 4G and 5G connections. And Foresee expanded its SLC parallel NAND flash to be used in 5G modems, routers and other products.