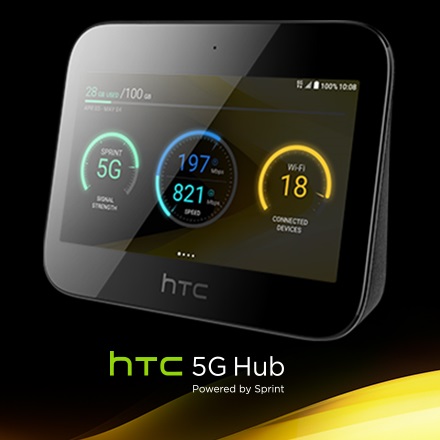 The HTC 5G Hub is designed to accelerate home wireless connections. Source: SprintSprint is now accepting pre-orders for the first two 5G devices it will offer: the LG V50 ThinQ 5G and HTC 5G Hub.
At the same time, Verizon has started selling its first 5G phone — the Samsung S10 5G — in its stores and online as the first 5G-enabled smartphone to be actively sold on the U.S. market.
After the pre-order period, Sprint said the two 5G devices will be available on May 31 for purchase in four markets: Atlanta, Dallas, Houston and Kansas City, Missouri. In the coming weeks, Sprint will make its 5G connection live in Chicago, Los Angeles, New York City, Phoenix and Washington D.C.
In terms of pricing, the LG V50 ThinQ 5G can be purchased for a limited time price of $24 per month over the next 24 months, which the company said is a 50% discount. The 5G Hub hotspot is priced at $12.50 a month over the next 24 months, which is also half off the normal price. In order to get the 5G service, an additional $80 per month would be required for Sprint's "unlimited premium" service.
The LG smartphone includes an OLED display with DTS:X 3D surround and Hi-Fi quad D AC, three rear and two front cameras and it is powered by the Qualcomm Snapdragon 855 processor and a 4,000 mAh battery.
The HTC 5G Hub is a mobile hotspot using Wi-Fi to power 5G and non-5G devices such as laptops, tablets, smartphones and televisions. The hub allows users to stream television shows in 4K, to play games faster, and it provides connectivity for up to 20 users. The hub is also powered by the Snapdragon 855 with the Snapdragon X50 5G modem with a 7,600 mAh battery and Gigabit Ethernet port.
Meanwhile, Verizon said consumers can purchase the Samsung Galaxy S10 5G in stores and online now although only two cities so far have gone live with the Verizon's 5G ultra-wideband service — Minneapolis and Chicago — with plans to expand it to at least an additional 20 cities this year.
While the Galaxy S10 5G will be available from Verizon exclusively, all major U.S. carriers will offer the smartphone at some point this year. South Korea has already launched the Galaxy S10 5G from major carriers and other countries in Europe are expected to sell the phone later this year.