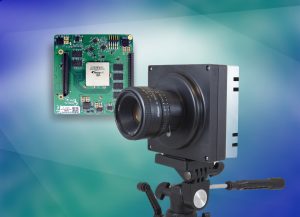 Critical Link, a provider of electronics and engineering services for industrial embedded imaging applications, will showcase two new technologies at Photonics West 2019, the world's largest photonics technologies event.
The first, the Mity CAM-C50000, is an imaging system designed as an evaluation platform for the CMV50000 high-speed image sensor from Ams/CMOSIS. The global shutter sensor features 47.5 MP resolution at 30 frames per second and mono and RGB color options, with low dark noise and high dynamic range. The innovative system provides multiple interfaces including USB3 Vision and HDMI preview as standard, with custom options that include Coaxpress, Camera Link, Gige Vision and more.
The Mity CAM-C50000 is an open architecture design that utilizes Critical Link's other new technology, the Mity SOM-A10S image processing board. This system-on-module (SOM) family features dual core Cortex-A9 ARMs with up to 480KLE user-programmable, field-programmable gate array (FPGA) fabric, DDR4 memory and 12 high-speed transceiver pairs, making it an ideal solution for machine vision and scientific imaging applications. The board is available in two configurations: as a stack-through board for use in camera designs, or with a bottom-side, rugged board-to-board connectors for integration with an industrial baseboard.
Both the Mity CAM-C50000 and Mity SOM-A10S support open computing language (OpenCL) and high-level synthesis (HLS) tools for accelerating design cycles and targeting C/C++ code to the FPGA. The processor board runs embedded Linux out of the box and provides versatility and ease of customization for complex imaging platforms.
The Mity CAM-C50000 and Mity SOM-A10S are available from Critical Link and select partners starting in January 2019.
For more information, please go to http://www.criticallink.com/.