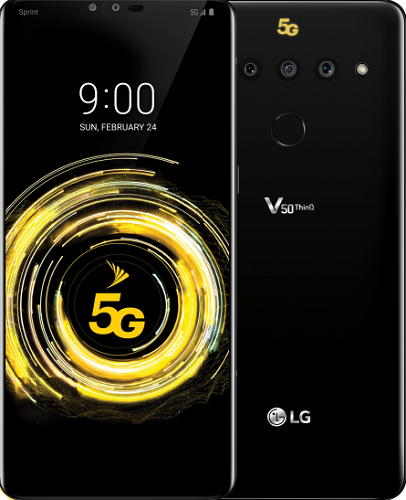 Sprint will begin selling the LG V50 ThinQ 5G in the coming weeks. Source: LG ElectronicsDuring Google's recent I/O event, Sprint announced that its first 5G service is coming in the next few weeks to four cities along with two 5G-enabled smartphones available for purchase.
Sprint will launch 5G service to areas in Atlanta, Chicago, Dallas and Kansas City. In June, Sprint said it will expand coverage to areas in Houston, Los Angeles, New York City, Phoenix and Washington D.C. Across all nine of the initial cities where 5G will be deployed, coverage is expected to be more than 1,000 square miles.
Sprint is going to market with two initial smartphones: the LG Electronics V50 ThinQ 5G and the HTC 5G Hub. In the summer, Sprint plans to begin selling the Samsung Galaxy S10 5G, the smartphone that Verizon started selling earlier this year, which is also being sold in South Korea as well.
Sprint said its 5G technology will use dual-connectivity delivering LTE and 5G simultaneously to devices to allow for switching between the technologies without losing connectivity.
At the Google event, Sprint used Ericsson's 5G massive multiple-input and multiple-output (MIMO) radios to test over-the-air-dual-connectivity with 60 MHz of 2.5 GHz on LTE and 40 MHz of 2.5 GHz on 5G New Radio (NR). The demonstration included streaming YouTube content in 4K, gaming and augmented reality using the LG V50 ThinQ 5G.