The annual CES show is famous for showcasing the latest and emerging electronic gadgets, but it also features new technologies and vehicle prototypes in the automotive space.
Much like last year's CES, self-driving cars and the technology to enable these vehicles will be in ample supply at this year's show. Yandex, Hitachi, BCS, Roadstar.ai, Clarion and others will demonstrate the latest autonomous technology.
Existing Designs and Prototypes
Clarion and Russian car vendor Yandex will showcase the current state of autonomous driving. Clarion plans to give an update to its Level 3 autonomous technology that was previewed at last year's CES, in which a car self-parked after traveling around a pre-formatted path in a parking lot outside the main convention center. And for the first time outside of Russia Yandex will be providing rides in its self-driving car at CES after obtaining a license to test in Nevada.
A number of other suppliers will demonstrate new prototypes to show what the future may look like.
Robert Bosch GmbH will demonstrate its futuristic concept shuttle. The vehicle will be part of a driverless car sharing or ride-hailing service that Bosch said will be a common sight on city streets in the near future.
The concept shuttle is all-electric. Its intelligent vehicle system will show passengers real-time data on battery life and energy consumption as well as environmental data such as congestion and weather forecasts. The system also helps to find local charging stations. The prototype contains radar, video, ultrasonic sensors and intelligent braking control systems.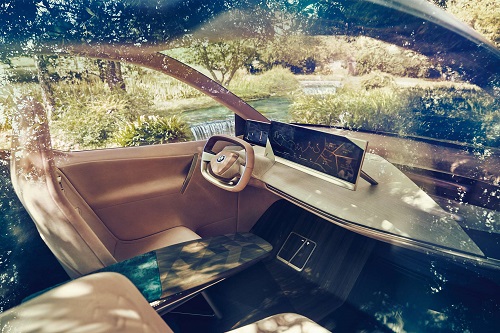 The interior of the slated 2021 Vision iNext vehicle. Source: BMWThe interior of the Bosch shuttle has space for four passengers, with infotainment available for all passengers on screens and onboard Wi-Fi.
Daimler will make the U.S. debut of its Urbanetic mobility concept, which is a self-driving transport vehicle for either passengers or cargo. The prototype vehicle could be used by logistics companies, local public transport companies or private individuals who would send transportation requests across city sprawls. Daimler said it hopes to reduce traffic volume, help with inner-city infrastructure and contribute to new, urban quality of life.
Meanwhile, BMW will be showing a number of concept vehicles at CES 2019, including its Vision iNEXT concept, a fully electric, fully connected and autonomous car that will begin production in 2021. BMW said it plans on the Vision iNEXT to become its new flagship technology, with a "living space" inside the car and a retractable steering wheel when the vehicle is in automated mode. The company will also demonstrate its riderless motorcycle as well as the new BMW X7 SUV.
Cockpit Enhancements
CES 2019 will also see demonstrations of new tech for vehicle interiors. IHS Markit expects the future to hold new OLED and curved displays, display mirrors, augmented reality, holograms and haptic feedback as well as a range of biometric innovations such as speech recognition, fingerprint authentication and interior monitoring for sleepy drivers.
Phil Amsrud, senior principal analyst for automotive semiconductors at IHS Markit, told Electronics360 he is looking to see what new solutions will enable a user to seamlessly move the smart home into a smart car.
"Will more systems monitoring the health of the driver and perhaps passengers be integrated into occupant monitoring systems? What AI solutions will be coming in the near future that impacts the automotive market? These are areas that generate excitement for me," Amsrud said.
Visteon, a Ford spin-off, will be demonstrating its second-generation SmartCore cockpit domain controller and display cluster. The hardware and software platform is focused on Level 3 autonomous driving and enhancing infotainment, audio and advanced driving assistance systems (ADAS) functionality.
"While autonomous driving gets all the hype, what we see is automated driving becoming a reality first, a feature based system that does functions such as help with driving on a highway or parking valet operations without a driver," said Upton Bowden, director of advanced technology development at Visteon.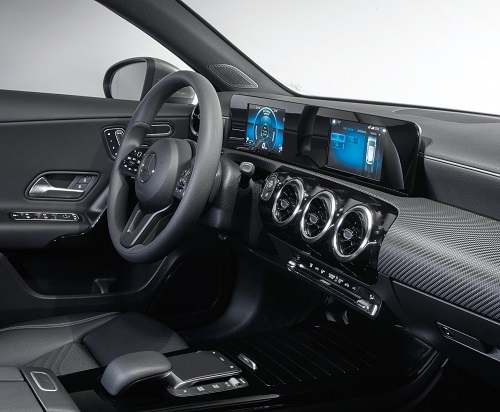 The first generation of Visteon's SmartCore cockpit in the Mercedes-Benz A Class. Source: VisteonVisteon's first iteration of its SmartCore was integrated into Daimler's Mercedes-Benz brand A-class luxury sedan. The device enabled an intelligent integrated cockpit domain controller using a single silicon chip with multiple CPUs and two digital displays functioning as the instrument cluster. SmartCore also features vehicle controls, multimedia, wireless Apple CarPlay and Android Auto features.
At this year's CES, Visteon will focus on how the system is architected and how developers can use it to achieve scale.
Meanwhile, Swiss startup WayRay will demonstrate its automotive augmented reality software development kit that allows developers to build, test and debug AR applications that will run on WayRay's in-vehicle holographic displays.
Daimler will debut its Mercedes-Benz User Experience (MBUX) infotainment system that can identify operation requests based on movement and will eventually include augmented reality for navigation and the ability to understand voice commands. This infotainment system will also feature an "energizing coach" that will give individual fitness recommendations while in the car.
And Audi envisions its own version of the future vehicle cockpit. Its Immersive In-Car Entertainment platform will simulate a movie theater experience in a car. The system will allow for streaming movies and other content, but passengers can only watch it while the car is parked.
Live Car Hacking
With all the talk and hype surround self-driving cars, new mobility options and connectivity, many drivers and riders are still concerned about the issue of security.
Israel-based Karamba Security is looking to run education sessions focusing on automotive cybersecurity at CES by hacking an autonomous vehicle live. The company will simulate an attack on a demonstration car and how its technology can fend off the attacks.
"The industry has been investing heavily in transforming to smart mobility and a self-driving future. However, this future relies on assuring consumer safety," said Ami Dotan, CEO of Karamba Security. "We will use CES 2019 as an opportunity to share our customers' experiences in securing their next-generation vehicles, while maintaining safety and minimizing legal exposure. We are excited to demonstrate live attacks on connected vehicles and showcase how they are deterministically prevented, without running into risks of false alerts, and without the associated cost and legal exposure of heuristic detection solutions."