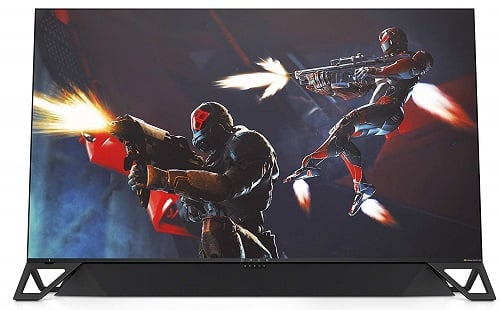 The Omen X Emperium is designed for gamers who want to play on something massive. Source: HP
CES is known for showing the cool, bleeding-edge gadgets, the next-generation prototype vehicles, the latest in smart home technology and upcoming, game-changing innovations such as 5G.
But one of the staples of the show has always been and continues to be the introduction to the latest and greatest in cutting-edge televisions.
This year's show is no different, with the introduction of an impressive number of 8K organic light emitting diode (OLED) and liquid crystal display (LCD) TVs.
LG's signature OLED TV R
The highlight of the television market at CES 2019 may have been LG Electronics' rollable 65 inch OLED.
Flexible electronics are becoming more popular. Advances in technology have enabled more innovation in consumer electronics, with devices that can be bent or folded in ways they never could before. For example, Royole Corp. introduced a line of flexible displays including a foldable smartphone at CES.
LG's Signature OLED TV R allows users to roll up and roll back the television. The TV uses flexible screen technology, allowing it to disappear into its base when not in use. The device has three different viewing options: full view where the entire rollable TV is in use, line view where the TV is partially rolled out, and zero view where the TV is tucked away in the base. In the latter mode users can still access the audio for playing music.
One of the advantages of the TV is that it can be used in areas where users don't want a massive TV taking up space. The TV can also be used to limit screen time or to improve room style.
Massive 8K sets
While the rollable OLED won't be for everyone, it shows where flexible technology is headed and what the possibilities may be in the future.
But here's where the interesting aspect of the television market takes shape. 4K TVs are currently on the market and selling well despite limited content for 4K, with streaming being the most viable option for most early adopters.
But that isn't stopping TV manufacturers from already focusing on the next big thing: 8K resolution sets.
The 8K TVs, introduced at CES and available for shipping in 2019, include:
While content for these TVs will be extremely limited, early adopters are still expected to jump on board. There are rumors that both Amazon Prime and Netflix are experimenting with 8K content as a way to drum up and continue business while other networks and cable outlets still struggle to make a transition to 4K.
While pricing was not announced, given the size of these televisions and their high quality, they are bound to hit the wallet hard when released later this year.
4 K TVs continue to expand
There are a number of 4K TVs already on the market today, but the technology continues to improve and the prices continue to come down, although at a premium compared to other 1080p resolution LCD TVs.
4K TVs, introduced at CES and available for shipping in 2019, include:
Additionally, HP introduced a massive 65 inch 4K gaming display, called the Omen X Emperium, which includes Nvidia's Shield to access streaming apps and Google Assistant so it can be more than just a gaming monitor. The monitor includes Nvidia G-Sync HDR with a 144 Hz refresh rate and comes with an optional soundbar for three-way crossover stereo, which eliminates the need for a separate subwoofer. The gaming monitor will cost $4,999 and will ship later this year.
Click here to check out Electronics360's full coverage of CES 2019.