The next generation of wireless communication, 5G, has just started to be deployed around the world, yet the initial rollout of smartphones has generated excitement among early adopters and consumers who have been holding out for an upgrade.
5G promises to boost data rate speeds by as much as 10 times that of 4G LTE, with extremely low latency that will open up the possibility for advancements in autonomous driving, far-field robotics, augmented and virtual reality, the ability to download full movies in seconds and much more.
While the speed and latency are not there yet, future iterations of network equipment, software upgrades and new semiconductors will allow device manufacturers and carriers to get there eventually, although it may take a few years. However, some of the devices have already tested in the 1 gigabit per second (gbps) range in cities where 5G is deployed. While these cities have very limited coverage, carriers continue to push out base stations to support a wider range, but again this will take time.
For now, halfway through 2019, here are the 5G smartphones that are already on the market:
Samsung S10 5G
Country: South Korea, the U.S., the U.K. and Switzerland
Carriers: Verizon, SK Telecom, Sprint, T-Mobile, AT&T, EE, Orange, Sunrise, Swisscom, Vodafone and others
Price: $1,360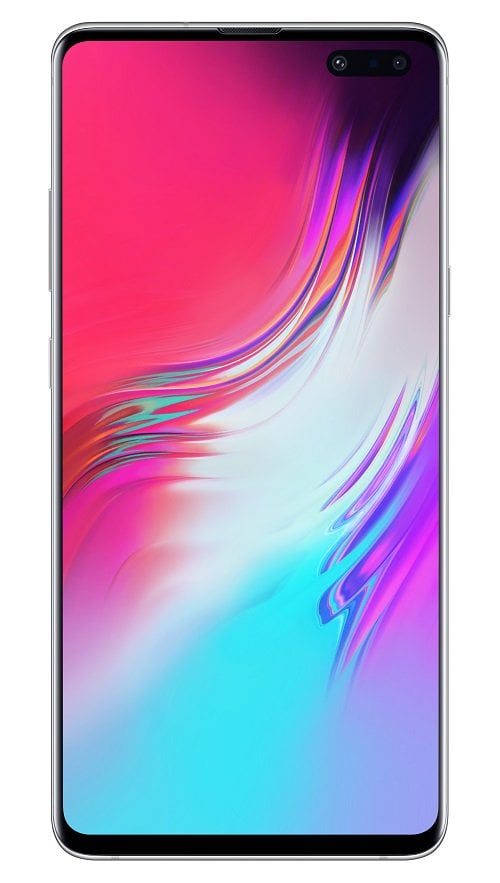 The Galaxy S10 5G smartphone. Source: SamsungOne smartphone that has made the biggest splash is Samsung's S10 5G smartphone, mostly because it will be everywhere by the end of the summer. Samsung made an exclusivity deal with Verizon so that it was the only company selling the S10 initially. However, now the phone is being rolled out to other companies and other countries.
SK Telecom has been selling the S10 in South Korea, and plans are to roll out the phone to all major carriers in the U.S. and the U.K. as well as to the two major suppliers in Switzerland, Swisscom and Sunrise.
The S10 5G uses Qualcomm's Snapdragon 855 process as well as its X50 5G modem. It also includes four cameras, including one that gives 3D depth information for augmented reality services as well as a bigger 4,500 milliamp-hour (mAh) battery.
This undoubtedly won't be Samsung's only phone in 2019, but it gives carriers a head start in offering the next-generation technology now while equipment vendors and chipmakers work to improve how fast and how far 5G will be able to go.
LG V50 ThinQ
Country: The U.S., Switzerland, the U.K. and South Korea
Carriers: Sprint, EE, Swisscom and Verizon
Price: $1,360
Much like the S10 from Samsung, LG is licensing the V50 ThinQ to just about everyone it can, including to EE in the U.K., Verizon and Sprint in the U.S., SK Telecom in South Korea and Swisscom in Switzerland. AT&T is expected to begin offering the V50 in the coming months, but there is no word if T-Mobile plans to offer the 5G smartphone in its lineup.
The V50 is powered by the Qualcomm Snapdragon 855 processor with 6 GB RAM, 128 GB storage and 4,000 mAh battery. The smartphone includes a 6.4 in OLED and detachable 6.2 in secondary display, a dual camera setup and two selfie cameras.
This will likely not be LG's only 5G smartphone released in 2019, but it gives a jump start to early adopters and those looking to upgrade for the future.
Motorola Moto Z3 and Z4
Country: The U.S.
Carrier: Verizon
Price: $499, but the modular accessory to enable 5G costs extra
The Lenovo/Motorola Moto Z3 holds the title for the first smartphone that allows 5G connections to be launched in the U.S. The phone uses a modular accessory that attaches to the back of the phone to allow for the 5G connection.
The debut of the Moto Z3 was done in conjunction with Verizon turning on its 5G network in Chicago and Minneapolis as part of Verizon's larger plan to deploy 5G services to more than 30 U.S. cities in 2019.
Reno 5G by Oppo
Country: Switzerland and the U.K.
Carriers: Swisscom and EE
Price: $980
Chinese smartphone maker Oppo was the first company to introduce a commercial 5G smartphone to be released on the European market and is available through Switzerland's telecom Swisscom. Oppo said the Reno 5G phone will be available in additional markets in other regions of the world in the coming months.
The Reno 5G handset features a full panoramic screen, front-facing camera, soft light and back flash, and a full-focal-length tri-lens rear camera with 10 times hybrid zoom. The phone is powered by Qualcomm's Snapdragon 855 mobile platform with 8-256 GB of storage and a 4,065 mAh battery.
While Swisscom is already selling the Reno 5G, U.K. telecom EE said it is now accepting preorders for smartphones with the goal to begin selling the phones in the coming months.
OnePlus 7 Pro
Country: The U.K. and the U.S.
Carriers: T-Mobile, AT&T and EE
Price: $669
OnePlus' 7 Pro 5G smartphone is currently being sold from U.K. telecom EE, which plans to deploy the technology to 16 cities in 2019. OnePlus has previously worked with AT&T and T-Mobile in the past and it is likely its 5G variant smartphone will come to these carriers as well in the coming months.
The OnePlus 7 Pro features a 6.67 in, 90 Hz display, a pop-up selfie camera and three rear cameras.
Xiaomi Mi Mix 3 5G
Country: Switzerland and the U.K.
Carriers: Sunrise Communications AG, Three, Vodafone and Orange
Price: $830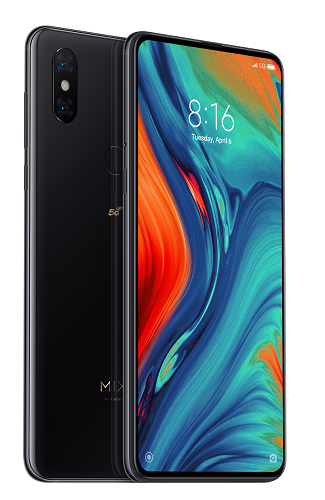 The Mi Mix 3 5G will be available in Europe later this year. Source: XiaomiSunrise Communications is now accepting preorders for the Xiaomi Mi Mix 3 5G, the initial offering from the Chinese internet device giant. The smartphone will initially be issued in Switzerland, but will be available in other countries later. The phone is powered by Qualcomm Snapdragon 855 mobile platform with the Snapdragon X50 5G modem with integrated transceiver and RF front-end solution.
The Chinese supplier also has relationships with Three, Vodafone and Orange in the U.K., so the Mi Mix 3 5G will likely make an appearance there in the coming months.
Huawei Mate 20 X
Country: Switzerland
Carrier: Sunrise Communications AG
Price: $980
Much like the Mi Mix 3 5G, Sunrise Communications is accepting preorders for the Huawei Mate 20 X, the Chinese communication giant's first 5G smartphone. Huawei recently became the second-leading smartphone vendor in the market and is looking to next-generation to expand its foothold in the mobile device market.
While Huawei has recently been blacklisted by the U.S., making it much harder for companies to deal with the Chinese vendor, the company won't relinquish its second place position easily and will likely be rolling out a number of new smartphones in the coming months and years for the 5G spectrum.
HTC 5G Hotspot
Country: The U.S. and Australia
Carriers: Sprint and Telstra
Price: $600
While not a 5G smartphone, the HTC 5G Hotspot is for sale through Sprint in the U.S. and is the first mobile device to support 5G in Australia from telecom Telstra.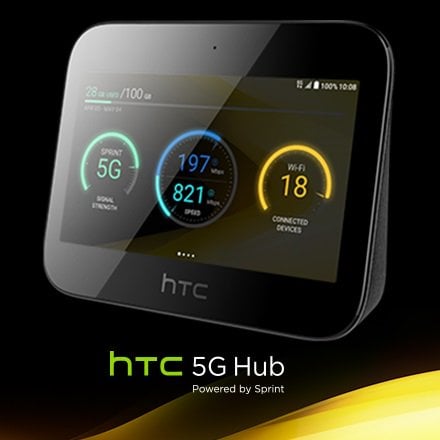 HTC Hub is a hotspot for consumers to enable 5G connectivity in the home. Source: HTCThe mobile hotspot uses Wi-Fi to power 5G and non-5G devices such as laptops, tablets, smartphones and televisions. The hub allows users to stream television shows in 4K, to play games faster and provides connectivity for up to 20 users. The hub is also powered by the Snapdragon 855 with the Snapdragon X50 5G modem and has a 7,600 mAh battery and Gigabit Ethernet port.
Upcoming phones
Obviously, this is just the beginning of the rollout for 5G smartphones. As the technology evolves and becomes faster and further reaching, smartphone vendors will ramp up their offerings in order to compete as well as to get consumers excited about the new technology. IDC forecasts that 1.9 billion 5G mobile broadband subscriptions will be active by 2024 with 10 million subscriptions projected to be active worldwide by the end of this year.
Recently, it was reported that Apple plans to have two 5G iPhones available in 2020 after the company ended its legal feud with Qualcomm and will have three iPhones that support 5G in 2021.
Google has yet to reveal its 5G plans; however, it has been reported that the Pixel 4 will be due out in October of this year and may support 5G technology. Additionally, ZTE and Nokia also have not revealed their 5G plans, but given that the companies are still alive in the smartphone market, it is likely they will introduce their own 5G variant in the near future. The Motorola Moto Z4 was also announced recently, although details and a timeframe for introduction have not been revealed.