While all the cool gadgets, televisions, automotive prototypes and robots get all the hype at this week's CES 2019, it is often the strange that garners a lot of the attention.
But just because these are the weird and wacky gadgets, they could still be useful or actually find a place in the home or office. They just are not the typical gadgets you might have in your household.
Here is some of the strangest items we found introduced at CES:
BreadBot
We get it. Baking bread is hard. It takes time, it is laborious and you have to get your hands sticky with the dough. So why not have a robot do the work for you?
That is the idea behind BreadBot from the Wilkinson Baking Company. The robot produces bread from flour and then mixes, forms, proofs, bakes and cools 10 loaves of bread per hour, autonomously. The robot can make multiple varieties of bread including white, wheat, whole wheat, nine grain, sourdough and honey oat.
It takes about 90 minutes to complete a loaf and new loaves can be produced every six minutes, yielding a whopping 235 loaves a day.
Wilkinson Baking Company said the robot can operate 24 hours a day and requires about 30 minutes of cleaning time.
Self-cleaning litter box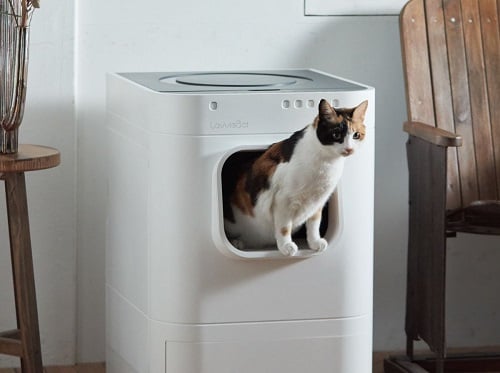 LavvieBot autonomous cleans the litter bin after a cat does its business. Source: PurrSongThere is no doubt that the worst thing about owning a pet is having to clean up after it. Whether you have a dog or a cat or even a rabbit, they poop everywhere and all the time.
Much like the BreadBot, why do the hard work and get your hands dirty if a robot can do it for you? LavvieBot is billed as the first Internet of Things (IoT) cat litter box that automatically cleans itself and refills its own litter.
Everyone who owns a cat can get behind this product. But seeing a feline climb in and out of this washing machine-looking device just to poop is a bit of a strange concept.
Apparently, LavvieBot has an app that keeps track of your cat's poop cycle and litter use so you can see if it is pooping regularly or if it might be constipated - in case that's something you might be interested in. It can also track weight changes to your feline and deodorize itself.
PurrSong, the company that created LavvieBot, said it will begin a crowdfunding campaign in May on Indiegogo to drum up interest and raise funds for production costs. So if you want a robot cleaning your cat's poop, look for that in a few months.
$8,000 smart toilet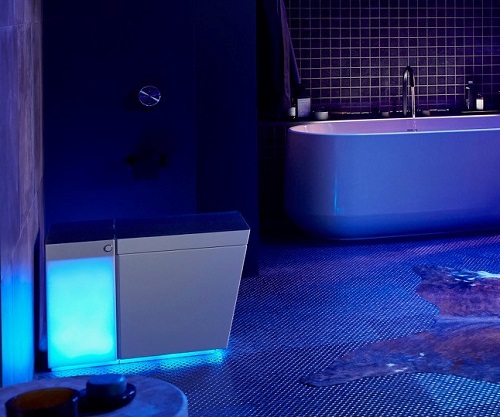 Numi 2.0 is a smart toilet with LED mood lighting, a heat seat and streams audio. Source: KohlerNow it seems many of these strange gadgets are designed to take the horror or labor out of doing things that we just do not want to do, like cleaning cat poop and baking bread. This one claims to make our time spent in our own bathroom more enjoyable.
This is the reasoning behind Numi 2.0, the smart toilet from Kohler that was introduced at CES. The toilet offers better water efficiency, personal cleaning and dryer functions, a heated seat and built-in speakers. Yes, built-in speakers. Apparently, this allows you to stream music or use Amazon Alexa as that is also built-in.
"Alexa, please order more TP."
To make the going-to-the-bathroom process even more enjoyable, the smart toilet features multi-colored ambient and surround lighting to create a more relaxed mood while doing your business.
Oh, and the toilet only costs you a mere $8,000.
Foldimate
One more gadget that takes the busy work out of your hands and into the care of an automated appliance is the Foldimate.
Foldimate takes the hassle out of folding laundry and lets a machine do the work. Now this is something that everyone from anywhere should be wanting in their life. Basically, you put a bunch of clean clothes into the machine and it spits out folded laundry in about five minutes. Probably works with dirty laundry too, but who wants dirty folded laundry?
Folidmate costs just a bit under $1,000, so the price might not be worth it. But if you have a slew of kids running around in your house, the cost may justify the ability to get your life back.
Atari Pong coffee table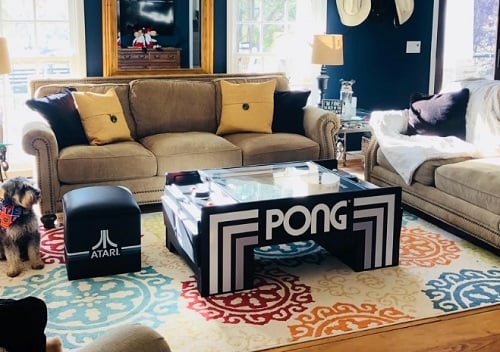 Play Pong, keep magazines on it and put your feet up on this coffee table. Source: Calinfer Inc.So the retro explosion is still in effect with everything that is old being new again. The Atari Pong table fits right into this lifestyle trend.
The Pong coffee table, which costs about $3,000, is equipped with a Bluetooth speaker for streaming music, LED lighting and clock display to keep track of the time you spend playing a game that is 45 years old. It also includes four USB ports to charge devices that are actually useful in today's age.
While the table is an interesting idea and maybe a conversation starter, the main issue here is that the company chose Pong as the game to feature. Sure, it was the very first video game, but even with new bells and whistles, it remains Pong … probably the most boring game ever. Why not do a Pac-Man table or an Asteroid table … or how cool would an old-school Zelda table be?
Netflix oven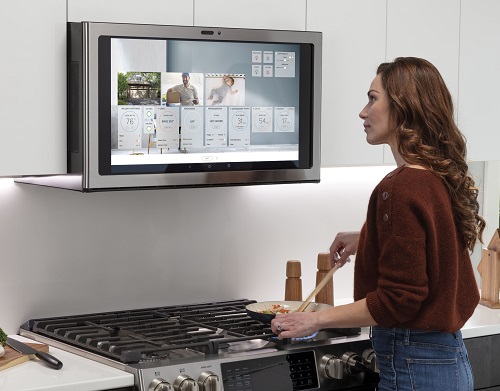 Kitchen Hub can show you how to make a meal, live chat with others and stream Netflix. Source: GEGE Appliances introduced a wide variety of smart kitchen appliances at CES this year, but the most interesting was its Kitchen Hub, an over-the-range interactive smart hood prototype with built-in internet connectivity to find recipes, connect with social networks, control with Google Assistant and, yes, watch Netflix.
The Kitchen Hub includes a 27-inch smart touchscreen with forward-facing cameras that allow users to interact with others in live chat. So now an intimate dinner can be had in different kitchens, with different food and never have to have pesky real human interaction.
The smart appliance will be priced at about $1,200.
Countertop dishwasher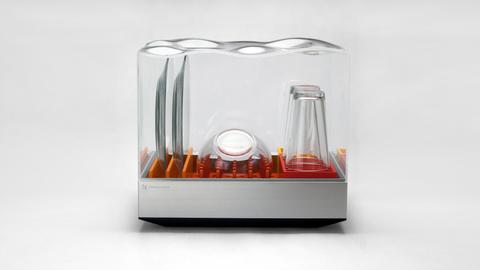 Tetra Countertop Dishwasher doesn't require plumbing and can be placed anywhere. Source: HeatworksBecause convention dishwashers are not enough, the Tetra Countertop Dishwasher from Heatworks actually was chosen as a CES 2019 Best of Innovation Award Honoree.
The gadget requires no plumbing connections and can be placed and used anywhere with a standard electrical outlet. This might be handy for apartments or remote locations that lack access to conventional plumbing and is probably a prepper's dream. Might also be a boon for bars, where the need to clean glasses conveniently is a necessity.
The Countertop Dishwasher holds 12 pint glasses or 10 plates or two full place settings (plates, bowls, cups and flatware).
All it takes is to load the dishes into the rack system, add a gallon of water and turn on the unit. The cycle takes a few minutes to wash and since it is transparent, you can watch it in action.
Seems cool, but having a little washer on a countertop is a bit of an oddity given what we are accustomed to seeing.
Click here to check out Electronics360's full coverage of CES 2019.