GaN Systems will announce and display new products and design tools at the conference and will be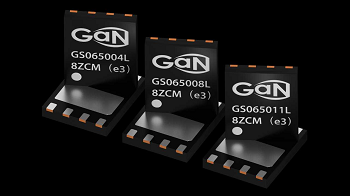 Source: GaN Systemsproviding customer demonstrations. Representatives from GaN Systems will be presenting two industry sessions and one tutorial session during the conference. Additionally, GaN Systems, the sponsor of the GaN Systems Cup Challenge design competition, will announce the winners at the awards ceremony at PEAC.
Solutions and Design Tools
At PEAC, GaN Systems will introduce new products and design tools that include:
The new GS-065 low current (4 A to 11 A) GaN Systems' line, which combined with the EZDrive circuit, eliminates the need for a discrete or integrated driver, making it easy to implement and reduce system costs. This solution for sub-1 kW power is perfect for many applications including gaming and workstation laptop AC adapters, TV power, LED lighting and wireless power systems.
A new 50 W wireless power amplifier expands the line of GaN Systems' solutions in wireless power transfer and charging applications that encompass the 100 W power amplifier and 300 W power amplifier products. The new power amplifier is targeted for low-power applications in consumer, industrial and automotive markets for items such as handheld electronics, power tools, toys, household, robots, drones and scooters.
Two new PLECS simulation models for three-phase traction inverter and single-phase, T-type, three-level inverter designs will be available on GaN Systems' Circuit Simulation Tool. This platform helps power designers quickly and easily tune parameters to suit their design goals and see the results in real time.
GaN Systems provides a comprehensive line of solutions that encompass both the 100 V and 650 V product ranges, as well as a multitude of design resources that help companies in the consumer, data center, industrial and automotive industries take advantage of GaN benefits around size, weight, power and system cost.
Speaker Sessions
| | | | | |
| --- | --- | --- | --- | --- |
| Date | Time | Location | Speaker(s) | Topic |
| Nov. 4 | 13:45-17:15 | T8 | Juncheng (Lucas) Lu, GaN Systems | Opportunities and Design Considerations Tutorial for GaN HEMTs in Industrial and Automotive Applications |
| Nov. 7 | 8:30-9:00 | IS7.8.1 | Leyang Yang, GaN Systems | High Power Density Adapters with GaN |
| Nov. 7 | 9:00-9:30 | IS7.7.2 | Tiefeng Shi, GaN Systems | High Efficiency Wireless Power with GaN |
GaN Systems Cup
GaN Systems is once again sponsoring the distinguished China Power Supply Society (CPSS) design competition. The GaN Systems Cup is currently underway with many top engineering teams participating from leading universities throughout China. Winning teams will be announced at the awards ceremony held during PEAC on Nov. 4. The GaN Systems Cup continues to promote and build excitement in the advancement of power electronic systems, leveraging the benefits of GaN transistors.
For more information, please visit gansystems.com/peac2018 or come see GaN Systems at PEAC.