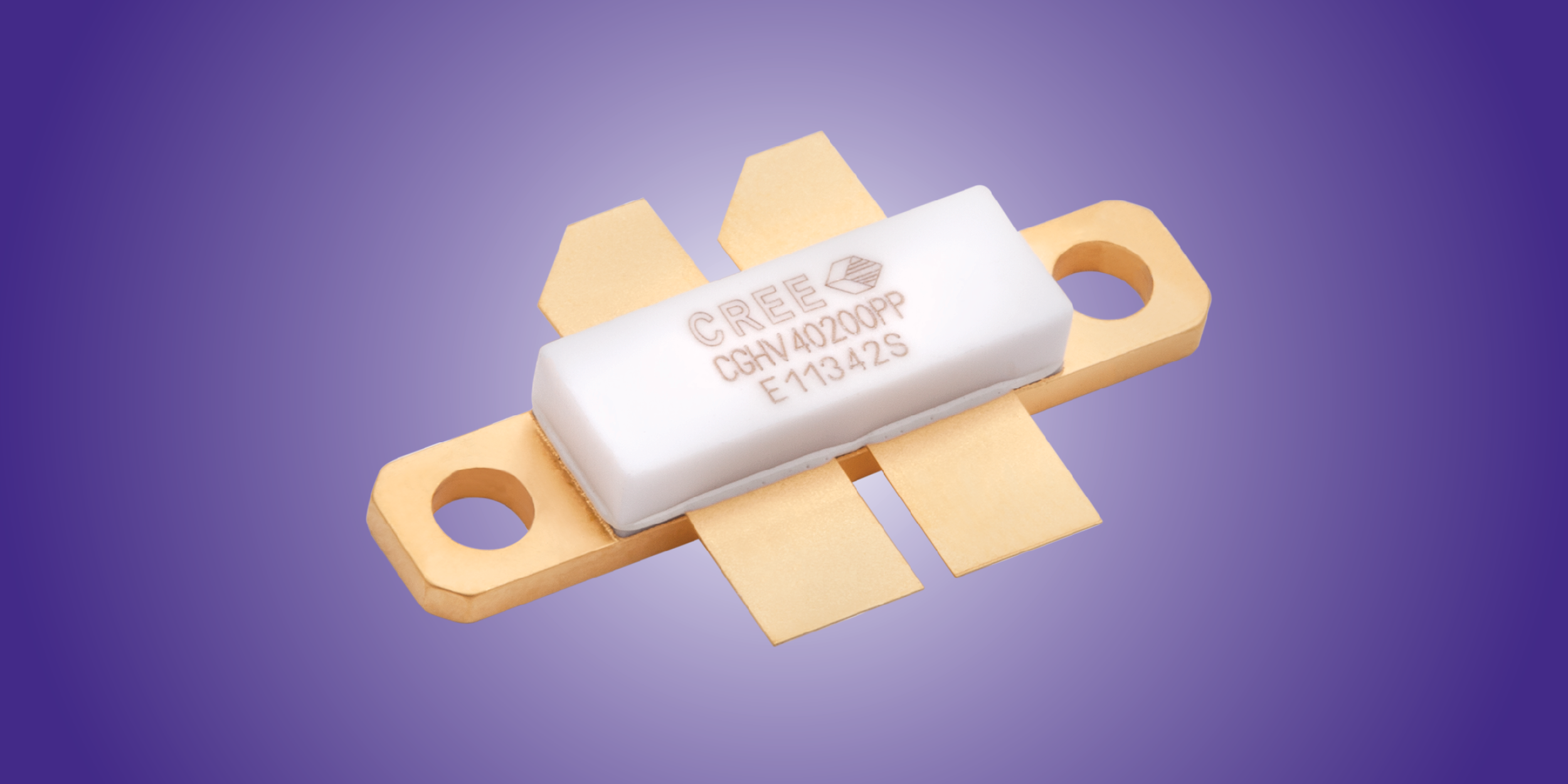 Source: Wolfspeed
Wolfspeed has extended its family of 50 V unmatched GaN HEMT RF power devices by adding a 250 W part with a frequency range up to 3.0 GHz. This device enables RF design engineers to take fewer components to design smaller and lighter amplifier circuits for commercial and military wireless communications and S-band radar applications.
The new 50 V GaN HEMT devices have a combination of high power and high gain with high-efficiency operation. This makes it possible for RF design engineers to replace several lower-power GaN HEMTs or multiple silicon LDMOS devices with a single device in the power amplifier designs. Packaged in a four-leaded metal-flanged ceramic "Gemini" package, the new 250 W GaN HEMTs operate efficiently at full-rated power. This reduces the need for complex thermal management systems.
The higher power and efficiency rating combined with a frequency range up to 3.0 Ghz makes the devices ideal for a wide range of RF linear and compressed amplifier circuits. This includes those for military communication systems, radar equipment (UHF, L-, S-band), electronics warfare (EW) systems, as well as RF applications in the industrial, medical and scientific (ISM) band.
The CGHV40200PP is a 50 V unmatched GaN HEMT device rated for 250 W, 3.0 GHz operation with 67 percent efficiency and 21 dB small signal gain at 1.8 GHz.
Wolfspeed's GaN-on-SiC RF devices deliver high breakdown voltage, high-temperature operations, high efficiency, high thermal conductivity, high power density and wide bandwidth. All of these are critical for achieving smaller, lighter and more efficient microwave and RF products. Wolfspeed™ GaN-on-SiC RF devices enable next-generation broadband, public safety and ISM (industrial, scientific and medical) amplifiers, broadcast, satellite and tactical communications amplifiers, UAV data links, test instrumentation and two-way private radios.
The CGHV40200PP GaN HEMTs are now in volume production and are currently available from Wolfspeed distributors Digi-Key and Mouser. Wolfspeed RF devices are supported by proprietary Large Signal Models, available at portal.cree.com.
For more information on the CGH40200PP devices, visit Wolfspeed.