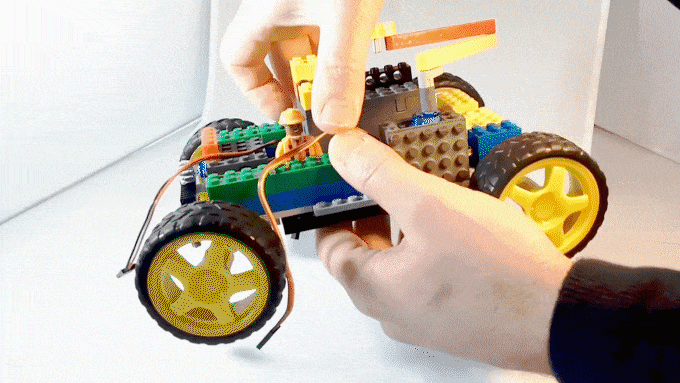 An RC Car built using the developer kit. Source: LeguinoThe Arduino and Raspberry Pi board have been used to create some really cool projects over the years, including teaching kids to code, a DIY GameBoy, a whole host of autonomous vehicles, a DIY camera that prints gifs and enabling the next-generation of Internet of Things (IoT) apps.
Now a developer is merging the micro-computer technology of the Raspberry Pi and Arduino with LEGOs. Leguino is a kit that contains compatible electronics of the Arduino and Raspberry Pi and fits them physically into Lego compatible brick cases.
The kit contains the most common Arduino electronic components to enhance Lego projects, as well as contains the visual software creation tool Visuino and the Rockbotic software to create more. The kit also includes the Leguino Remote Brick that allows for builders to develop RC Lego models.
Leguino also allows for other possibilities include using microphones, infrared data transfer, organic light emitting diode (OLED) displays, humidity sensors and more for crafting Lego-based IoT devices.
Lego bricks in the kit include: The Uno brick with digital I/O pins and its six analog input pins, along with 16MHz ATmega328 CPU and 32KB flash; the Nano brick that contains a mini Mini-B USB cable plug and 22 digital I/O pins, of which are eight analog input pins; leguberry brick for Rasberry Pi creations; LCD display brick for text display; OLED display brick for more graphically enhanced projects; Microservo brick that delivers precise servo mechanical movement; gear motor brick that is a seamless motor to drive the wheels on any Lego® project; and many more.
Leguino has launched a Kickstarter campaign to raise funds to finish the kit as well as to build brand recognition. The goal has already been achieved but if you are interested in checking out the campaign, click here.