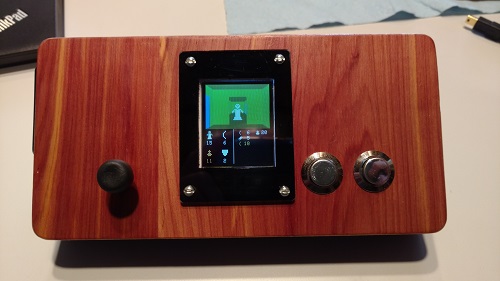 The DIY GameBoy using an Arduino clone. Image credit: Jcarlsonm31
The makerspace is great at coming up with easy ways to re-create some of the classic devices and games that have long since passed.
Take this DIY GameBoy that a maker developed using the Meduino board, a smaller Arduino mega clone. The gadget uses an Adafruit 1.8-inch based screen, graphics from the TFT-ST7735 library, three buttons, a five-way joystick and two AA battery holder that the maker grafted from a Yamaha guitar.
With some other minor bells and whistles—including an off/on switch, internal speaker and vibration motor—the device was completed. The maker then went about coding games for the DIY GameBoy including "Tetris," "Simon" and "Snake." Those not being good enough, he then went about coding the game "Minotaur," the 1983 Intellivision fantasy puzzle game.
Learn how to build one yourself by visiting: https://github.com/Jcarlsonm31/GameBoy