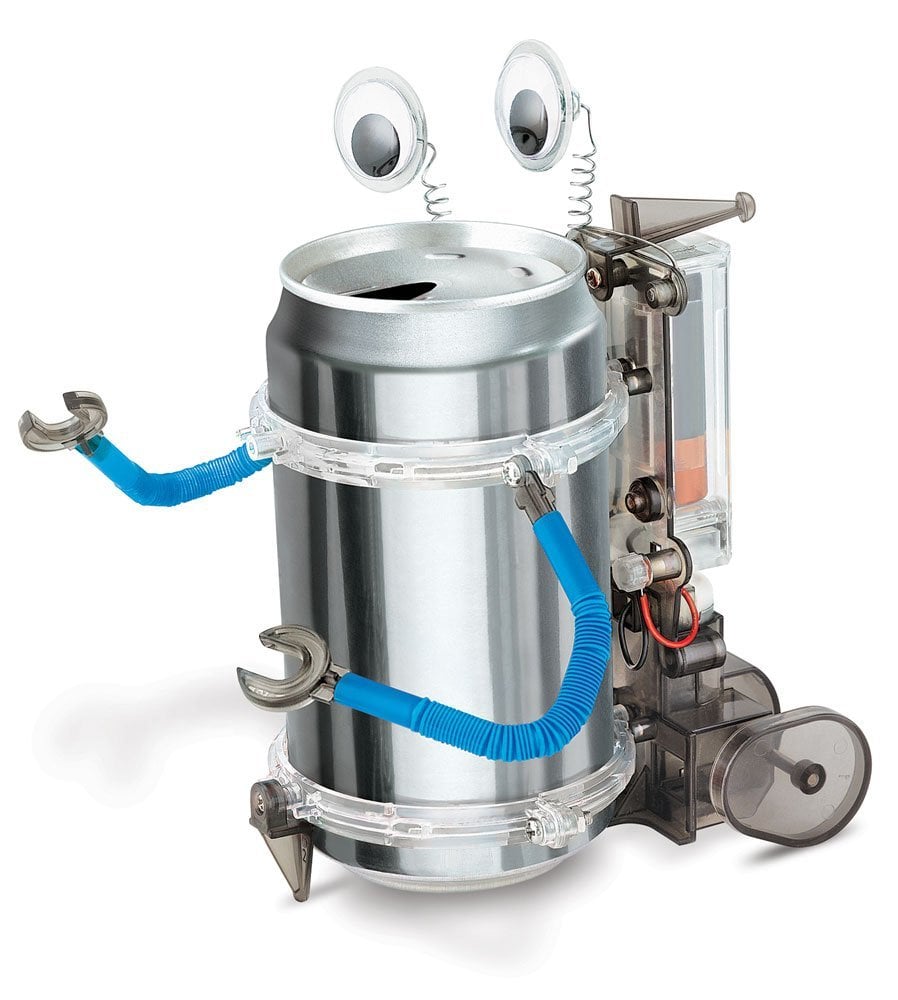 Tin Can Robot. Source: 4M
Still shopping for the holidays? We recently ran down a list of awesome fully-assembled robots that would make fantastic gifts for everyone on your list, from the littlest lovers of science to teenage tech enthusiasts — and maybe even one or two that are secretly just for your own "inner" child (shh, we promise we won't tell).
We also promised a follow-up with DIY kits to add another dimension entirely to the robotic-exploration experience — and although, as of this writing, there are only three more shopping days before Santa arrives (!), almost everything on this list will arrive before Christmas, if you order now on Amazon. Or heck, kick it old-school: You might just find these at your local toy shop or department store...or, failing that, you can always wait for "returns week," that crazy and wonderful stretch before New Year's in which everyone brings back the sweaters and socks they really didn't want and trades them in for the robot kits that they really did.
So, without further ado, here's a selection of some of the coolest robot kits out there.
4M
4M Fun Mechanics Kits: Embracing the spirit of creativity in simple and inexpensive form, 4M has rolled out a number of easy-to-make, build-it-yourself robots. The Insectoid Robot Science Kit crawls, wriggles and walks; the Table Top Robot is a crab that scuttles about and changes direction when it encounters an obstacle; the Tin Can Robot manages to turn a recycled soda can into an unbelievably cute walking pal. Other models with the same smile-inducing vibe are available, as well. One AA or AAA battery required, depending on model.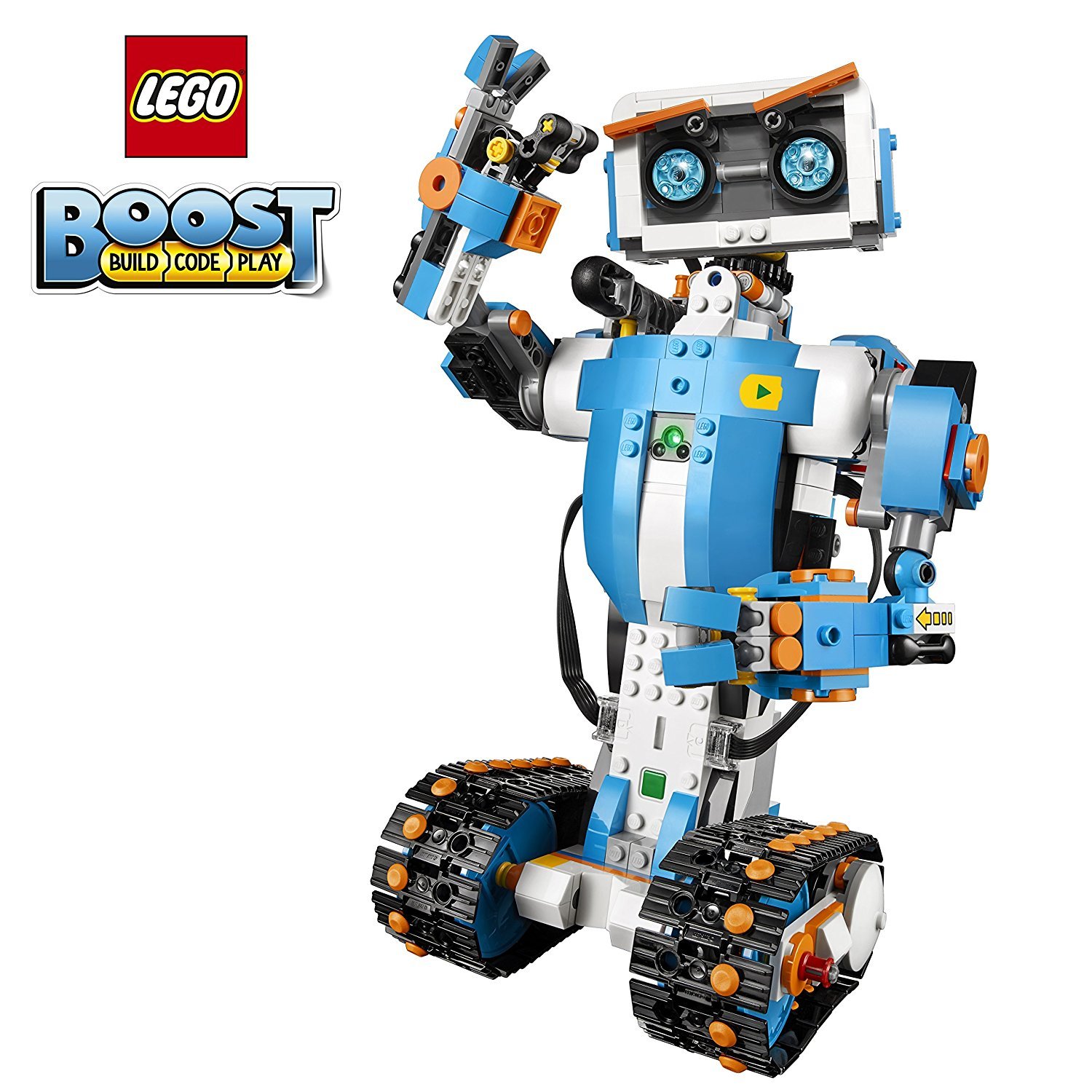 Lego Boost Creative Toolbox. Source: LegoAge range: 8 years and up. Price: Insectoid, $15.99; Table Top, $15.99; Tin Can, $14.99.
4M Green Science Kits: The same spirit has taken up residence inside an eco-conscious motif, as well, with a collection that includes the Salt Water Power Robot, which wheels around powered by a non-toxic reaction of salt water and charcoal; the Solar Robot Kit, which can walk about powered entirely by the sun's ultraviolet rays; and the Solar Rover Kit, which transforms a tin can into a solar-powered car. Batteries generally not required. Other models are also available.
Age range: 9 years and up. Price: Salt Water Robot, $12.99; Solar Robot, $19.99; Solar Rover, $19.99.
Lego
Lego Boost Creative Toolbox: Over 840 Lego pieces for building five different robot models. These include Vernie the Robot who dances, cracks jokes and passes gas (!); Frankie the Cat who plays and purrs; and the Guitar 4000, a musical learning toy with pitch bend and sound effects. The Lego Move Hub features Bluetooth Low Energy (BLE) connectivity and features like an internal tilt sensor. Tablet or mobile phone required for coding with Lego Boost. Six AAA batteries required.
Age range: 7-12 years. Price: $159.95.
Lego Mindstorms Robot Kit: About as sophisticated as it gets in the LEGO world, the Mindstorms platform was designed for creating programmable robots with the company's signature building blocks, modular sensors and motors, and an intelligent "Brick" computer system. Compatible with all Lego construction sets, the kit includes 601 pieces and can be transformed into five different robots controllable by infrared remote or the Robot Commander app for a smart device. Two AAA batteries required.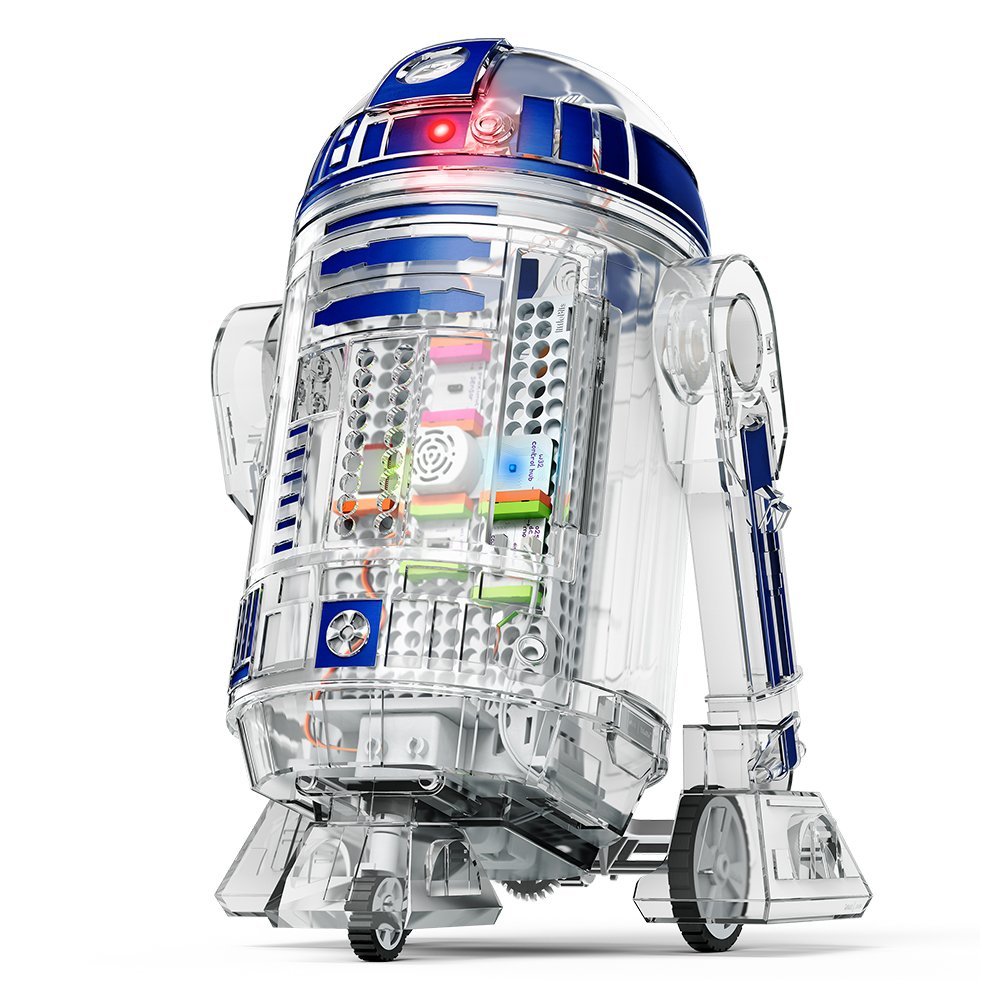 Star Wars Droid Inventor Kit. Source: LittleBitsAge range: 10-15 years. Price: $349.95.
LittleBits
Star Wars Droid Inventor Kit: Winner of multiple toy awards, this new kit was created through months of brainstorming with Disney and Lucasfilm. Kids can use it to create a variety of Droids from scratch with step-by-step instructions and "no grown-ups necessary." The included app, which features joystick, slider and tilt controls, can then be utilized to send them on missions. Droids can also be guided in "Force Mode" — in other words, with a wave of the hand as if "using the force." Lithium-ion battery included.
Age range: 8 years and up. Price: $99.00.
Meccano
M.A.X.: With an intermediate complexity level rating, this 332-piece kit will take 1-3 hours to build; once assembled, you'll have a 12-inch robot featuring artificial intelligence, customizable programming and infrared sensors to navigate surfaces. It can even function as a personal assistant — remembering important dates, engaging kids in conversation and learning from every interaction. For those of us who remember playing with low-tech Erector Sets as kids, M.A.X. is a direct descendant — the company became part of the Meccano family in the early 2000s. Requires four "C" batteries.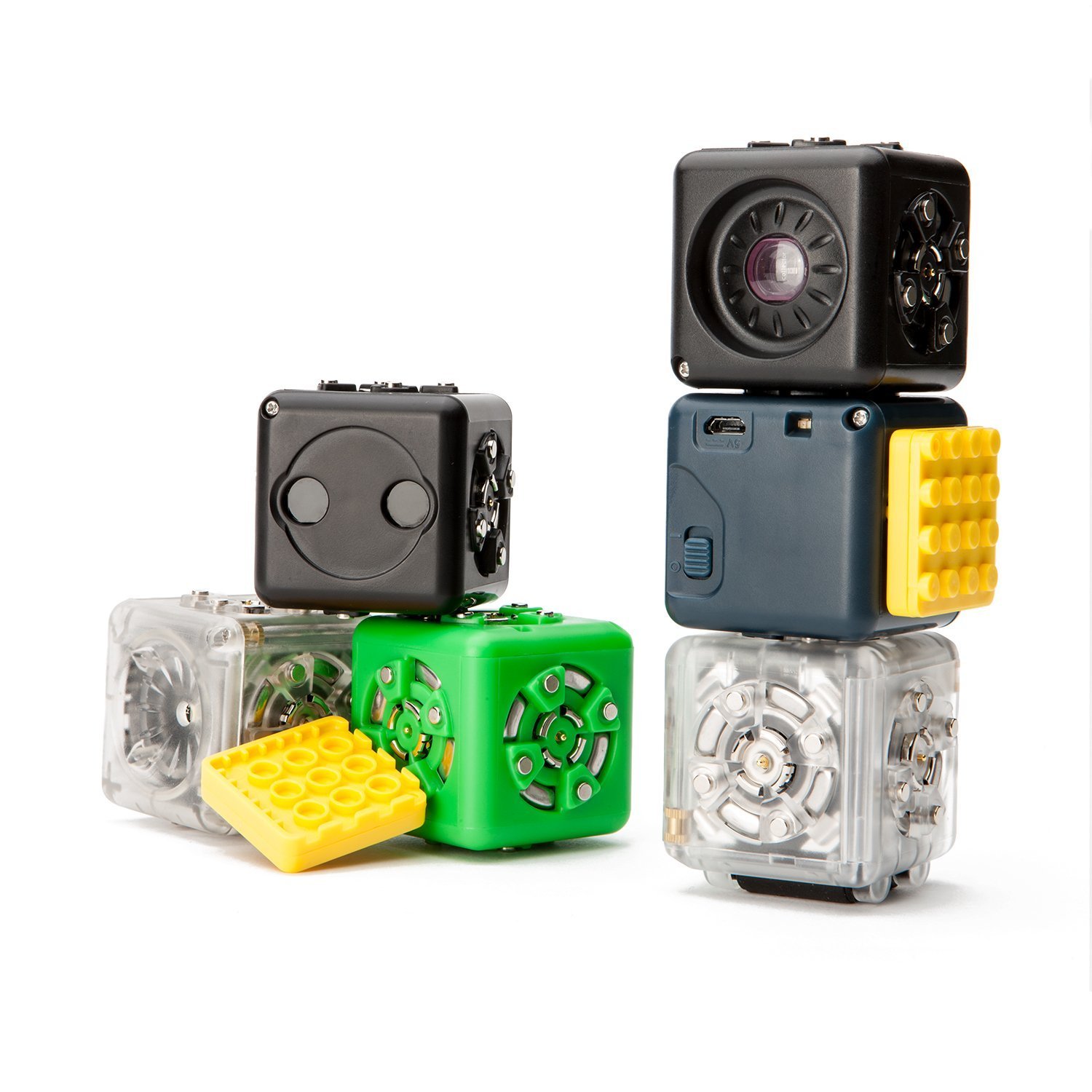 Cubelets Robot Blocks. Source: Modular RoboticsAge range: 10 years and up. Price: $149.99.
Modular Robotics
Cubelets Six Robot Blocks: A very different approach to robot building: The snap-together blocks themselves each contain differing capabilities that, when combined, organically produce new robot behaviors. The kit comes with robot "recipe cards" to get you going. Included Brick Adapters also allow pairing with Lego and other brick-based construction sets. No programming knowledge required; can be used by preschoolers and teenagers alike. Lithium-ion battery included. Additional Cubelets are available separately; also available is a Bluetooth Cubelet that makes the blocks programmable.
Age range: 4 years and up. Price: Cubelets Six, $159.99; Bluetooth Cubelet, $59.99.
OWI
RobotiKits: This inexpensive collection with easy-to-assemble parts is generally geared for the younger set, and includes the Solar Space Fleet, which transforms into seven different lunar modules; the T4 Transforming Solar Robot, with four different mobile modes; and the Super Solar Recycler, which can turn plastic bottles, soda cans and compact discs into clever creations like the Bottle Yacht and the CD Racer. Two AA batteries required for the Space Fleet; no batteries required for the Robot or Recycler.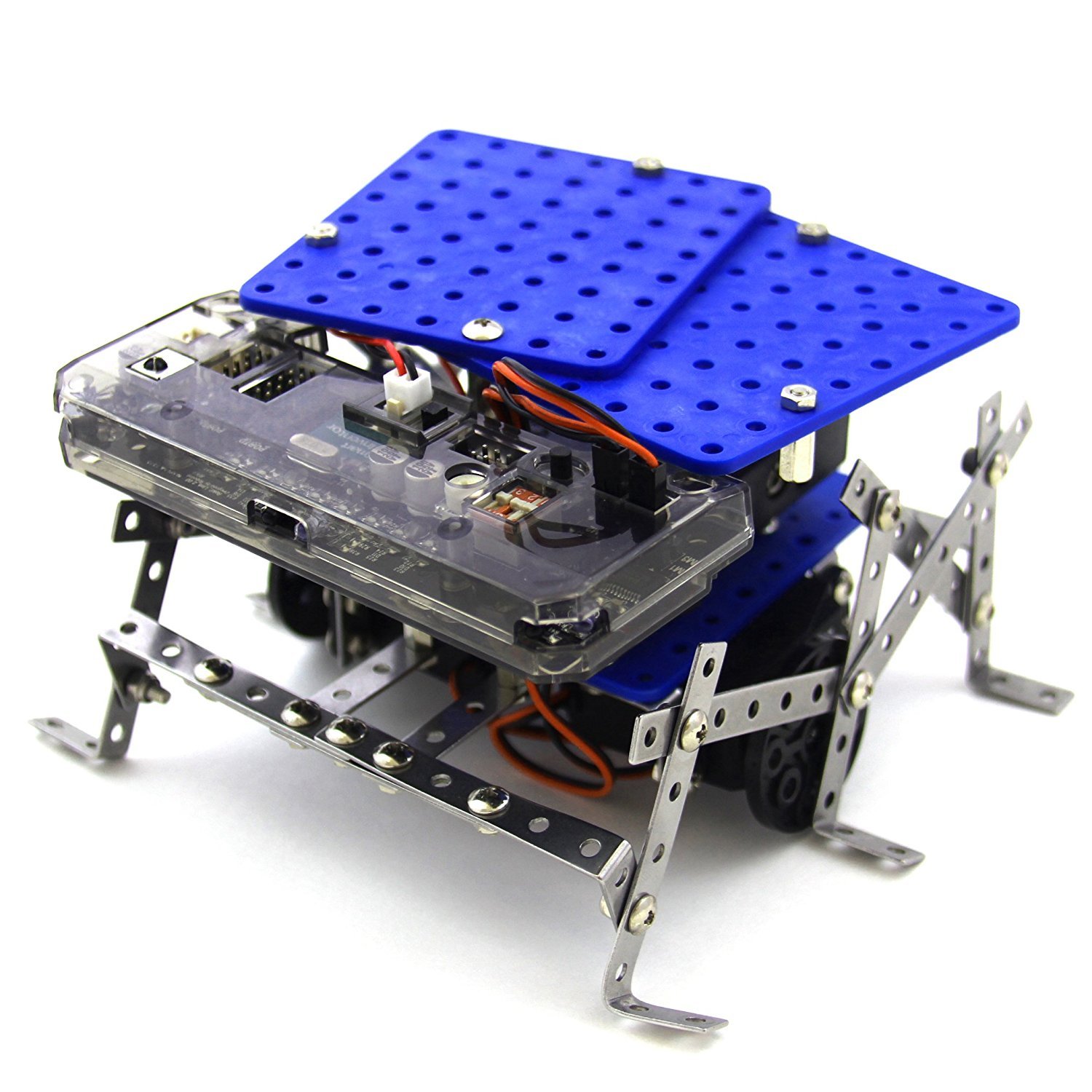 Rokit Smart. Source: RobolinkAge range: 8-15 years. Price: Solar Space Fleet, $19.97; Transforming Solar Robot, $24.99; Super Solar Recycler, $14.95.
Robolink
Rokit Smart: Eleven different robot shapes can be built from this kit, which kicks it old-school with its nut, bolt and screw assembly of motors, wheels and circuit boards. Elements such as motion-detecting and edge-detecting sensors make for some intriguing possibilities; for example, you can build a Monkey Bot, which will try to catch your hand, or a Sumo Bot, which will attempt to push its opponents out of the ring. Programmable with blocks or text, and Arduino-compatible.
Age range: 9 years and up. Price: $119.78.
Thames & Kosmos
Geckobot Wall Climbing Robot: The Geckobot employs its gear-driven air suction system to emulate its namesake reptile by walking vertically up smooth surfaces like windows and mirrors. The 176-piece kit can be used to build seven different robots, and impart a physics lesson or two while it's at it. Two AAA batteries required.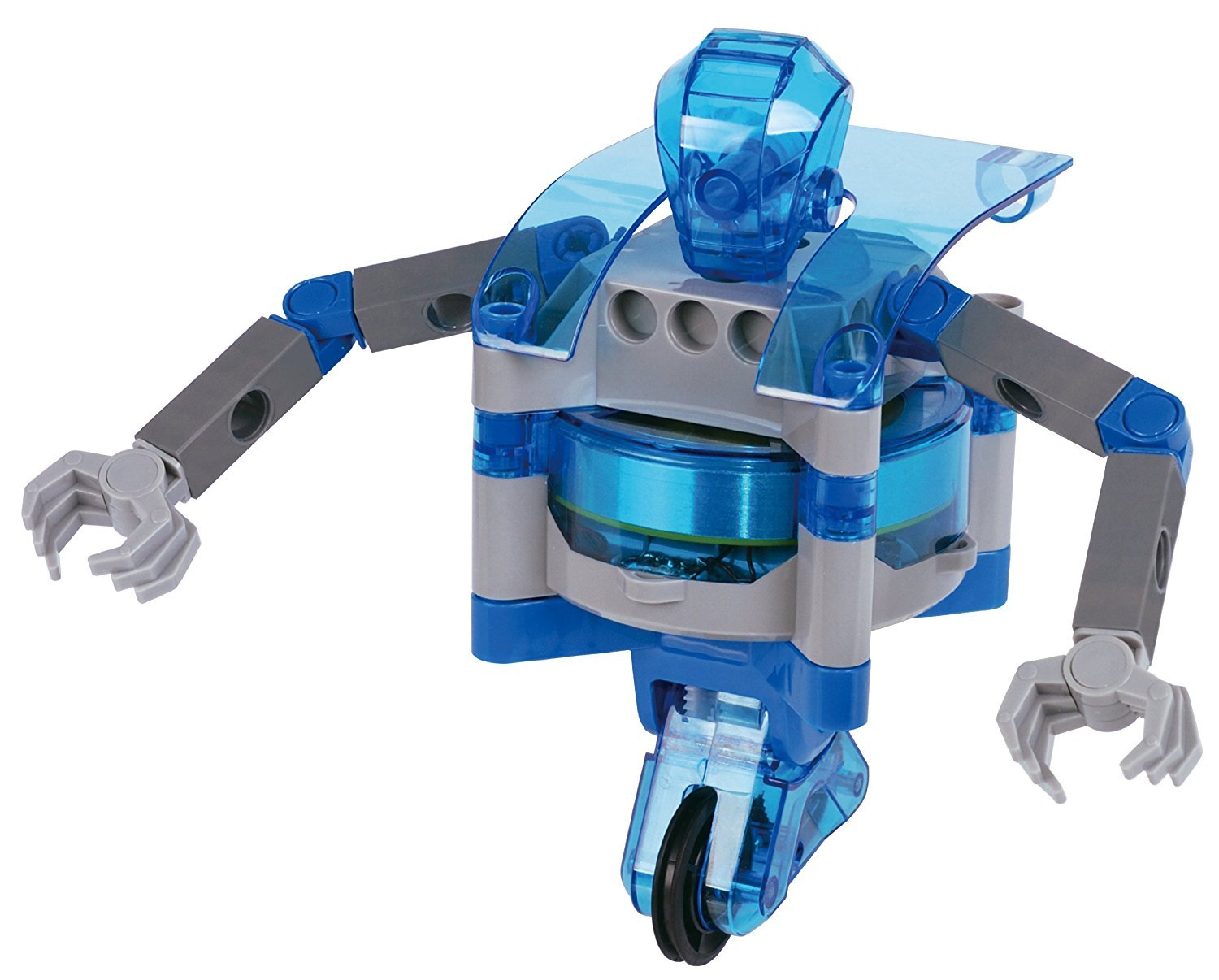 Gyrobot. Source: Thames & KosmosAge range: 8-15 years. Price: $49.95.
Gyrobot: This award-winning, 102-piece kit allows exploration of gyroscope properties at the core of seven different configurations, such as a balancing robot that can move along a tightrope. Three AAA batteries required.
Age range: 8-15 years. Price: $49.95.
UBTECH
Jimu Robots: The Jimu Robot series is comprised of several models, including the Astrobot, Builderbots, Buzzbot/Muttbot and Tankbot. Each of the kits is based on an interactive building-block system that uses Blockly, Google's open-source visual block programming library for easy coding. The pose/record/playback feature can also be used for creating a collection of robotic moves, and the JIMU iOS/Android app can be used for programming as well as sharing robot designs and connecting with other creators. Lithium-ion battery included. Also available is an Animal Add-on Kit, which provides expansion parts.
Age range: 8 years and up. Price: Astrobot, $199.99; Builderbots, $99.99; Buzzbot/Muttbot, $149.99; Tankbot, $149.99; Animal Add-on Kit, $49.99.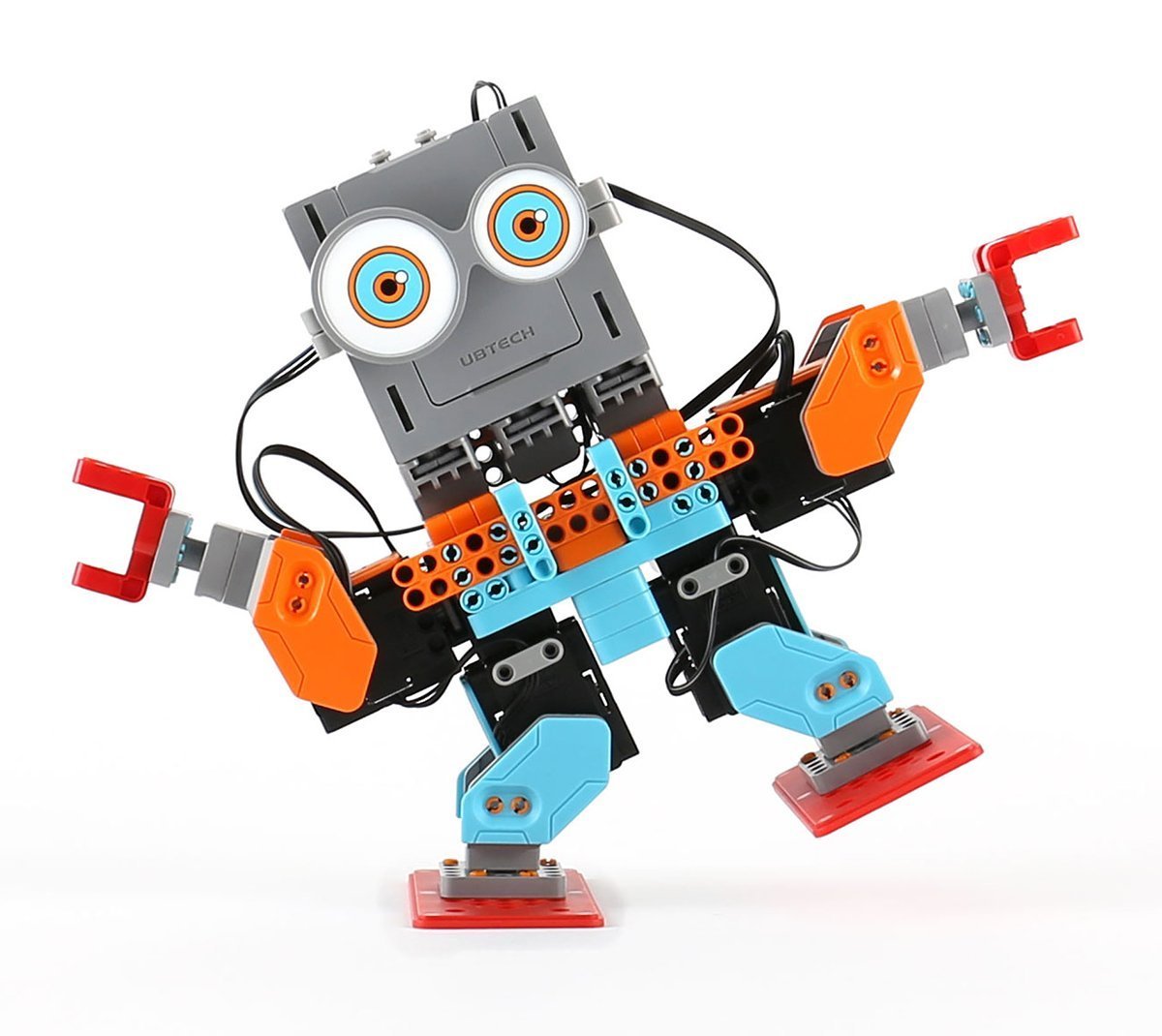 Buzzbot/Muttbot. Source: UBTECHXiaomi
Mi Robot Builder: With a three-in-one design that allows you to build a plane, dinosaur or humanoid, this 978-piece kit features a self-balancing system and dual high-speed motors. It's also designed to teach modular graphic programming (no code-writing required) and can be wirelessly controlled in three different modes using an iOS or Android smartphone app. High-capacity lithium polymer battery included.
Age range: 10 years and up. Price: $139.99.
Note: List is organized by manufacturer. Age ranges, when stated, are approximate. All prices are based on manufacturer and/or Amazon list prices, which can fluctuate — often for the lower, especially during holiday shopping season! Happy robot hunting!