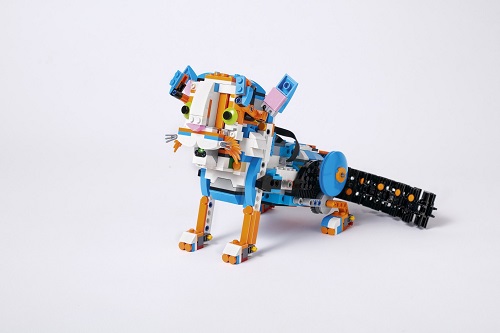 Frankie the cat is one creation children can build with the LEGO BOOST. Source: LEGOGetting kids to learn about STEAM (science, technology, electronics, arts and math) skills sometimes takes a bit of creativity and the right tools for motivation.
Nearly every kid loves LEGOs as they are hands on, easy to build and have enough shapes that you are not limited to a certain design or pattern. As such, LEGOs are commonly used by DIY tinkerers for STEAM project kits and early science and technology plans to boost early development of coding and robotics.
Now, LEGO is getting in on the action with its LEGO BOOST building and coding set that brings LEGO creations to life with movement, sound and even personalities. The kit contains similar pieces to a traditional LEGO set but these new features are made possible through an app-based coding environment.
LEGO BOOST gives children guidance, building instructions and simple coding commands to bring five creations to life, one at a time. Children build behaviors and actions of the LEGO robots by linking digital coding blocks in an easy-to-understand horizontal layout, LEGO says. The kit also allows kids to add their own voice recordings to the creations without requiring spelling or typing. The app includes more than 60 activities to inspire other types of building, coding and play, the company says.
The BOOST kit is available for pre-order for $159.99 from the LEGO web site with shipping beginning in late July. The kit will be in LEGO stores and other retailers beginning on Aug. 1.