Newark, a division of Avnet Inc., has started shipping a pi-top [4] programmable computing device designed for science, technology, engineering, art and math (STEAM) learning as well as for makers and inventors.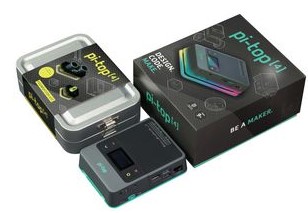 The pi-top [4] programmable computing device. Source: NewarkThe programmable computing device is suitable for school environments for students to develop coding and circuit design skills but could also be used by makers and inventors for new devices as it also includes advanced coding, robotics, cybersecurity and artificial intelligence (AI).
The pi-top [4] computer comes with a kit that contains 14 components such as programmable sensors, buttons and LEDs in a modular design and an internal battery that allows the device to be used in outdoor environments such as a playground or sports field, Newark said.
The pi-top [4] is powered by the 1.5 GHz quad core Raspberry Pi 4 with 4 GB of random-access memory (RAM), USB 3.0 Gigabit Ethernet, dual 4K DMI output, 40 GPIO pins and a 128 x 64 mini screen. The device is also compatible with other developer boards such as LEGO and Mecccao and can be connected to any monitor or third-party device such as Arduino and micro:bit.