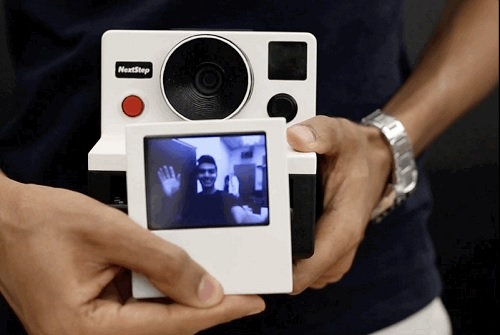 This camera ejects an LCD as a GIF of what was recorded. Source: Abhishek Singh
"Everything old is new again" takes on new meaning in this project developed by maker and Reddit user Abhishek Singh who created a do-it-yourself retro Polaroid camera that prints GIFs instantly.
Singh got inspiration for the idea from the Polaroid OneStep, the iconic camera that prints photos in real-time, but made it for today's social media environment.
Called Instagif, the GIF camera resembles the classic Polaroid version but instead of printing film, it ejects a small liquid crystal display that plays back whatever was recorded in GIF format.
Singh used both 3D modeling and 3D printing to create the device that is powered by two Raspberry Pi boards: one for the camera and one for the cartridge. The portable device is powered by a LiPo battery and a PiTFT screen was used for the cartridge's LCD screen.
Learn how to build one yourself and how he built his Instagif by visiting: http://imgur.com/a/CG9w4