The technology showcased at CES 2018 is vast, running the gamut from the latest automotive gear to hot television technology to the latest pet gadgets and much more.
One area that has not garnered as much attention as in past years is the camera market. Cameras still have a presence at CES 2018 but they are often overlooked in favor of bigger-ticket items such as autonomous driving, virtual reality, 5G developments or the smart home.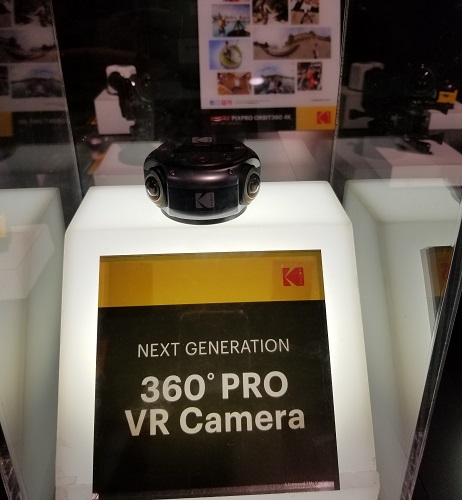 The upcoming 360 degree VR camera. That said, those that didn't come to see the latest and greatest cameras coming in 2018 were missing out as there are some really cool things on the horizon or already available. Here's the best of the show:
1) Kodak 360 Degree VR
Kodak has a host of cool stuff at CES, including expanded distribution of its PixPro Orbit360 4K VR camera, but it was the cool prototypes that were the real drawing point, specifically its next generation 360-degree VR camera that comes in a compact form factor with numerous cameras situated throughout.
This is the professional version, but Kodak was also showing off its consumer version, which is bulkier and has two front-facing cameras and two in the back. While Kodak didn't mention when these will be released, if they are this close to producing prototypes a delivery in 2018 shouldn't be surprising.
2) Vuze+ 3D VR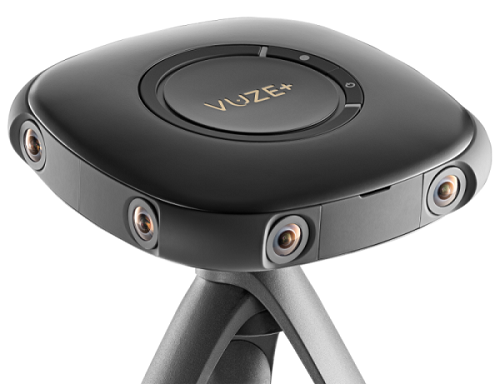 The Vuze+ 3D VR includes eight ultra-wide angle lenses that are stitched together via an app. Source: VuzeBilled as the first consumer 360 degree camera that can shoot in 3D, the Vuze+ 3D VR camera features an immersive experience that can record video, take photos or broadcast live to the masses.
Images can be live streamed to Facebook, Youtube, Periscope and other outlets in full 4K 3D that gives viewers a different look at the area around them or the event being broadcast. It also features automatic virtual reality generation with stitching technology in the camera's VR Studio.
The Vuze+ 3D VR includes eight ultra-wide angle lenses stitched together via an app or desktop software. Each camera side includes two 8 mm fisheye lenses that project images onto an array of eight sensors, and video is captured at 30 fps for 3D and 60 fps for 2D imaging. Spatial audio is created with four microphones that capture sound as a broadcaster moves through a scene.
The Vuze+ 3D VR is slated for availability in the first quarter of this year, priced at about $1,195.
3) Insta360 Nano S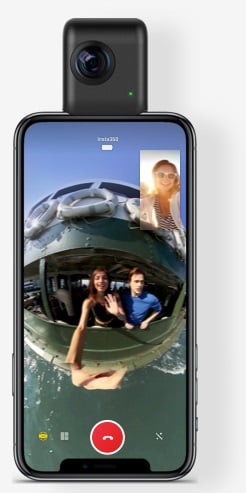 The Nano S works with an iPhone for 360 degree streaming and video. Source: Insta360Launched at CES, the Insta360 Nano S, which Electronics360 got a demo of at CES, allows for 4K 360 degree videos and 20 megapixel photos in a compact gadget that is connected to an iPhone via the lightning port. The gadget allows for video calls and streaming to be done via 360 degree view, even if the person being called does not have 360 degree-capable devices.
With a few swipes of a phone, a user can perform live streaming or videos with a person being stationary in the frame while the end user can explore the world around them. Streaming can be uploaded to Facebook, Twitter, YouTube and other platforms. The best of all it is relatively inexpensive, priced at $239.
4) Pisofttech Pilot Era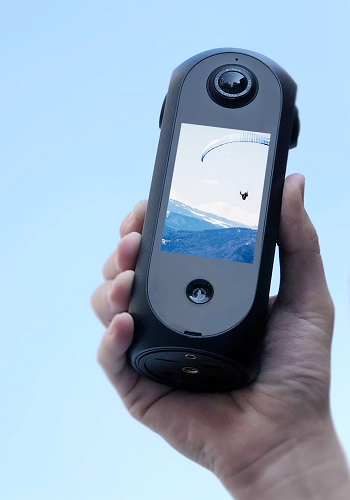 The Pilot Era boasts recorded images from 4K to 8K as well as 4K real time stitching. Source: PisofttechChinese camera company Pisofttech introduced at CES its Pilot Era, a 360 degree virtual reality camera that boasts the ability to shoot and record images and videos from 4K to 8K and stitch 4K and 6K video seamlessly in real time inside the camera. It can also stitch 8K video inside the camera with a 1 to 1.8 time ratio.
The camera allows users to select different resolutions to achieve better image performance such as shooting and recording video in 4K at 60 fps or 8K at 25 fps depending on the event being recorded. The camera also allows for panorama previews in real time on the camera's screen or through a smartphone app.
As with the other cameras, the Pilot Era can live stream content to Facebook, YouTube and other platforms and features ambisonic audio recording and internal image stabilization through algorithms. There is no release date for the Pilot Era yet but Pisofttech believes it will be out sometime this year.
5) Removu K1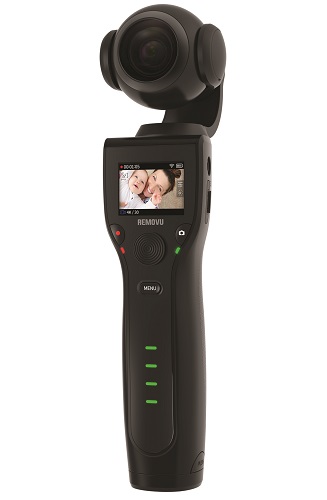 A 3-axis gimbal allows for better stability while taking videos and photos in the K1 camera. Source: RemovuThe K1 is the first camera from Removu that made its debut at CES. The handheld camera features a 4K resolution with a three-axis gimbal and built-in LCD screen that allows for taking of 4K 30 fps video or 12 megapixel still photos.
The gimbal helps take stable footage without the shakiness and blur that sometimes happens when users are filming or taking photos. The K1 comes with a four-way joystick that allows users to control the camera's position and a F2.8 wide angle lens makes sure everything is in one shot. The camera can also be controlled remotely via a smartphone app.
Unlike some of the other cameras listed here, this one has a 1.5-inch built-in LCD screen for previewing and playback of photos and videos. Removu says other devices frequently use a smartphone or other device to preview content. The camera is slated for availability in February priced at $429.