Ricoh Imaging Americas Corporation has announced the release of their Ricoh Theta V camera. This camera offers 360-degree 4K video capture and live-streaming, spatial "surround-sound" audio recording and high-speed image transfer that captures realistic imagery. Users can experience and share immersive content. The Theta V is a new model in Ricoh's Theta Camera series.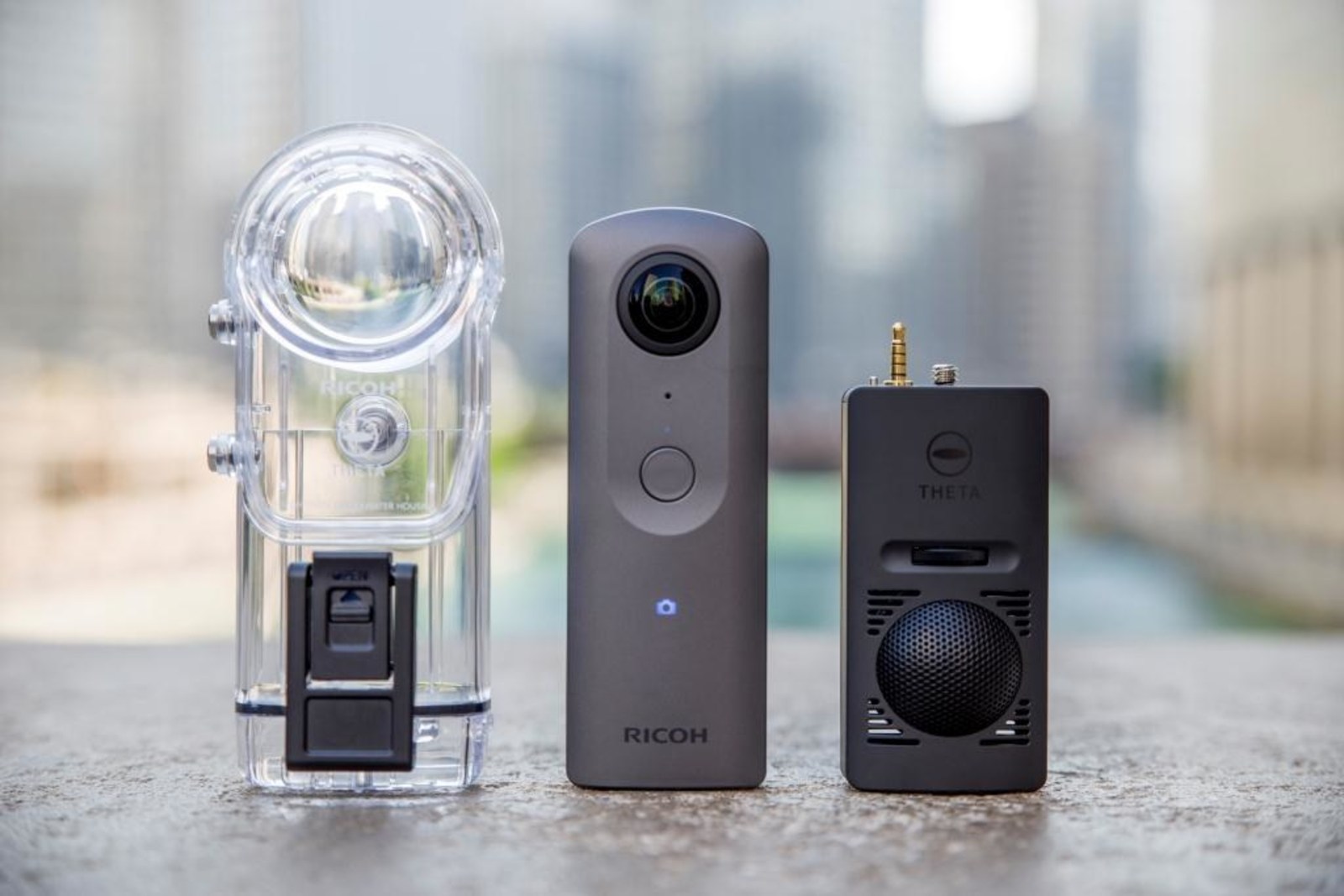 Ricoh Theta V 360-degree camera with 4K video and spatial audio (center) was announced today, along with accessory Underwater Case TW-1 (left) and 3D Microphone TA-1 (right). Source: Ricoh
When the Ricoh Theta launched in 2013, it was the world's first 360-degree, single-shot camera. This camera enabled users to express themselves in 360-degree still photos and videos. The full-scene shots gave the viewer the ability to control what they see in a scene. Along with this, the 360-degree images were easily shared with others. Theta cameras are being used today for a range of customer and business applications, from documenting vacations to real estate listing and virtual tours and virtual reality (VR).
The Theta V is lightweight and compact enough to carry around. This model has a new image sensor and processor for improved image quality, allowing the camera to produce more realistic images and content. The Theta V has advanced technologies that were developed for PENTAX DSLRs for increased exposure accuracy and white balance while delivering expanded dynamic range and high-quality images in challenging light conditions. The Theta V's high-speed data transfer is 2.5 times faster than previous Theta models and allows users to quickly and wirelessly upload 14-megapixel stills and high-resolution 4K videos for showing and sharing. Omnidirectional audio recording functionality enables 360-degree audio that compliments the high-resolution video and enhances the realism of a scene.
The Theta V can connect with and be controlled through the Theta S app on an Android- or iOS-based smart device. It connects via Bluetooth or Wi-Fi and provides users with greater flexibility in how they wirelessly control the camera and upload images through the app. The camera has 19 gigabytes of storage which holds up to 4,800 stills and about 40 minutes of 4K video.
A new feature of the Theta V is that Ricoh will be able to create new functions for the camera through software plug-ins. The first plug-in was developed by Ricoh and is integrated into a phone. It enabled the Theta V to provide the first remote playback capability in a commercially-marketed, fully-spherical camera. It has a compatible wireless display adapter, and it can mirror playback of 360-degree still images and video data stored on the camera. Users can enjoy 360-degree video on a large screen monitor or projection.
The Theta V will be revealed at IFA 2017 in Berlin, Germany from September 1st-6th, 2017. It will available for $429.95 from the Ricoh site.