Startup company TwoEyes Tech has developed a binocular 360-degree field-of-view virtual reality camera that captures images using two pairs of fisheye lenses arranged 65 millimeters apart. Not coincidentally, that is the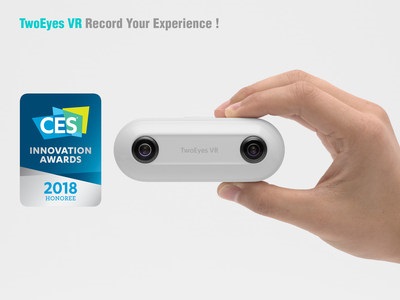 Source: TwoEyes Techsame distance the human eyes are set apart, and as a result it provides a more comfortable VR experience.
That replication mirrors human eyesight and the images show a three-dimensional representation of the world as people see it. In just one filming session, the VR camera captures 360-degree 3D video that can be viewed on smartphones, computer monitors, VR headsets and 3D TVs. The videos, in full HD, 3D, and red-cyan mode, can be converted from and into 180-degree and 360-degree content; one recording can be converted into six different types of content.
The camera is easy to use. When held horizontally, the camera records in binocular mode; when held vertically, it records in monocular mode. Recordings can be viewed immediately on a smartphone or uploaded to social media.
In November, the company was presented a CES 2018 Innovation Award. In addition to its VR cameras, TwoEyes Tech is planning to unveil a VR video editing program soon. The next product in the pipeline is TwoEyes Hover, which lets the user change the direction of the camera by simply touching the display and quickly rotating the camera by swiping across the screen.
TwoEyes Tech's products will be on display Jan. 9 to 12, 2018, at the Consumer Electronics Show at Sands Expo Center in Las Vegas.