Swagtron has developed an affordable, compact, zero emissions personal transportation device called "Swagcycle," which offers an economical, "green" way of making local trips.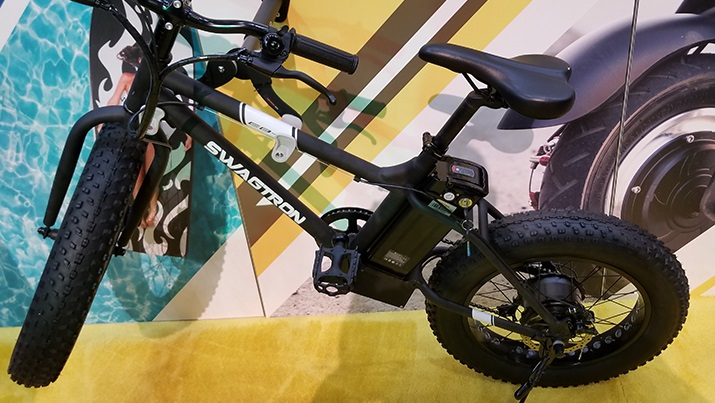 Source: Swagtron
The compact bicycle uses a high-capacity 36v lithium-ion battery and can travel at speeds up to 10 miles per hour. The motorbike's battery lasts for up to 10 miles and re-charges in as few as 2.5 hours, which makes Swagtron's electric bicycles suitable for daily commutes or spur-of-the-moment adventures. Their motors can assist cyclists' pedaling as needed or do all the pedaling for the rider — making climbing hills or riding for long distances less taxing and daunting than the same ride on a standard bicycle. Those mechanics also make cycling accessible to all ability levels. Electric bikes can help improve mental health for those with disabilities that might otherwise be unable to enjoy outdoor activities such as cycling.
Swagtron showcased the motorbike at CES 2018 in Las Vegas. Among its key features are its portability and built-in conveniences. Riders can collapse the foldable aerospace grade aluminum frame for easier storage and transportation; multiple bikes can be transported in the trunk of an average-size sedan when folded. The bike includes controls that are easily accessible -- riders can check battery life, turn on the headlight, honk the horn, accelerate and brake right from the handlebars.
The Swagcycle is IP54 water resistant and capable of withstanding difficult outdoor conditions such as splashing rain and blowing dust. The bikes allow cyclists to go further on a daytrip than they would hiking, and environmental conditions are not always predictable.
A micro USB charging port is built directly into the battery, providing charging access to phones and other devices. Riders can be secure knowing that if they require assistance during their journeys, help is just a phone call away.