Researchers at Northwestern University have developed a flexible microfluidic device that attaches to the skin to measure the sweat in an individual as he or she exercises.
Not much larger than a quarter and about the same thickness, the low-cost device analyzes a person's biomarkers to help them make adjustments such as drinking more water or replenishing electrolytes. The device is made for one-time use of about a few hours and can be placed directly on the skin on the forearm or back. It can even detect the presence of a biomarker for cystic fibrosis, researchers say. The technology could be used to diagnose even more diseases in the future, the team says.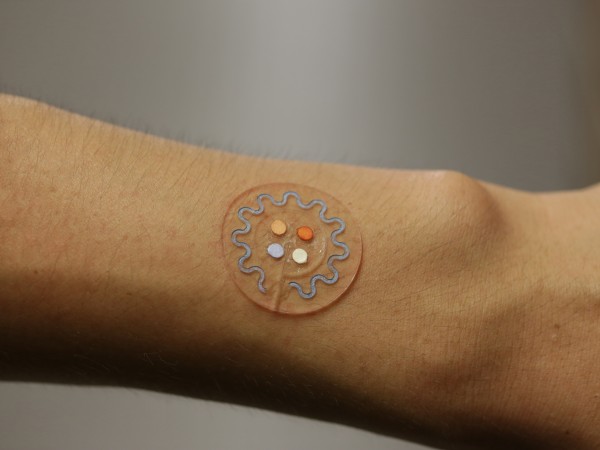 The wearable device can help determine if an athlete or consumer needs to drink more water and can possibly detect disease. Source: Northwestern University "The intimate skin interface created by this wearable, skin-like microfluidic system enables new measurement capabilities not possible with the kinds of absorbent pads and sponges currently used in sweat collection," says John A. Rogers, lead scientist in the development of the device.
Sweat contains important chemical compounds with physiological health information, and by using a network of microfluidic channels and storage reservoirs, an analysis of sweat can be performed. This sweat analysis platform will allow people to monitor their health on the spot without the need of blood sampling and with integrated electronics that do not require a battery, but still have a wireless connection to a smartphone.
How It Works
Researchers tested the device on athletes, with one group cycling indoors at a fitness center under controlled conditions and another participating in the El Tour de Tucson, a bicycle race that takes place in arid conditions.
During exercise, sweat accumulates through tiny microscopic channels in the device and into four different, small circular compartments. Each compartment contains chemical reagents that result in visible color changes in ways that relate to pH balance and concentrations of glucose, chloride and lactate.
Using a smartphone application, a photo is taken of the device wirelessly, and the application analyzes the image to yield data on the biomarker concentrations. The device then determines sweat rate and loss and can also store samples for subsequent laboratory analysis.
For the indoor cyclists, the device was used to capture sweat with absorbent patches taped to the skin and analyze them off-site. For the long-distance cyclists, durability of the device under unpredictable conditions was tested. Researchers found the devices to be robust and stayed adhered to the skin without leaking while still relaying the information to a smartphone.