Looking to bridge the gap between traditional electric bicycles and scooters, premium automotive OEM Peugeot is introducing a new electric bicycle that can reach speeds of more than 25 miles per hour.
The eU01 e-bike is the latest in a series of electric bicycles Peugeot has introduced recently, which includes the eC01 electrically assisted bike with automatic transmission, the e-Kick electrically assisted scooter and the eF01 electrically assisted folding bicycle.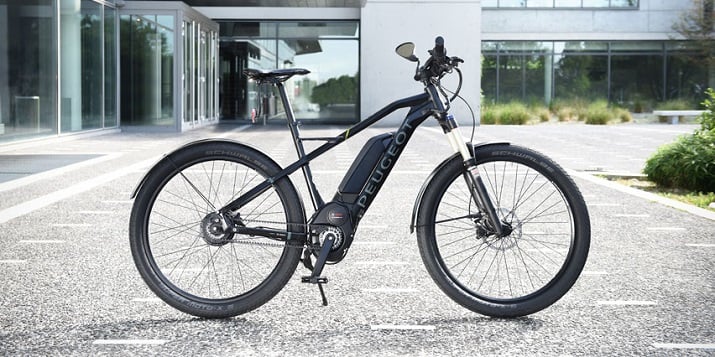 The eU01 electric bicycle includes a Bosch electric motor and lithium-ion battery with a maximum range of 60 miles. Source: Peugeot With the eU01, the e-bike can reach a top speed of 28 mph, which is fast enough to be considered in the moped category and requiring riders to get insurance, registration and wear a helmet.
The e-bike includes a Bosch Performance Line electric motor with a 400 or 500 W lithium-ion battery for distance ranges between 46 and 59 miles, respectively. The bike also includes 180 mm hydraulic disk brakes and a maintenance-free belt transmission, Peugeot says.
There is even an optional on-board computer with a 4.3-inch screen that manages pedal assistance configuration as well as 3-D navigation, sports coaching and smartphone connectivity.
Peugeot plans to present the eU01 at the Paris Motor Show in October before launching the e-bikes at the end of this year.
To contact the author of this article, email engineering360editors@ihs.com