In keeping with the advent of fitness trackers and other smart wearables, smart glasses geared for serious cyclists incorporate fitness tracking and augmented reality features. These glasses display real-time performance information — the augmented-reality feature — that the rider can see without taking his or her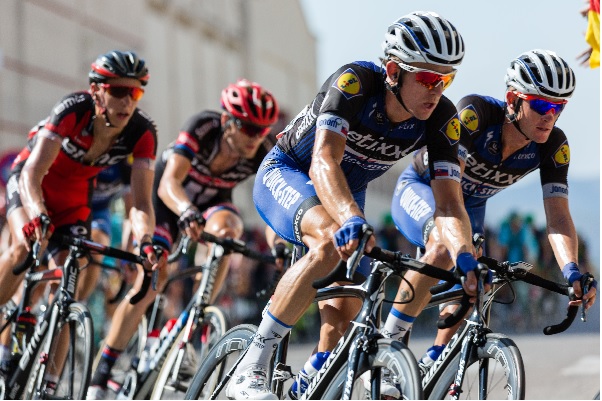 Group of cyclists. Credit: GoodFreePhotos/CC0eyes off the road.
For professional cyclists, these glasses can replace existing bike computers. For example, the US Olympic Cycling Team incorporated Solos from Kopin Corporation into their training regime last year.
In addition to Kopin, a handful of manufacturers offer variations on AR/fitness tracker glasses for cyclists, including Recon Instruments, Garmin, and Insenth. Each manufacturer offers a combination of features, including internal sensors and the ability to communicate with a variety of external sensors, with headset designs ranging from bulky to streamlined. Cameras and communications connectivity are typical capabilities.
Serious cyclists can soon sport a set of glasses from the latest entrant to the field. Raptor AR smart glasses incorporate technology from Israeli drone manufacturer Elbit Systems LTD. Manufactured by Elbit spin-off Everysight, the company claims that their glasses are game-changers. The company bases this claim in part on their BEAMTM technology, which deliver a "fighter jet display experience."
The Raptor projects AR information — time, distance, speed, and so forth — in front of the wearer, rather than around the eye, which can obscure the rider's vision. The Raptor incorporates obstacle-avoidance technology developed by Mobileye NV, an Israeli company that Intel acquired in March 2017.
None of these options come cheap, and not all are available to the public yet. Riders can pre-order Solos from Indiegogo. Raptor AR should go on the market later in 2017. Senth offers early-bird pricing of $289. Garmin's entry is $400, and the Recon model is $500.
So are these smart glasses for every cyclist? Using this technology could increase safety. Performance information might encourage casual cyclists to push themselves a bit harder. As competition in the space and prices fall, these specs could turn into a must-have.