Hospitality businesses that can offer 24-hour concierge service have loyal, grateful followers. The 2 a.m. call asking, "Where's the nearest open pizza joint?" is typically critical in nature, at least to the hotel guest asking.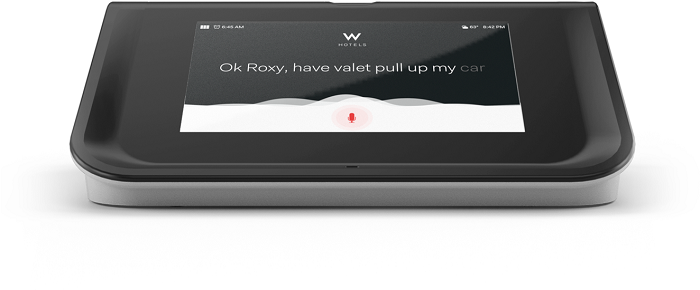 Roxy is a 24-hour concierge.A concierge takes charge of all guest arrangements and resolves problems: From helping find locations to answering personal requests to performing shopping tasks, it's like having a personal assistant. Today, 24-hour concierge service is provided generally only at luxury resorts and hotels, but one tech company is looking to bring the service to more guests through Roxy, a speech-enabled device that provides instant access to hotel information and services via "conversational intelligence." The company announced $2.2 million in seed funding today.
Guests can ask questions or make requests -- "How can I get on the WiFi?" -- and Roxy understands and responds immediately. Even if it's being used at 3 pm, Roxy frees up concierge and front-desk services to do more value-added work, while providing guests have instant access to hotel information and services. The device also upsells and cross-sells when appropriate.
The software can be customized according to business type and location; a customer can control the types of interactions that customers have with the device, and control the information gathered instead of sharing it with technology giants, such as Amazon or Google.