Hilton Worldwide and IBM have teamed up to launch "Connie"—the first Watson-enabled robot concierge. Connie uses Watson and WayBlazer to offer guests information about local tourist attractions, dining recommendations, and hotel features and amenities.
The robot, named for Hilton's founder Conrad Hilton, will work alongside Hilton's human employees to assist with visitor requests.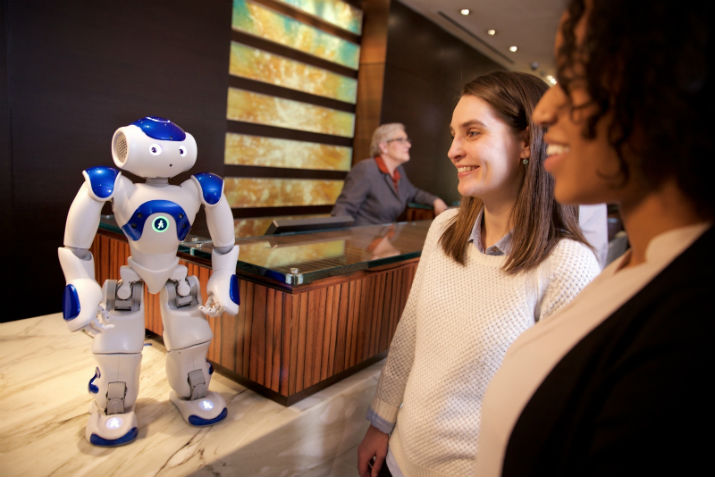 Visitors to the Hilton meet Connie. (Image Credit: Green Buzz Agency/Feature Photo Service for IBM)
The first Connie robot is currently stationed near the reception area at the Hilton McLean in Virginia, where it is learning to interact with guests and respond to their questions in a friendly manner. The robot uses a combination of Watson APIs, including Dialog, Speech to Text, Text to Speech and Natural Language Classifier, to greet guests upon arrival and to answer questions. It also uses WayBlazer's travel domain knowledge, also powered by Watson, to suggest local attractions outside the hotel.
The more guests interact with Connie, the more it learns, adapts and improves its recommendations. The hotel will have access to a log of the questions asked and Connie's responses, so it can improve the experience.
"This project with Hilton and WayBlazer represents an important shift in human-machine interaction, enabled by the embodiment of Watson's cognitive computing," said Rob High, IBM fellow and vice president, and chief technology officer of IBM Watson. "Watson helps Connie understand and respond naturally to the needs and interests of Hilton's guests, which is an experience that's particularly powerful in a hospitality setting, where it can lead to deeper guest engagement."
Ever since Hilton became the first hotel company to introduce televisions to guest rooms in 1947, the hotel chain has been looking for ways to innovate the hospitality industry. Recently Hilton has also introduced digital check-in with room selection and digital keys, and has partnered with Uber to deliver 'Local Scene' and 'Ride Reminders' and with Tesla and Current, powered by GE, to rapidly expand the electric vehicle charging program.