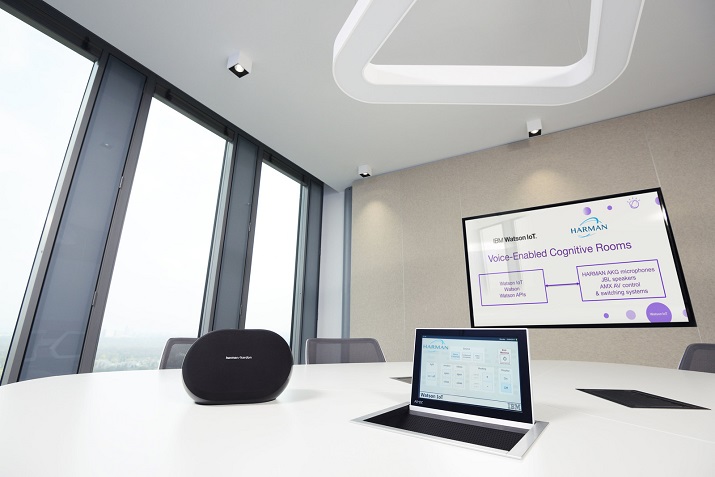 IBM Watson and Harman have created an in-room cognitive connected environment for hospitality and medical facilities. Image credit: Harman
IBM Watson Internet of Things (IoT) and Harman have demonstrated in-room cognitive concierge in a conference room setting in order to bring connected experiences to medical facilities, corporate offices, hotels, cruise ships and other hospitality environments.
The platform using Watson's artificial intelligence, Harman's AGK microphones, JBL speakers and AMX AV control and switching system enable a voice-controlled system where consumers can ask questions or issue commands in a conference room or a specific area.
While Harman has worked with IBM in previous applications such as soundbars and alarm clocks, this is the first time in a conference room setting the technology has been enabled. The system allows users to start a video conference, launch a presentation and more using their voice. Future tasks will be executed automatically once the system learns about what the employee needs based on previous meetings, meaning the system gets smarter about the person and their preferences over time, IBM says.
Harman and IBM envision this system working as an in-room concierge as well in hospitality where guests can ask "What time is checkout?" or "Where is the gym?" or in a hospital patients can ask "What are the hospital's visiting hours?" or "Can you tell me more about my doctor?"
"We're solving a very distinct problem in hotel, hospital and conference rooms, where people experience unfamiliar environments yet need to perform very simple tasks, such as changing room temperature, adjusting the lighting, opening the blinds, initiating conference calls or launching a presentation," says Kevin Morrison, senior VP of Enterprise Solutions at HARMAN Professional Solutions.
Other uses for the technology include enterprise-grade software tools that can help in-house technical or guest service staff inside a hotel or hospital issuing commands such as "Send up an engineer to fix the shower" in their native language. IBM says Watson's multilingual capabilities accommodate a wide variety of users from different countries and supported languages.