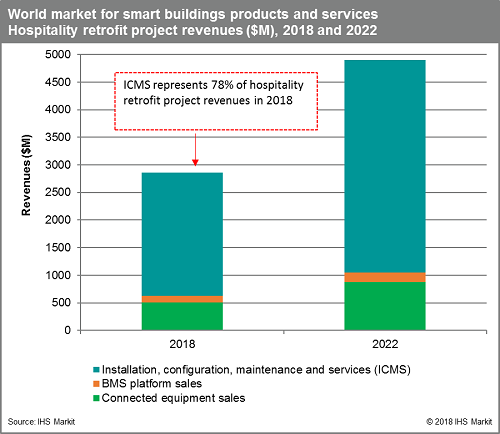 Competition in the hospitality industry to cater to guests and encourage repeat business is leading to hotel owners investing in substantial smart building technologies in order to foster more comfortable, intuitive and individualized experiences.
This news comes from IHS Markit that said hotels have become eager innovators and market leaders in using the internet of things (IoT) in guest rooms. While less than 10 percent of smart building products sold in 2018 were installed in hotels, smart building products in retrofit projects are forecasted to grow rapidly in the next five years.
While most commercial buildings are renovated about once every 25 to 30 years on average, hotels are retrofitted with new equipment less than every 10 years. This year, hotels will spend more than $500 million on connected equipment and will invest $2.2 billion to refurbish guest rooms.
What can guests expect to see coming in hotels in the realm of smart technology? Energy and security within guest rooms will allow for better customization and unique preferences. Mobile credentials with guests' smartphones acting as electronic keycards to enter their rooms will soon be available as well as expanding the use of smartphones to enable climate control, lighting and appliance settings through a single app.
Eventually, many of these applications will be integrated with smart speakers and virtual assistants through voice commands.
In the long term, IHS Markit sees smart mirrors beginning to appear in the hotel industry embedded with electronics to display entertainment and other information to guests. Investment in robot butlers that can provide room services for guests. IHS Markit said hundreds of small robot helpers are already in operation in North America and Western Europe designed to complete a single task such as luggage handling or toiletry delivery. As artificial intelligence grows, more services will become available such as answering basic inquiries or greeting guests.
IHS said that initially, luxury hotels will take a leading role in experimenting with new smart building technologies but as the hotel market grows, more opportunities will be present for both startups and new market entrants of smart building technologies to penetrate and potentially disrupt the hotel industry.