What is reportedly the world's first all-digital hotel, The Sinclair, Autograph Collection in Fort Worth, Texas, has been outfitted with Intel internet of things (IoT) functionality.
The hotel uses technology from Intel, Cisco, SAS and other vendors for building and in-room sensors, IoT gateway, dashboards and restaurant sinks and appliances.
The 10 technologies installed inside The Sinclair include:
Intel's IoT gateway for smart building infrastructure, bringing data, edge computing and management capabilities.
Cisco's Meraki smart Wi-Fi cloud networking solution for analytics and personalized guest messaging.
Voltserver's Power over Ethernet (PoE) to power Cisco switches.
Somfy's motorized shades and drapes using PoE for management and control by guests through a digital kiosk.
PoE-enabled LED mirrors from Electric Mirror that guests can use to read news, listen to music, get weather updates and contact guest services.
Lithium battery-powered uninterruptible power supply (UPS) systems replace traditional diesel emergency generators.
Intel's Unite wireless display powers the hotel's meeting spaces.
Sinktech IoT sinks help regulate water temperature, soap and sanitizer levels through a fully-automated, connected solution.
Intel's PoE next unit of computing (NUC) supports these technologies, including gateways, controllers, data aggregation, edge computing and Intel's Unite hub.
Smart features above the reservation systems include point of sale, networking infrastructure, back office and guest services such as mobile key and wireless charging from Intel.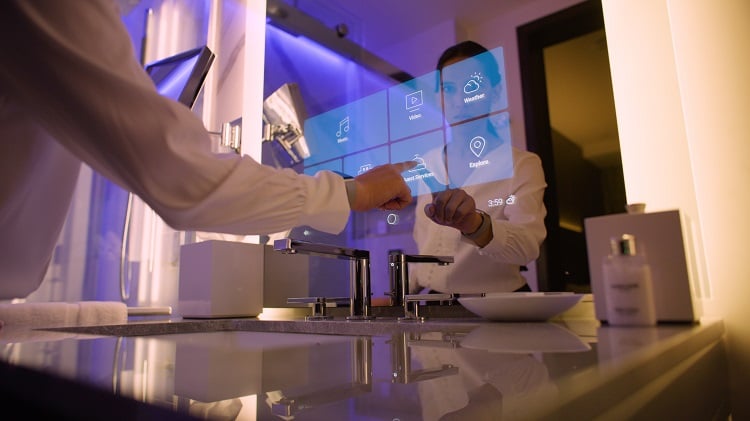 PoE-enabled LED mirrors allow guests to read news, listen to music and more. Source: Intel
Intel said the future of hotels is to provide personalized experiences for guests and hospitality professionals alike. With calls by the United National Climate Change initiative to reduce carbon emissions from hotels by 2030 by 66%, hotels are looking to more digital operations to help reduce energy consumption while at the same time providing a greater level of innovation and features.
With this technology in place, hotel staff can use mobile devices to connect to reservation and property management software anywhere on the premises, increasing productivity and customer service, Intel said. Additionally, wireless point of sale systems enable food and drink sales anywhere on the property and hotel guests can configure environmental settings such as temperature, lighting and shower preferences.