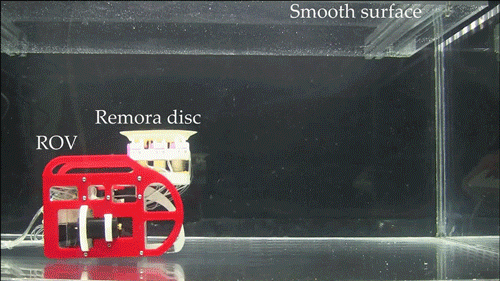 Researchers at Beihang University in China have developed a robot that can cling to surfaces under water much the same way a remora fish clings to sharks and whales with the force of 340 times its own weight.
A remora fish relies on its head's dorsal fin that forms an adhesive disc to attach to other marine life, or hitchhiking. This is accomplished through three parts of the fish—a soft disc lip at the periphery, lamellae in the disc interior and rows of spinules on them.
To reproduce this in a robot, researchers had to tackle the stiffness of the materials used in the prototype first.
"If we simply combine soft materials with rigid ones, the structure will soon suffer from fatigue and break rapidly under high stress underwater," says Dr. Li Wen, an associate professor at the School of Mechanical Engineering and Automation and the principal investigator of Biomechanics and Soft Robotics Lab of International Research Institute for Multidisciplinary Science at Beihang University.
Researchers were able to fabricate the materials using a multi-material 3D printing technology that allowed them to achieve stiffness spanning three orders of magnitudes in a single printing.
However, 3D printing could not be used to fabricate the spinules. Instead, researchers decided to fabricate the spinules with a high resolution micro laser machine made of carbon fiber that resembled the remora's size and shape. The team made more than a thousand of these spinules that were firmly inserted into the lamellae.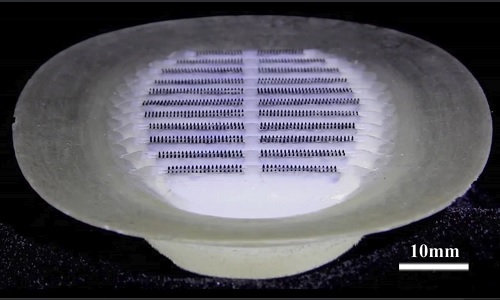 The prototype underwater robot fully developed. Source: Beihang UniversityFinally, the team customized lightweight, fiber-reinforced, compliant soft pneumatic actuators for the disc. With three pairs of such actuators working in sequence, the prototype robot could imitate a remora's lamellae movement during attachment.
The result is a prototype that could generate considerable pull-off force up to 340 times its own weight and attach to different surfaces. Researchers say the robot saves energy by hitchhiking and does not damage the surface it attaches to.
The team believes the development could be applied to various fields such as defense technology, underwater rescue and marine ecological monitoring.
The full research can be found in the journal Science Robotics.