Engineers at MIT have developed transparent, gel-based 3-D printed robots that can perform a number of tasks such as kicking a ball underwater or grabbing and releasing a live fish.
Comprised entirely of hydrogel — a rubbery, near transparent material made of mostly water — the soft robot is an assemblage of hollow structures connected to rubbery tubes. When water is pumped into the hydrogel robots, the structures inflate allowing the bots to curl up or stretch out.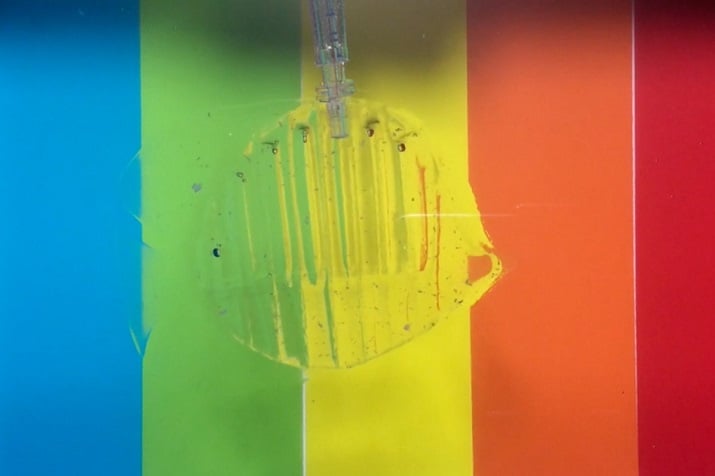 Comprised and powered by mostly water, MIT's soft robots are virtually invisible while submerged. Source: MIT MIT created different forms of soft robots for testing including one with a finlike structure that flaps back and forth, an articulated appendage that makes kicking motions and a soft, hand-shaped robot that can squeeze and relax. And because the robots are made and powered by mostly water, they are virtually invisible while submerged.
The goal is to see how these robots might be feasible in medical applications such as advanced surgery or in recovery or surveillance in underwater environments.
"Hydrogels are soft, wet, biocompatible, and can form more friendly interfaces with human organs," says Xuanhe Zhao associate professor of mechanical, civil and environmental engineering at MIT. "We are actively collaborating with medical groups to translate this system into soft manipulators such as hydrogel 'hands,' which could potentially apply more gentle manipulations to tissues and organs in surgical operations."
How They Did It
The MIT team invented ways to fabricate tough, yet stretchable materials, and graft them to various surfaces such as glass, metal, ceramic and rubber, creating strong bonds that resist peeling. Hydrogel is more biocompatible when compared to silicones that have been used in other soft robots, yet other hydrogel-based robots have also resulted in brittle, inflexible materials that crack with repeated use.
Researchers looked to the animal world for inspiration, specifically tiny transparent hydrogel-like eel larvae that hatch in the ocean and eventually migrate to their natural river habitats. These creatures have considerable force and speed for being as small as they are, as well as having evolved to become transparent.
MIT researchers used 3-D printing and laser cutting techniques to print their hydrogel material into robotic structures and other hollow units, then bonded them to small, rubbery tubes that are connected to external pumps. The team used syringe pumps to inject water through the hollow structures allowing them to curl or stretch depending on the configuration.
Testing the Robots
Researchers found that the material used to create the soft robots withstood repeated use up to 1,000 cycles without rupturing or tearing. They also found each design appeared almost entirely camouflaged when placed underwater against colored backgrounds.
Researchers fabricated a hand-like robotic gripper with fingers that could be made to open and close when pumped with water. This gripper was tested in a tank with goldfish that showed that when the fish swam past, the gripper was strong enough to close around the fish and then release them safely.
"[The robot] is almost transparent, very hard to see," Zhao says. "When you release the fish, it's quite happy because [the robot] is soft and doesn't damage the fish. Imagine, a hard robotic hand would probably squash the fish."
The next steps involves the MIT researchers identifying specific applications for the hydrogel robots, such as use in medical applications, where the robots may not need to be transparent, or might be required to be more stiff than those tested.