A number of projects are working with soft robotics to build a worm-like device for search and rescue. One swims with real fish to study aquatic life; a snake uses kirigami to move; and another uses origami, for example.
Now, researchers at University of California at San Diego have developed an eel-like soft robot that swims silently in salt water without an electric motor using artificial muscles filled with water to propel itself.
The foot-long robot is also virtually transparent and is connected to an electronics board that remains on the surface. Researchers say the robot could be used to swim in the ocean alongside fish and other invertebrates without disturbing or harming them.
"Instead of propellers, our robot uses soft artificial muscles to move like an eel underwater without making any sound," says Caleb Christianson, a Ph.D. student at the Jacobs School of Engineering at UC San Diego involved in the research.
How It Works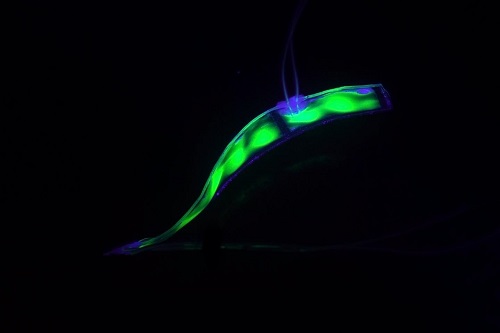 Fluorescent dye could be added to the soft robot as a kind of signaling or guidance system. Source: UC San DiegoThe eel-bot is equipped with cables that apply voltage to both the salt water surrounding it and to pouches of water inside its artificial muscles. The robot's electronics then deliver negative charges in the water just outside of the robot and positive charges inside the robot that activate the muscles. The electrical charge causes the muscles to bend, generating the robot's swimming motion.
"Our biggest breakthrough was the idea of using the environment as part of our design," says Michael T. Tolley, a professor of mechanical engineering at the Jacobs School at UC San Diego. "There will be more steps to creating an efficient, practical, untethered eel robot, but at this point we have proven that it is possible."
The robot was tested inside saltwater tanks filled with jellyfish, coral and fish at the Birch Aquarium at the Scripps Institution of Oceanography at UC San Diego.
The eel-bot can also be loaded with fluorescent dye inside its artificial muscles, which could be used in the future as a kind of signaling or guidance system.
Researchers believe the next step is to improve the robot's reliability and geometry as well as improving the ballast -- equipping the robot with weights so it can dive deeper. Also, possible future iterations may include a head for the eel robot that houses a suite of sensors for additional information gathering.
The full research can be found in the journal Science Robotics.