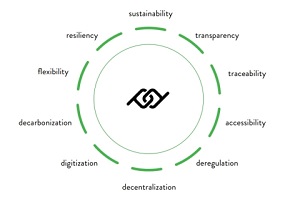 Key points of the PROSUME platform. Source: Business Wire
A new blockchain-based platform has been developed to exchange electricity from renewable and fossil sources. The system was devised by the PROSUME Energy Foundation, launched to promote decentralizing power models and to empower an energy community through blockchain software technology.
The decentralized and self-regulated monitoring PROSUME system connects independent power producers, consumers, utility companies and energy communities in a locally shared market where each peer is free to interact in a multi-tenant ecosystem. Users will be able to exchange different energy sources while promoting and accelerating new energy community models. The platform emphasizes decarbonization, decentralization and digitalization.
"PROSUME solutions improve efficiency while reducing time and costs in managing network and energy infrastructures. We aim to combine the network and energy layer to build a blockchain-based Internet of Energy, reducing the points of failure and the need for additional hardware from its adaptability in integrating with available and installed technologies," says Alfredo Giardina, co-founder of PROSUME Energy Foundation.
Additional functionalities will be added and upgraded to the PROSUME platform to provide services such as flexibility in market operation and asset visualization across the value chain. PROSUME is now negotiating eight different pilot projects in Germany, France, Italy, Sweden, Netherlands, Belgium and Luxembourg.