Blockchain startup Propy, Inc. will launch a pilot project in collaboration with the City Clerk's Office of South Burlington, Vermont, to utilize blockchain technology to record real estate conveyance documents.
"The Propy pilot will showcase the savings of blockchain distributed technology — furthering Vermont's and the City of South Burlington's goal to achieve more cost-effective government. In parallel to making land record management systems significantly more efficient, Propy's additional safeguards ensure additional data integrity," said Natalia Karayaneva, CEO of Propy in a January 16 press release.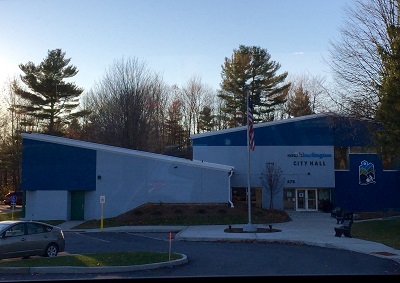 South Burlington City Hall. The city of South Burlington will become the first municipality to pilot a blockchain real estate program. Source: Superbug2399 / CC BY-SA 3.0Blockchain technologies are mostly associated with their use in cryptocurrencies, but they can be applied to any transaction between two parties. Advocates believe blockchain could become a future foundational technology in industries involving legal contracts, eliminating wasteful processes involving outside auditors and third-party players. Real estate is a perfect example of this environment.
(For more about blockchain's future applications beyond cryptocurrencies, read Blockchain: A Future Foundational Technology? on Electronics360.)
"The announcement of a pilot project to utilize blockchain technology in real estate transactions is emblematic of Vermont's long history of innovating business, insurance, and financial technology," said Vermont Agency of Commerce and Community Development Secretary Michael Schirling. "We are fortunate to have a cutting edge statutory framework that enables the use of blockchain technology, and we will continue to work with the legislature to ensure Vermont remains at the forefront of these innovations."
The Palo Alto, California-based Propy is a prominent startup that revolutionizes the real estate purchasing and registration process worldwide by creating innovative blockchain-based technologies. Its blockchain-enabled platform comprises an online and mobile global real estate property store and peer-to-peer marketplace, a transaction recorder for the remote handling of fiat and other cryptocurrencies and a land records registry that is globally applicable and free of jurisdiction.