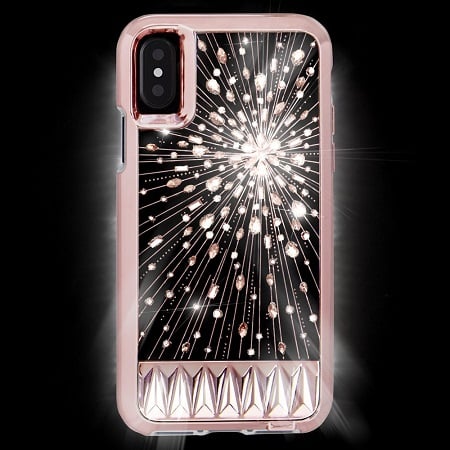 The Case-Mate Luminescence features inlaid, light-up crystals. Source: Case-MateBy now, you've certainly heard about Apple's September keynote announcing the iPhone X and several other new products. Not surprisingly, a number of third-party manufacturers are now busily rolling out lines of their own new stuff to complement Apple's new stuff. While those announcements may be accompanied by decidedly less fanfare, we've got the scoop for you. Probably, above all else, you're going to want to protect that investment with a sturdy case. Here are some of the available (or soon-to-be-available) models that have recently come across our desk.
Apple: Apple's own lineup of iPhone cases basically breaks down to the Silicone Case and the Leather Case, all of which are available in nine colors. For the iPhone 8, these go for $35 and $45, respectively; for the iPhone 8 Plus, the prices are $39 and $49. Each version also fits the older iteration phone (i.e., the iPhone 8 case also fits the iPhone 7; the iPhone 8 Plus case also fits the iPhone 7 Plus). For the iPhone X, the silicone and leather case models are also priced at $39 and $49, respectively; there's also a fancy Leather Folio ($99) with space to hold cash and cards, and a cover designed to wake the phone when opened and put it to sleep when closed. However, at press time, while the 8 and 8 Plus cases can be yours in a couple clicks, all of the models in the iPhone X lineup were listed on Apple's website as "currently unavailable."
Case-Mate: Known for their inspired designs incorporating unique materials, Case-Mate's new lineup for the new phones includes: Karat Petals ($60), designed with genuine dried flowers and the promise of no two cases being exactly alike; Luminescent ($80), a rose gold case studded with inlaid crystals that light up at the touch of a button; and What's Your Mood? ($50), featuring thermochromic film that changes colors based on surrounding temperature — a modern take on the classic mood ring. Also available are a Compact Mirror Case ($60) for on-the-go touch-ups, and a Glow Waterfall Case ($40) featuring glow-in-the-dark cascading glitter.
Caseology: Ten additions for all three new phones are rolling into the Caseology lineup, including four cases which are brand new. The Apex ($13.99-14.99) features a slim, minimalist design; the Nero Tough offers military-grade protection in a full-body style, while the Nero Slim does the same in a "leaner, meaner" version; the Spectra comes in styles such as wood, leather and marble. Of these four, only the Apex is currently available; the others are "coming soon." There are also updated versions of existing cases available, including the military-inspired Legion ($14.99); the award-winning Parallax ($14.99); and the near-invisible Skyfall ($12.99-13.99). And if you want to eschew cases altogether, you can just go with the Tempered Glass Screen Protector for ultra-thin, shatterproof clarity ($7.99 for a two-pack).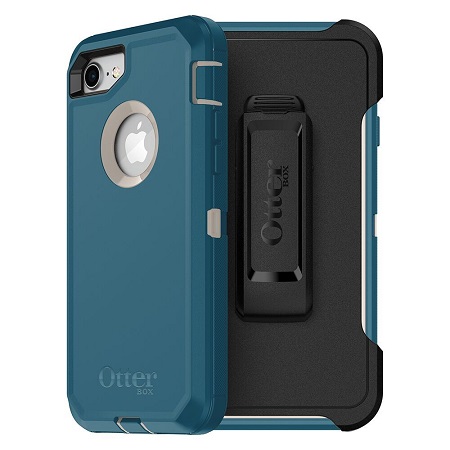 The iPhone 8 version of the original OtterBox Defender. Source: OtterBox
Casetify: A brand touted by celebrities like Sarah Jessica Parker and Snoop Dogg is adding two new products to its lineup for the three new phones. The Impact Grip Case ($40) is designed with dual-layer construction and impact-absorbing material to offer a stylish take on military-grade protection. It's customizable with designs and favorite quotes; available colors are frost white, electric pink, baby pink and black. The aptly titled "Say My Name" ($45) allows users to add their names to the glittery design, which is available in gold, silver, rose pink, unicorn pastel, blue and black. Currently available at casetify.com.
Catalyst: Protective case maker Catalyst now offers an Impact Protection Case ($39.99) for the iPhone X with a 3-meter drop specification; and a Waterproof Case ($89.99) with 10-meter protection, which the company says is the highest specification on the market. Also available is a Catalyst case for the iPhone 8 ($79.99) and 8 Plus ($89.99), featuring both 2-meter drop specification and 10-meter waterproof protection. These cases are currently available for pre-order; estimated arrival time varies depending on the model.
LifeProof: Known for its 360-degree coverage and waterproof cases, LifeProof is rolling out the NËXT ($79.99), with a 2-meter drop specification and an inner seal for protection from dirt and snow. This case is now available for pre-order for the iPhone 8 and 8 Plus and is also compatible with the older iPhone 7 and 7 Plus. The company says the case is "coming soon" for the iPhone X. Available colors are black, beach pebble, seaside and cactus rose. Also "coming soon" for the 8 and 8 Plus is the FRĒ, which will provide 2-meter waterproof protection and comes in six colors.
OtterBox: The company that rose from garage-based startup to No. 1 bestseller has announced a full lineup for the new phones, which includes the original Defender Series; the card-holding, genuine leather Strada Series Folio; the fashion-conscious Symmetry Series; the rail-mount accessory friendly uniVERSE Case System and more. These cases are now available for the iPhone 8 and 8 Plus and are also compatible with the older iPhone 7 and 7 Plus. OtterBox says the cases are "coming soon" for the iPhone X. Prices vary by model.
Rokform: All of Rokform's cases are designed for mounting on magnetic surfaces, and come with car vent mounts. New styles are being rolled out for its Rugged and Crystal series, while a functional redesign is in the works for its Fuzion and Fuzion Pro series. New to the Rokform lineup will be the slim Vert and Socket cases, as well as the Saddleback Folio for stylishly replacing your bulky wallet. The cases are now available for the iPhone 8 and 8 Plus and are available for pre-order for the iPhone X. Prices vary by model.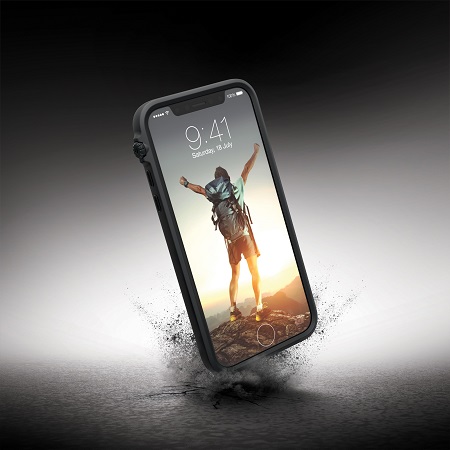 Catalyst Impact Protection Case for iPhone X. Source: Catalyst
Speck: Speck's lineup for the three new phones includes nine different styles. A few jump out as especially intriguing. According to the company, the Presidio Clear is the best-selling clear case in the U.S.; it offers resistance to ultraviolet yellowing and scratching and a new level of clarity thanks to microdot technology. The Clear is also available in two style-conscious alternatives, the Presidio Clear + Print and the Presidio Clear + Glitter. Meanwhile, the Presidio Metallic is a new collection available in a variety of jewel tones — rose gold, gold, tungsten grey, taro purple and peppermint green. And Speck says its new Presidio Ultra is its most rugged and protective case to date. It's also a convertible — a slim, dual-layer case provides basic protection for everyday use; when you add the Impactium Ultra Bumper, you also get a 4.5-meter drop-test rating, 360-degree port coverage and dirt- and dust-resistance. Cases are now available; prices vary by model.
Urban Armor Gear: Designed for extreme conditions with military-grade protection, Urban Armor Gear is rolling out six new cases for the three new phones. The Metropolis ($39.95) and Trooper ($39.95) both offer credit card storage and easy touchscreen and port access; Metropolis adds a water-resistant tactile grip. The Monarch ($59.95) incorporates alloy metal hardware into its five-layer protection. Pathfinder ($34.95) and Plasma ($39.95) feature an armor-shell design with easy touchscreen and port access. Plyo ($39.95) has a clear translucent design that's slim, friction-free and lint-resistant.
Vena: Known for its chic and minimalist design, Vena has several cases already available which do dual duty for iPhone 7/8 and iPhone 7 Plus/8 Plus. In addition, three new iPhone X cases are available for pre-order. The vArmor ($29.99) offers military-grade drop protection and a belt-clip swivel holster that doubles as a stand; the vCommute ($39.99) features military-grade protection in a wallet-like design with secure, hidden card slots and a foldable leather cover that doubles as a multi-angle kickstand; and the vLove ($24.99) offers dual-layer defense in an appealing, heart-shaped-cutout style.
One quick caveat: While many iPhone 8 and 8 Plus cases will also fit the iPhone 7 and 7 Plus, respectively, this is not true in all... er, cases. Be sure to check all the details before suiting up.