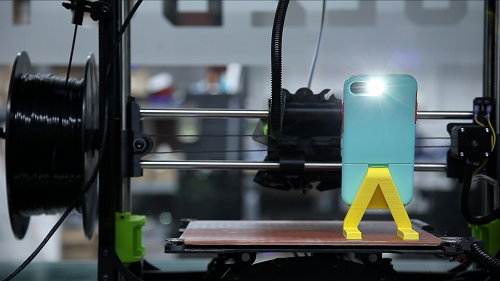 Making an accessory for the uniVERSE case system. Source: OtterBoxOtterBox is known for its rugged protective cases that keep smartphones from cracking. But now the company is turning to the makerspace to see what kind of cool inventions can be made for its uniVERSE case system.
OtterBox has released the accessory mount CAD to allow inventors, tinkerers, hobbyists and more to design and 3D print their own accessories for the rugged cases.
The uniVERSE is a slim, protective OtterBox case for iPhone and iPad with a modular rail mount on the back for attaching various accessories. Previous accessories include an expanded memory clip and a tool that converts an iPad to a laptop while maintaining the protection OtterBox provides.
Now the company is inviting makers to customize their own accessories for the uniVERSE case by partnering with 3D Hubs, a 3D printing company. 3D Hubs has a network of more than 6,500 printers worldwide, so it can quickly produce items for local vendors.
OtterBox says the uniVERSE was created to meet a market need: the ability to customize a mobile experience while staying protected.
"Opening up the CAD for the accessory attachment is the next step in that evolution," an OtterBox spokesperson tells Electronics360. "There's no way that we can manage all of the amazing potential of this system, and we don't want to restrict it. We may sell a few additional cases because of it, but more importantly we want to foster and support a community of innovators and problem solvers."
Sadly, there are no plans to yet open up other OtterBox products to makers (because who wouldn't want to tinker with that amazing OtterBox Venture Cooler?). But the company does say "never say never."
Otterbox will be demonstrating the uniVERSE and its innovative accessories at the upcoming World Maker Faire in Flushing, NY, on Sept. 23 and 24.
You can learn more and download the accessory mount CAD by visiting: www.otterbox.com/universe-cad.