The iPhone X, announced at Apple's September 2017 keynote, received the famous "One more thing" treatment that signals the revelation of a spotlight product just before the event draws to a close. But there were several more newsworthy products, as well. Here's a roundup: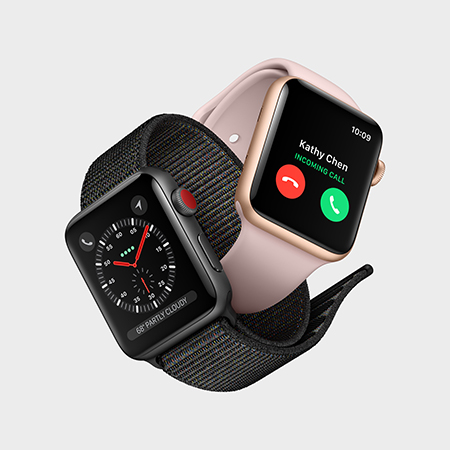 With built-in cellular, the Apple Watch now works as a standalone for phone calls. Image credit: Apple Inc.Apple Watch Series 3: The headline to the latest iteration of the Apple Watch is that it now has cellular built-in. That's right, no more needing to carry your phone around with you just so your watch will work. According to Apple, the antenna design is an industry first -- it uses the watch's display itself to send and receive cellular service. It shares the same phone number as a user's existing iPhone, as well.
Apple says that the device has a 70 percent faster dual-core processor, the S3, a custom wireless chip, the W2, which makes Wi-Fi more power-efficient and 85 percent faster; and will be able to stream Apple Music through its new operating system, watchOS 4 (available Sept. 19).
There are a number of new features related to health and fitness as well, such as the ability to track stair-flights climbed with a barometric altimeter, an updated Heart Rate app and an intense interval-training option on its Workout app. The watch is rated for water-resistance up to 50 meters -- although the fine print on that feature includes a caveat about its capability being limited to "shallow-water activities." It's not designed for SCUBA diving or high-velocity water activities like water skiing, in other words.
Available in GPS + Cellular (starting at $399), and GPS-only configurations (starting at $329), the watch will be available for pre-order on Sept. 15 and in-store availability begins Sept. 22. Meanwhile, the Series 1 watch, which is also compatible with watchOS4, has been reduced in price to $249.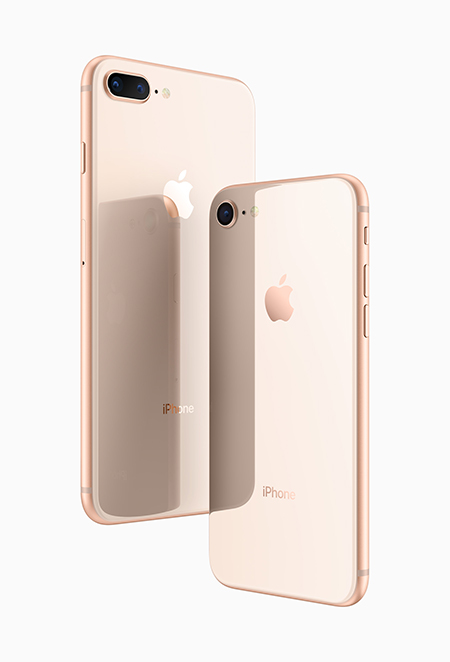 Glass-and-aluminum design of the iPhone 8 and iPhone 8 Plus. Image credit: Apple Inc.iPhone 8 and iPhone 8 Plus: Leave it to a quirky nonconformist like Apple to create an iPhone 8 and an iPhone X (the X is read as "10") without offering an iPhone 9. The iPhone 8 offers many of the X's most intriguing features – durable glass design, wireless charging, augmented reality optimization, the "Portrait Lighting" interface (on the 8 Plus) and more -- albeit at a lower price tag.
Unlike the iPhone X, the 8 isn't an all-glass, device-is-the-display sort of affair – it uses glass and aluminum to retain the traditional iPhone look, while still incorporating "the most durable glass ever in a smartphone" boasted by its more expensive cousin. Retina HD display with ambient-light adjustment is here, as is water and dust resistance. There's also a 7-megapixel front-facing camera and 12-megapixel rear camera -- which steps up to the X's "dual-camera" configuration for the 8 Plus.
Both the 8 and 8 Plus run iOS 11. Display configurations on the 8 and 8 Plus are 4.7-inch and 5.5-inch, respectively. The 8 is rated for 14 hours of wireless talk time, while the 8 Plus is rated for 21 hours – which, incidentally, is the same rating given to the iPhone X.
While the 8 clearly eschews some bells and whistles, it's actually tough to discern what sets the iPhone X apart from the 8 Plus -- apart from the obvious difference in appearance (and the fact that the X has to be unlocked by Face ID rather than by pressing a Home button, since there isn't one). Whether or not that difference is worth the extra money – not to mention the extra wait for the X to become available – is up to the consumer to decide.
The iPhone 8 (starting at $699) and iPhone 8 Plus (starting at $799) each offer 64-gigabyte and 256-gigabyte capacities. Both will be available for pre-order on Sept. 15 and in-store availability begins Sept. 22.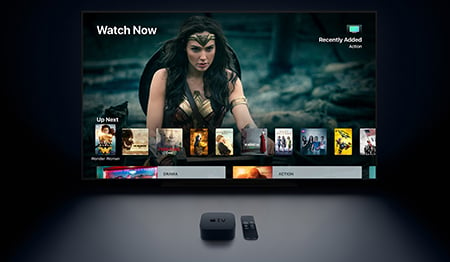 The new Apple TV promises a stunning cinematic experience, even if you're not watching "Wonder Woman." Image credit: Apple Inc.Apple TV 4K: Naturally, Apple chose to feature a still from the summer blockbuster "Wonder Woman" to get users thinking about the "stunning cinematic experience" offered by its newest Apple TV offering.
Apple TV 4K, not surprisingly, supports 4K video, as well as Dolby Vision and High Dynamic Range (HDR). The platform is built on the same A10X Fusion chip that powers the iPad Pro, and can interface with an iPhone or iPad for sharing photos and videos. It's also poised to act as a hub for "Apple's vision of the smart home."
Later this year, according to Apple, an update to the TV app will make it possible to say things like "What's the score of the Cubs game?" to get a live update. That's kind of cool, especially if you're a Cubs fan.
Apple TV 4K is available in configurations of 32-gigabye (starting at $179) and 64-gigabyte (starting at $199). Pre-ordering starts on Sept. 15, and availability begins Sept. 22.