Urban Armor Gear (UAG) a company that designs rugged and lightweight protective cases for mobile devices has just become the first company to send an iPhone 7 into space and film it in 360-degree video.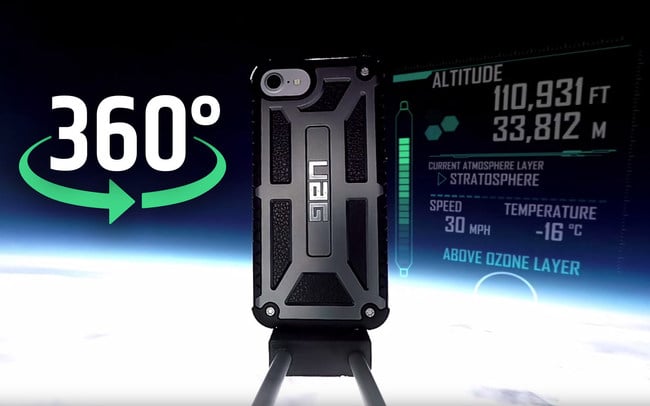 The company's space experience began two years ago when it launched an iPhone 6 up to 101,000 feet into the stratosphere. The YouTube video generated three million views, and inspired the team to attempt a second mission to the edges of earth.

This time the company came equipped with the brand new iPhone 7, which was protected by UAG's latest Monarch Series Case and attached to a flight rig joined to a weather balloon. The rig was launched and reached an astonishing 120,027 feet above the earth, providing 360-degree views from space and giving viewers an up-close virtual experience high above the earth.
As the phone reaches the maximum height, the weather balloon bursts, sending the rig into a free-fall until a parachute is deployed to control the descent. After a successful landing and recovery of the flight rig, the iPhone 7 and UAG's Monarch case remained in perfect working condition.
During the flight the following data was captured:
Max Altitude: 120,027'
Temperature at altitude: -17º C
Distance covered: 14.8 miles
Learn more about Urban Armor Gear and watch its 4K video on YouTube.