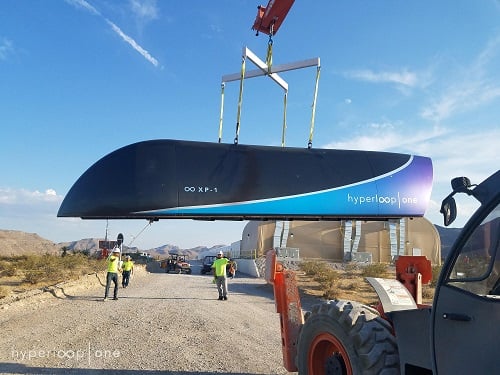 A prototype hyperloop pod. Source: Hyperloop OneHyperloop One has named the 10 winners of its Global Challenge to identify the strongest new hyperloop routes in the world.
Following an assessment of all the proposals, infrastructure, technology and transportation, experts chose 10 teams from five countries out of hundreds that entered the competition. The next steps are for Hyperloop One to work with the winning teams/routes to determine commercial viability.
As a result of the competition, Hyperloop One and the Colorado Department of Transportation (CDOT) have entered into a public-private partnership to begin a feasibility study for a Colorado-based hyperloop.
The winning teams/routes include: in the U.S.: Cheynne-Denver-Pueblo; Chicago-Columbus-Pittsburgh; Miami-Orlando; Dallas-Houston; in the U.K.: Edinburgh-London, Glasgow-Liverpool; in Mexico: Mexico City-Guadalajara; in India: Bengaluru-Chennai; Mumbai-Chennai; and in Canada: Toronto-Montreal. The winning routes will connect 53 urban centers and nearly 150 million people. Furthermore, an additional 11 teams will continue to develop their proposals with the help of Hyperloop One.
The Global Challenge began in May of 2016 as an open call to individuals, universities, companies and governments to develop proposals for deploying Hyperloop One's transportation technology. The winners were chosen based on well-defined routes, key stakeholder involvement from public and private sectors, compelling business cases and creative applications of the hyperloop system.
The agreement with CDOT will examine transportation demand, economic benefits, proposed routes and potential strategies, regulatory environments and alignment with high-speed travel, rail and freight plans.