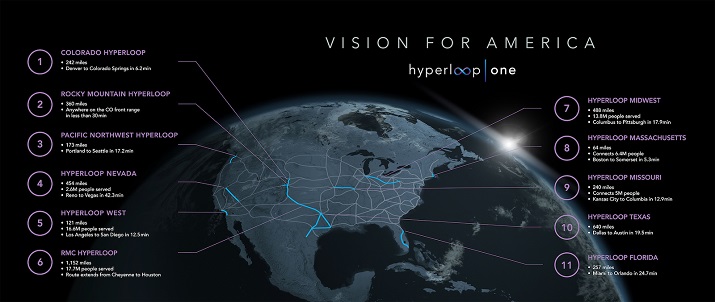 Hyperloop One's potential corridors for hyperloop rail systems in the U.S. Source: Hyperloop One The idea of the hyperloop may be many, many years from being a reality, but Hyperloop One is already moving forward with potential corridors for where the new rail transportation systems may find a home.
The company's plan is to improve transportation systems across the country as well as ease traffic congestion on roads that costs drivers wasted fuel, as well as wasted time. Hyperloop One points to the American Society of Civil Engineers (ASCE) research that the average U.S. family will lose $3,400 a year from 2016 to 2035 because of the failing infrastructure in the country.
Recently, Hyperloop One solicited ideas from throughout the country for the most promising potential corridors, which resulted in 11 routes that would connect 35 metro areas and more than 83 million Americans. The potential routes include:
Colorado Hyperloop – A 242 mile stretch connecting Denver to Colorado Springs, with a travel time of 6.2 minutes
Rocky Mountain Hyperloop – A 360 miles hyperloop, which would connect the front range of Colorado in 30 minutes
Pacific Northwest Hyperloop – Connecting Portland to Seattle in 17.2 minutes, while covering 173 miles.
Nevada Hyperloop – A 454 mile rail serving 2.6 million people and connecting Reno to Las Vegas.
Hyperloop West – Connecting San Diego to Los Angeles in 12.5 minutes; a corridor that would serve 16.6 million people.
RMC Hyperloop –The largest hyperloop that would stretch 1,152 miles and serve 17.7 million people ranging from Cheyenne to Houston.
Midwest Hyperloop – A 488 mile hyperloop connecting Columbus to Pittsburgh in 17.9 minutes and serving 13.8 million people.
Massachusetts Hyperloop – The smallest of the proposed hyperloops connecting Boston to Somerset in 5.3 minutes and 64 miles.
Missouri Hyperloop – A rail connecting Kansas City to Columbia in 12.9 minutes over 240 miles.
Texas Hyperloop – The line would stretch from Dallas to Austin in 19.5 minutes over 640 miles.
Florida Hyperloop – Stretching from Miami to Orlando, it would consist of 257 miles, and a travel time of 24.7 minutes.
The benefits of these hyperloops depend on the location. In Boulder, Co. two-thirds of the residents have been priced out of home ownership. The rail system could allow people to live in lower priced areas but still be able to commute to Boulder in minutes. In Dallas, it could allow family to visit parents in other locations without having to relocate if there is a health issue. In Seattle, the hyperloop would open new access to labor pools for Boeing, Amazon or Microsoft.
These proposals are just that: proposals. Hyperloop One has yet to indicate where it plans to begin development of a real system, as the company just recently finalized construction of its 500 meter long DevLoop test track to test levitation, propulsion, vacuum and control technologies that would be the core of the hyperloop.