Digitalization is on the cusp of changing how the supply chain operates forever.
The goal of a digital supply chain is to reduce waste while at the same time generating greater profits and efficiency in the workplace. The ideal digital supply chain monitors real-time inventory levels, customer interactions with products, carrier locations, the use of equipment and how information is used to increase levels of performance.
The increased use of new technologies and the amplified availability of these technologies is putting pressure on traditional supply chain models to get with the (new) program. As better tools are put in place to help enable the digital supply chain, software is evolving ways to better forecast and track new data the system generates.
While big data and optimization tools are out in front of the supply chain digitalization, there are a number of other trends that are affecting this evolution.
Inventory Tracking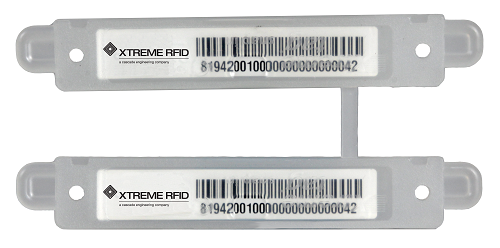 An example of an RFID tag that can be attached to a pallet, box or package. Source: Xtreme RFIDAs new technologies are coming online to help simplify and accelerate the process of managing the supply chain, warehouse and inventory management is one of the biggest current changes.
The advent of radio frequency identification (RFID) tags, GPS tracking, smart labels and location-based data and wireless sensors networks are changing how workers manage their goods. These emerging technologies are driving new ways to categorize, track and generate more information about which goods are in warehouses, where they are going and whether there are missing or counterfeit items.
RFID tags are tiny microchips that contain digital information about a particular item. These tags are plastic, paper or other material and are fixed to a product or package, pallet, container or even a delivery truck. A tag is then scanned by an RFID reader that transmits and receives radio signals to and from the tag. That information is processed by computer software where factory workers can show when goods are moved.
RFID tags for stock control offer several advantages over other methods, such as barcodes. They can be read remotely; several can be read at once; tags can be unique to better help with tracking; and certain types of tags can be updated to show different locations. These tags also help eliminate overstocking of goods, improve quality control and enhance security by placing tag readers at key locations, such as exits, where they might trigger alarms.
RFID was intended as a cheap, quick method for warehouse managers to more efficiently read box numbers and broadcast identification numbers. Because of the scale of modern operations, RFID scanning is not enough, so many warehouses are now turning to drones to accelerate the process.
Drones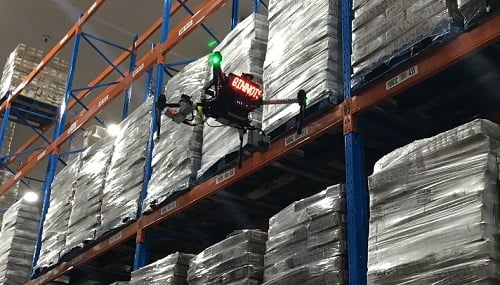 Drones are increasingly being used for inventory tracking and management in the supply chain. Source: Dronescan
The use of drones as a method of last-mile delivery is accelerating at a fever pitch. Delivery drones are being tested globally for food delivery, emergency medical delivery to remote areas, delivery of parcels in urban areas and, of course, the experiments being done by both Amazon and Wal-Mart for faster delivery options. This is going to have a massive impact on how the supply chain can get goods and services out to people and the time it takes to receive these items.
Use cases of drones have been rising rapidly across many industries, including agriculture and forestry, energy and mining, retail, real estate, entertainment and media, surveying and insurance, security and military, and aerospace.
These unmanned machines are going to have an aggressive impact on the supply chain beyond just delivering items. Inventory management and monitoring in the industrial space is emerging as RFID-equipped drones are being used to reduce cost and time, as well as curb accidents and health hazards.
IHS Markit forecasts that the professional drone market will reach $930 million in revenue this year and grow to more than $4.6 billion by 2020, a compound annual growth rate of 49.1 percent.
In inventory warehouses, drones will be accomplishing tasks that humans either can't do or would find monotonous, such as tagging every pallet or crate. Introducing drones equipped with RFID tagging would make these repetitive jobs faster and more effective. In some cases, inventory in an entire facility cannot be tracked at all because no one has the time or patience. In some cases, drones can do this task in a single day.
Automation and Robotics
Fears that robots will take away a human's job have been around for many years. It now appears to be a question of when this will happen, not if.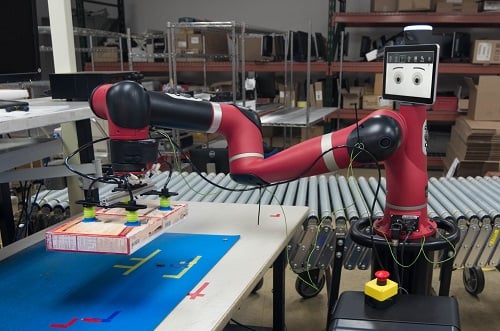 Sawyer, the robot that works in warehouses to work hand-in-hand with humans. Source: DHLMuch like drones, robots have the ability to do repetitive tasks much faster, cheaper and with fewer errors than humans. Robots in a warehouse can be used for picking, packing and slotting of orders or loading and unloading of goods. This results in high productivity and faster response times.
And as technology advances and robotics and automation become a cheaper investment, even small or mid-sized companies are deploying them to save on labor costs. For example, California-based pizza company Zume Pizza has deployed a number of robots in its restaurant in order to accelerate production and get human workers to focus on other tasks.
Robots are finding their way into many businesses, including distribution centers, where Amazon has been testing the use of robots in its warehouses for carrying shelves of products or retrieving goods for packaging.
However, much like Zume, companies are working on ways to use robots alongside humans in advantageous ways.
Shipping giant DHL Supply Chain has been looking at numerous ways to integrate robotics into the supply chain and has demonstrated that robots can work side-by-side with employees for support and other physically demanding tasks in logistics operations. DHL says companies can combine physical robots with support software such as machine learning algorithms and artificial intelligence to garner new data created by automated technologies.
The company recently deployed four Sawyer robots that will be used in U.K. production logistics centers. The collaborative robots support warehouse staff by automating repetitive tasks; they will be used across 19 different locations in support of seasonal demands. The company says it will invest more than $1.3 million over the next year to enhance its commitment to robotics and automation.
3D Printing
3D printing, also known as additive manufacturing, has grown by leaps and bounds in the past few years as makers, designers, hobbyists and more have gotten on board with the ability to build their own toys, devices, parts and more.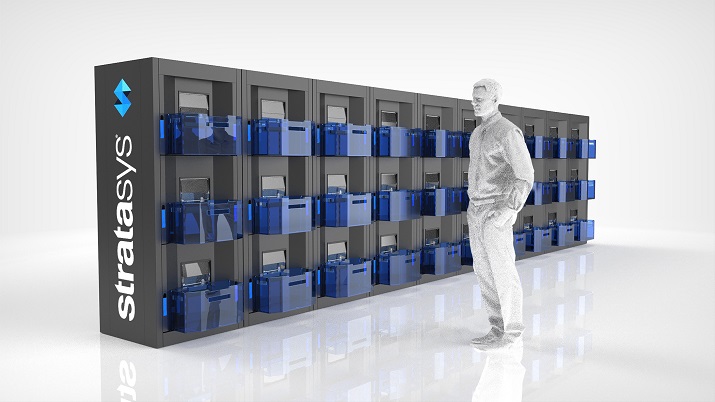 Stratasys has created a system that allows manufacturers to mass produce 3D-printed parts. Source: StratasysNow we are seeing a huge influx of industrial 3D printing companies and machines coming on line to support the digital supply chain. In industrial markets, 3D printing is getting buzz because of its potential to revolutionize manufacturing, allowing any company to produce almost anything, layer-by-layer through a single printer.
What began as a way to print plastic toys at home has turned into a big business. Aviation suppliers are using 3D printers to produce new parts such as wings or engines, the automotive industry prints replacement parts for cars, and healthcare produces body parts or new medical wearables. Even food production can be 3D-printed.
What you can do with 3D printing seems to be limited only by the imagination, as large complex structures are now crafted using the technology. Recently a 3D-printed bridge was made using a new concrete process, and MIT used large 3D printing robots to construct an entire building.
While 3D printing probably won't disrupt the mass production of commodity goods, this type of manufacturing could become a disruptive force by redefining traditional manufacturing and supply chain strategies. Companies could create a whole host of factories that produce individualized parts for quick delivery. These printers could be located globally in regional warehouses and then branded with a company label.
In this way, the digital supply chain could see 3D printing become a substitute for traditional manufacturing in industry segments that produce highly complex and highly customized goods. This is already happening in some industries and as the technology becomes more proven, it will only accelerate.
Internet of Things
When it comes to the internet of things (IoT) in the digital supply chain it is a combination of mobile computing, analytics and cloud services at work.
These tools are emerging to work hand-in-hand with other technologies such as inventory tracking, 3D printing, drones and robotics to change how logistics is done. Internet-connected trackers working on long-range networks or low power wide area networks (LPWANs) allow companies to track items throughout their journey.
IoT will allow a supply chain to control the external environment and execute decisions. Sensor-laden factory equipment not only communicates data about temperature and machine utilization but also can change equipment settings and process workflow for better performance.
Market research firm Gartner believes IoT will improve existing supply chain processes from asset utilization, warehouse space optimization and production planning. This may necessitate supply chain process redesign for many businesses in order to maintain their competitiveness.