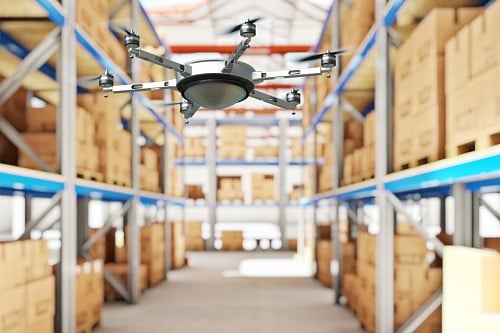 The new system allows drones to tag locations from a long distance away. Source: MITFlying drones have made headway in a number of industries such as last mile delivery, construction and are growing in importance in inventory and manufacturing.
In supply chain management, the advent of radio frequency ID (RFID) tags was supposed to be a cheap, battery-free alternative for warehouse managers to more efficiently read box numbers and broadcast identification numbers.
However, the scale of modern retail operations makes even RFID scanning inefficient. Walmart recently reports a $3 billion loss in revenue because of mismatches between inventory records and stocks. Even with RFID technology, a retail store could take months to perform a complete inventory review.
Researchers at MIT have developed a new system that uses aerial drones to read RFID tags from tens of meters away while identifying the tags' locations with an average error of about 19 centimeters. MIT believes this system could be used in large warehouses for both continuous monitoring, preventing inventory mismatches and locating individual items.
While RFID and drones are being used in pilot projects already, the challenge was to develop drones that are large enough to carry RFID readers while being safe enough to fly within close range of humans.
MIT says it has met this challenge by using drones to relay signals emitted by a standard RFID reader so that the drones could be deployed in conjunction with existing RFID inventory systems, without the need for new tags, readers or reader software.
"Between 2003 and 2011, the U.S. Army lost track of $5.8 billion of supplies among its warehouses," said Fadel Adib, the Sony Corporation Career Development Assistant Professor of Media Arts and Sciences, whose group at the MIT Media Lab developed the new system. "In 2016, the U.S. National Retail Federation reported that shrinkage—loss of items in retail stores—averaged around $45.2 billion annually. By enabling drones to find and localize items and equipment, this research will provide a fundamental technological advancement for solving these problems."
Researchers equipped the drones with their own RFID tags and the drones alternated between relaying the reader's signal to a tagged item and letting its own tag reflect the signal back, so the reader estimates the drones' contribution to the total phase shift and removes it.
In experiments involving tagged objects, many of which were intentionally hidden to simulate a real-world condition as merchandise can be heaped in piles on warehouse shelves, the system was able to localize tags with 19-centimeter accuracy while extending the range of the reader tenfold in all directions.
"Relays have been used in communications for a long time, even to bring networks to rural areas," said Swarun Kumar, an assistant professor of electrical and computer engineering at Carnegie Mellon University. "What changes here is that one of the ends is battery-free, and they want to location-track the battery-free device, which requires phase-consistent measurements. These together make the problem quite challenging. That's what I think is the conceptual novelty in this work. I anticipate that there might be a lot more applications than the inventory tracking problem—which in and of itself is quite important."